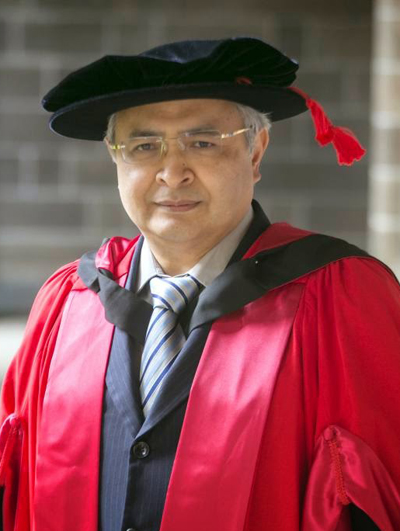 Academician Senior Professor Dato' Dr Khalid Yusoff, FASc
DPSK, PSK, MBBS (Melb.), Doctor of Med Sc (honoris causa) (Melb.),
MRCP (UK), FRCP (Lond.), FRCP (Glasg.), FRCP (Edin.),
FACC (USA), Hon. FRACP (Aus.), Hon. FPCP (Phil.),
FIAS, ISHF, FNHAM, FMSA, FAMM
Vice-Chancellor and President
UCSI University
Academician Senior Professor Dato' Dr Khalid Yusoff is the third Vice-Chancellor and President of UCSI University.

Professor Khalid became Vice-Chancellor and President of UCSI University in September 2013. Professor Khalid has been instrumental in enhancing the University's standing and stature since he took charge and as a result, UCSI has gained various accolades and gained numerous recognitions for academic reputation and employability, to name a few. Professor Khalid's commitment and dedication in the pursuit of excellence led UCSI to be ranked as Malaysia's best private university twice in the QS World University Rankings 2019 and 2020. The University, under his leadership, became the first and only Malaysian private university to be inducted in the top 500 of the world's universities two years straight, placing UCSI in the top 2% of all universities worldwide.
Professor Khalid's tutelage had also improved UCSI's Institute of Music's (IMus) repute. The music school, today, is a world's top 100 in performing arts and it received the commendation twice in the QS World University Rankings by Subject 2018 and 2019. The march to push the University further and higher with passionate commitment and tremendous team effort has elevated UCSI University to Tier-5, an "Excellent" status in the Rating System for Malaysian Higher Education Institutions 2017 exercise (SETARA 2017) awarded by the Malaysian Qualifications Agency (MQA). UCSI University is at the same Tier as some of the best universities in Malaysia, branches of foreign universities included.
Presently ranked as a top 70 university in the world among young universities, UCSI is distinguished as Asia's fastest rising university in the QS University Rankings: Asia 2018. Besides the commitment to push education boundaries further and greater at UCSI, Professor Khalid is a fervent champion of the UN's Sustainable Development Goals (UN SDGs). His guidance and direction in the practice led UCSI to be recognised as the only Malaysian private university to be acknowledged as Regional Centre of Expertise (RCE) on Sustainable Education.
A clinical cardiologist by training, Professor Khalid previously served as the Dean of Universiti Teknologi MARA's Faculty of Medicine. Under his stewardship, the faculty recorded tremendous growth and established itself as one of the foremost medical faculties in the nation. Prior to that, Professor Khalid played a number of key roles – including serving as Dean – in a career spanning two decades at Universiti Kebangsaan Malaysia. He also served as a consultant cardiologist at both universities where he was instrumental in developing the Heart Centres at these universities.

Professor Khalid began his medical career as a student at The University of Melbourne, Australia. He was then trained in Cardiology at the University of Newcastle-upon-Tyne, UK. On returning to Malaysia, he built a strong career in academia, bolstered by national and international recognition of his contributions. He is a firm advocate of research and development and his findings are frequently published in high-impact international journals. His papers are cited and referred to by many of his peers, adding credence to his standing as an academic. What Professor Khalid brings to UCSI further enhances the University's strong links with the industry and its vibrant student life.

Professor Khalid was conferred a Doctor of Medical Sciences (honoris causa) by his alma mater, The University of Melbourne, Australia in October 2014. The citation for the honorary doctorate by the Melbourne University's Council identifies him as a person of distinguished eminence in medical science, research and effective medical education. His international outlook was best demonstrated in his development and forging of strategic partnerships between UCSI and world leading universities, including Harvard University which selects two of top undergraduate medical students to do a year of research in Harvard . Today, other than Harvard, UCSI offers active programmes with a number of top universities around the world such as Imperial College London, Tsinghua, Chicago, Melbourne and University of Queensland, and the Royal College of Physicians of Edinburgh.

Professor Khalid is happily married to Professor Datin Paduka Dr Khatijah Mohd Yusoff, a molecular biologist in the Faculty of Biotechnology and Biomolecular Sciences at Universiti Putra Malaysia (UPM). She was the former Deputy Secretary-General at the Ministry of Science, Technology and Innovation. Well-travelled and global in his outlook, Professor Khalid obtained most of his many qualifications, Awards and fellowships from renowned universities and professional bodies in England, Australia, Scotland and the United States. In 2000, he received the Dato' Paduka Setia Mahkota Kelantan (DPSK) from His Highness the Sultan of Kelantan for his services to medicine. Last year 2018, Universiti Teknologi MARA made him an Emeritus Professor. Recently, the Academy of Sciences Malaysia made him one of their Senior Fellows, earning him the title 'Academician'.

Go beyond; Be profound: Make a difference is his motto.