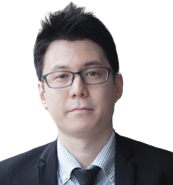 Assistant Professor Ts. Dr. Ang Chun Kit
Dean | Department of Mechanical Engineering
&nbsp[email protected]
Academic Qualifications
PhD Mechanical Engineering
BEng (Hons) Mechatronic Engineering
Areas of Interest
Application of Artificial Intelligence Approach in various area such Biomedic, Food Science, Robotic and etceteras.
Research
Developing and applying novel Artificial Intelligent approach on mobile robot and robot manipulator.
Echolocation systems.
Sentiment analysis.
Vision (Image recognition).
Publications
Nakhaei Nia D, Tang SH, Karasfi B, Motlagh ORE, Kit A.C. (2011) Virtual force field algorithm for a behavior-based autonomous robot in unknown environment. Journal of Systems & Control Engineering, 225(1):51-62.
Tang, S.H., Ang, C.K., Nakhael, N.D., Karasfi B, M otlagh ORE. (2013). A Reactive Collision Avoidance Approach for Mobile Robot in Dynamic Environments. Journal of Automation & Control Engineering. Vol.1, No.1, 16-20.
Tang, S.H., Ang, C.K., Nakhael, N.D., Mohd Ariffin, M.K.A., Weria, K. (2013). Planning for redundant manipulator based on back-propagation neural network. Advanced Science Letter, 19(11):3307-3310.
Ang, C.K., Tang, S.H., Mashohor, S. and Arrifin, M.K.A.M. (2014) Solving continuous trajectory and forward kinematics simultaneously based on artificial neural network. International Journal of Computers, Communications & Control, Vol.9, No.3.
Tang, S.H., Ang, C.K., Mashohor, S. and Arrifin, M.K.A.M. (2014). Predicting the Motion of a Robot Manipulator with Unknown Trajectories Based on A rtificial Neural Network. International Journal of Advanced Robotic Systems.