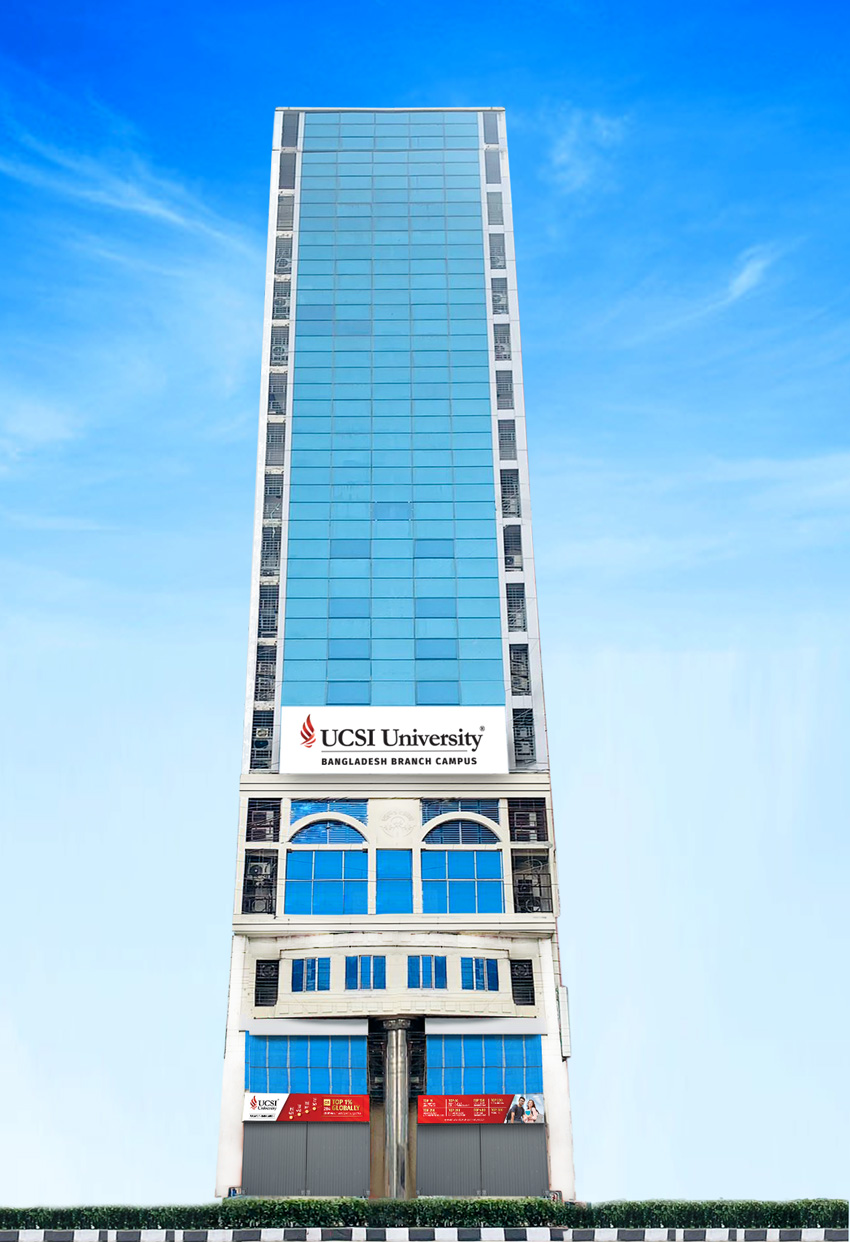 Established in 1986, UCSI University is one of the top ranked and largest private universities in Malaysia and it is the first foreign university to operate its branch campus in Bangladesh.
Approved by the Honourable Prime Minister and the Ministry of Education, Bangladesh in 2022, UCSI University Bangladesh Branch Campus operates in an independent sixteen story building with a built-up space of more than 45,000 square feet. The branch campus is located in a prime commercial location in Banani, Dhaka. This area has excellent communication links to all parts of the city through public as well as private transport.
The branch campus boasts of a world-class infrastructure consisting of a fully networked Wi-Fi branch campus, well-equipped classrooms, a modern auditorium and a well-stocked library. As a student of UCSI, you will have access to first-class teaching and learning facilities complying with the international standards. We have an ongoing programme of investment in our academic facilities and services.
All classrooms are fully air-conditioned and contain all modern teaching technology, audio-visual facilities, including high-resolution multimedia projectors and Wi-Fi connection. We have classrooms with limited teacher- student ratio to encourage highly interactive sessions between the lecturer and the students.
The quality of our library provision is consistently rated as excellent. It contains:
Quiet and friendly environment.
Over thousands of books and print journal titles.
Local, national and international databases enabling students to get access to millions of e-books.
Laptop docking stations and wireless Wi-Fi connectivity.
A team of Faculty Liaison Librarians are equipped and trained in specialised subject knowledge. They deliver inductions for all new students and are available throughout their studies to provide advice and guidance.
The computer lab facilities include:
Fast access to the network and the Internet throughout the branch campus.
Word processing, e-mail, secure file store and an exceptional range of specialised and general purpose softwares.
Network docking and/or wireless access in many branch campus locations and in accommodation.
Free Wi-Fi and WiMAX internet connections for faculty and students.
In addition, there are also several hundreds of PCs which are in prime conditions.
We have experienced personnel offering support, including phone and e-mail helpline, to provide assistance using the University's computing network and to remedy any IT-related problems. In addition, numerous help desks will be there to facilitate all the queries posed by the new students at UCSI University Bangladesh Branch Campus.