Buka Puasa and Deepavali Night with Anak-Anak Yatim Dan Ibu Tunggal Kampung Medan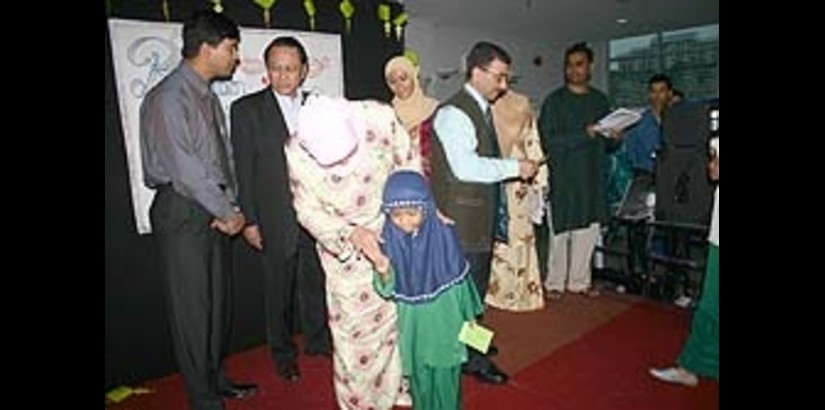 Kuala Lumpur, 26 October 2005 (Wednesday) – University College Sedaya International (UCSI) hosted a special Buka Puasa and Deepavali Night for the less fortunate and its local and international students who observe the Ramadan fasting month and those who celebrate Deepavali away from home.
At UCSI's invitation, a total of 35 orphans and seven single mothers from Rumah Anak-aAnak Yatim Kampung Medan, Subang Jaya were special guests at the dinner event.
Organising chairperson, Professor Dr. Norfadzillah Hitam, who is also UCSI's Vice President of Research and Corporate Affairs, said she was happy with the turnout. "Having Muslims breaking fast together with other races, as well as celebrating the Deepavali with our Indian students is a great opportunity for cross-cultural understanding. Thanks to sponsors from among Friends of UCSI and our own staff, we have managed to raise over RM8,000 for the event," she said.
One of the invited guests, tsunami survivor Rizal Shahputrasaid this year's Aidil Fitri is his first away from home, and celebrating it without his family members brings back memories of the tsunami. "Of course, I feel sad not being able to celebrate it with my family members," he said.English lecturer from the United States of America, Carrie Baber also took the opportunity to learn more about the Malay and Indian cultures. She sat with the orphans, including a 12-year-old Mohd Adam Jamri.

Some 260 people attended the function, which was held at UCSI campus in Cheras, with TV actress, Louisa Chung as its special guest. She delighted the children with her warmth and friendliness. The Indian Cultural Society performed a cultural dance, while the Malay Cultural Society performed the Nasyid and the Salawat Nabi before breaking fast.

The night culminated with a magnificent display of fireworks, which symbolizes the Malaysian spirit of Muhibbah, where people of different races celebrate their festive. It also showcases the Malaysian concept of unity in diversity to UCSI's international student community.

Earlier, the guests observed a moment of silence and recited the al-Fatihah in memory the late Datin Paduka Seri Endon Mahmood, who passed away on October 20 after a long fight with breast cancer.
"Without prejudice to the rights of UCSI the information herein is correct at the time of printing and UCSI reserves the right to make amendments without prior notice."