UCSI University launch the Institute of Actuarial Science and Data Analytics (IASDA) to develop world-class talent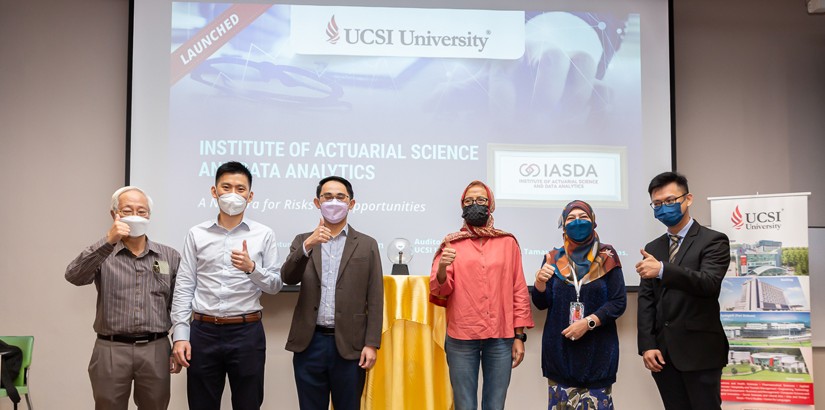 UCSI University Vice Chancellor, Professor Datuk Ir Ts Dr Siti Hamisah Tapsir (third from right), Dr Rohana (second from right), President of Actuarial Society of Malaysia (ASM), Kelvin Hii (third from left) and Raymond (first from right) with the invited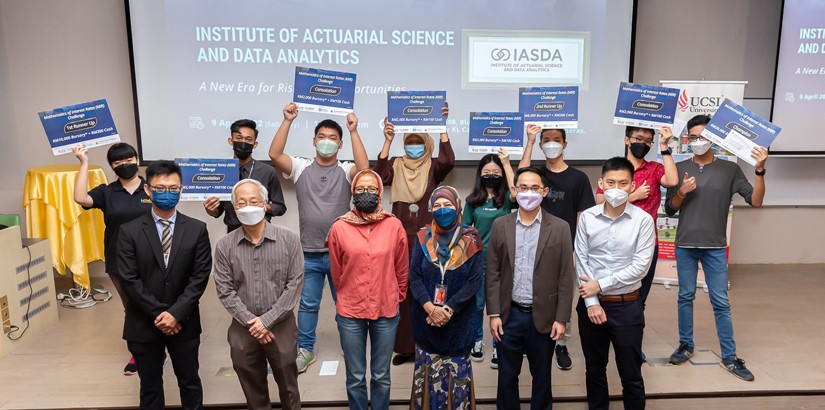 The newly launched IASDA will act as a platform to produce young talents in the field of actuarial science and data analytics.
KUALA LUMPUR, 9 April 2022 – UCSI University, one of the best private universities in Malaysia has announced the launch of an Institute of Actuarial Science and Data Analytics (IASDA) in its KL Campus to produce top talent in this field.
The launch of IASDA is a reflection of the university's continued academic investment and leadership in the education industry. The institute is set up to help meet the growing needs of actuaries and data analytics education and expertise in the country.
According to Assistant Professor Raymond Lo Eng Ping, ASA, Director of IASDA, the programmes offered under IASDA are recognised by international professional accrediting bodies such as the Society of Actuaries (SoA) which provides professional certifications to students, and the Institute and Faculty of Actuaries (IFoA), where the students may get an exemption for CM1, CB1, and CB2 papers.
The IASDA's programmes include Doctor of Philosophy in Mathematical Sciences; Master of Science (Actuarial Management) - (Mixed-mode or Coursework); Master of Science in Mathematical Sciences; Bachelor of Science (Honours) Actuarial Science; Bachelor of Science (Honours) Actuarial Science and Finance; and Foundation in Arts (Actuarial Science). These programmes are also accredited by the Malaysian Qualifications Agency (MQA).
"We have January, May, and September intake for all of the abovementioned programmes. Up to now, the university has more than 1400 students enrolled in these undergraduate and postgraduate programmes," he said.
UCSI University's Actuarial Science students have continued to shine over the years by passing the SoA preliminary papers in record time. James Koo Jian Wei made UCSI University proud by being the first student in Malaysia to obtain the Associate of Canadian Institute of Actuaries (ACIA). Another achiever is Callie Loh, obtaining her Fellow of the Society of Actuaries (FSA) in 2021, 6 years after graduating from UCSI University with 1st class honours from the class of 2012-2015.
"To produce more outstanding students, UCSI University trusts that this is the best time to establish the IASDA. We aim to produce more young talents to join this profession in Malaysia, besides assisting the industry to produce graduates that meet industry needs.
To fill the significant talent shortage gap, especially in Actuarial Science and Data Analytics, the institute will be a key enabler for talent development by exposing students to data-driven industry
and economy. At the moment, we are proud to acknowledge that a total number of 668 undergraduates and postgraduates have graduated from this field of studies," Deputy Vice-Chancellor, Academic and Internationalisation (Kuala Lumpur Campus), Professor Datuk Dr Rohana Yusof, FASc, said.
UCSI University's IASDA will enhance our students' expertise and experiences by effectively driving data-intensive research discoveries, enhancing industry partnerships, sharing best practices with international institutes, and preparing all of its graduates to lead in a data-driven economy.