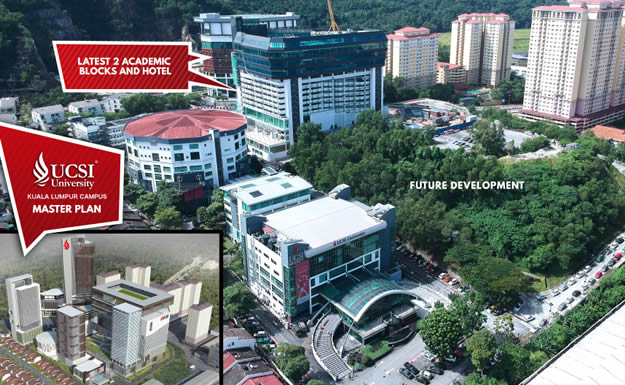 Built on the principles of audacity, perseverance, integrity and excellence, UCSI University is a leading institution of higher learning with campuses in Kuala Lumpur, Springhill (Port Dickson) and Kuching, Malaysia. Our faculties, equipped with state-of-the-art facilities to meet student needs offer a wide spectrum of academic programmes, ranging from Medicine, Pharmacy, Nursing, Engineering and Architecture to Music, Multimedia, Education, Liberal Arts and Hospitality.

UCSI University: 37 years and counting
UCSI University is a vibrant community of learning and scholarship. At present, more than 12,000 students study at the University. Over the years, students from 110 different countries have studied at UCSI University, making the campus a melting pot of culture and diversity. As one of Malaysia's first private universities, UCSI University has long impacted the national higher education landscape and the University continues to do so with its wide range of undergraduate and postgraduate programmes.

The University's academic staff are at the forefront of their disciplines and their views are highly sought after on major issues; from business to political science. Many of our academics have extensive experience working overseas and some play advisory roles in public bodies and various committees. By bringing their experiences into the classroom, our academics cater to an exhilarating learning environment and learners will thrive as they balance academic mastery with industrial application.


UCSI University's strong track record of university-industry engagement has attracted attention from the powers that be and the University is entrusted to reshape Malaysia's tourism and hospitality industry through education. By leading the Malaysian Centre of Tourism and Hospitality Education – a consortium of Malaysia's foremost education institutions – that endeavours to equip at least 50% of the industry's workforce with a diploma or a degree by 2020, UCSI University stands in the nation's service and that of the global community.

Building on its domestic standing as a preferred and trusted education provider, the University is also expanding its sphere of influence. Tie-ups with foreign universities, research institutes and leading multinational companies are constantly established, enhancing opportunities for students and staff in the areas of research and development, mobility programmes and career opportunities, among others.

While these developments are encouraging, the true story of the University is about its students. Many of our alumni have gone on to achieve great things in life – from business to science and the performing arts. Most remain in close contact and the University is gratified to play a role in grooming movers and shakers that define today's – and tomorrow's – world.

Since its inception in 1986, UCSI University has been committed to further the discovery and celebration of knowledge. The University's commitment – and success – in undergraduate teaching is matched by its progress in research and the discovery of knowledge, making it a true hub of higher education. Seeking to open doors for students around the world, the University's generous financial aid programme ensures that prodigious students from all economic backgrounds can afford a UCSI University education.
---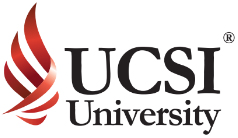 The UCSI University Logo
The University Logo is the stylized wing of a bird in flight to symbolise UCSI University's dynamism and visionary aspirations to soar to great heights of achievements.
Vision
To be an intellectually resilient praxis university renowned for its leadership in academic pursuits and engagement with the industry and the community

Mission
To promote transformative education that empowers students from all walks of life to be successful individuals with integrity, professionalism and a desire to contribute to society
To optimise relationships between industry and academia through the provision of education and unparalleled workplace exposure via praxis centres
To spearhead innovation in teaching and learning excellence through unique delivery systems
To foster a sustainable culture of research, value innovation and practice, in partnership with industries and society
To operate ethically at the highest standards of efficiency, while instilling values of diversity and inclusiveness, to sustain the vision for future generations