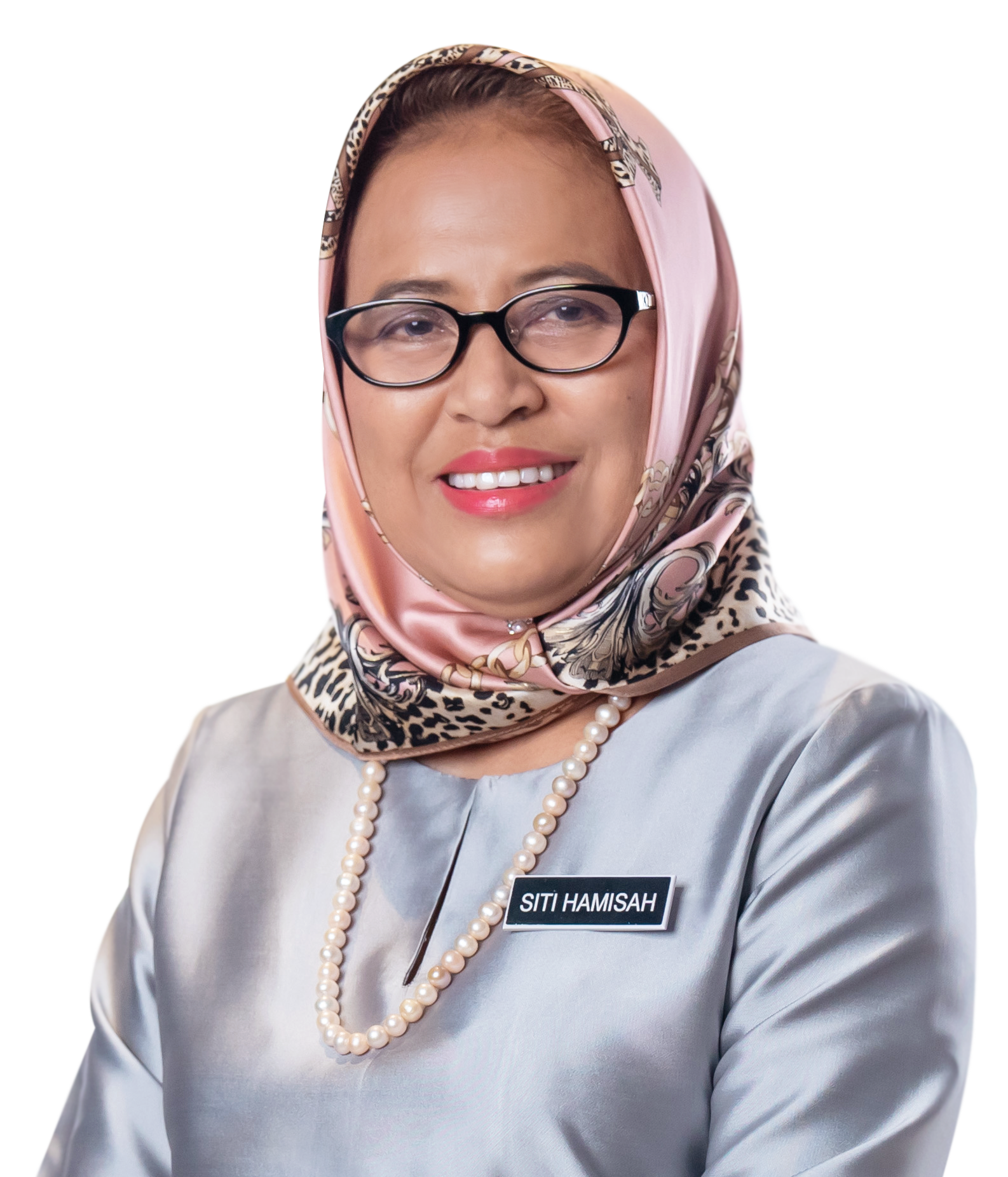 Professor Datuk Ir Ts Dr Siti Hamisah Binti Tapsir, FASc
P.J.N, JSM, D.P.M.S,
MSc Civil Eng (Lowell), PhD Civil Eng (Leeds), Hon FAFEO, FIEM, P.Eng, P.Tech (Eng)
The Vice-Chancellor
UCSI University
Datuk Dr Siti Hamisah is the fourth Vice-Chancellor for UCSI University, following her appointment on October 1, 2021. A former civil servant with over 33 years in the Government, she has held various portfolios under six different ministers, most notably in higher education and science, technology and innovation.
Prior to her retirement from the civil service in September 2021, Datuk Dr Siti played an instrumental role in overseeing the rollout of the National Immunization Programme (PICK) as the Secretary-General of the Ministry of Science, Technology and Innovation (MOSTI), which was mandated to implement PICK in collaboration with the Ministry of Health (MOH). Under her leadership, the national vaccination programme exceeded expectations by inoculating at least 80% of the adult population in Malaysia by September 2021. While Datuk Dr Siti was initially expected to retire in March 2021, her service was extended by six months due to her dedication and expertise in leading MOSTI to roll out PICK.
In 2019, Datuk Dr Siti was appointed as the Secretary-General of the Ministry of Energy, Science, Technology, Environment and Climate Change (MESTECC), where she led the policy development and strategic management in science, technology and innovation as well as the environment and climate change.
Datuk Dr Siti is also known for her service as the Director-General of the Ministry of Higher Education (MOHE) from 2017 to 2019. She played a crucial role in the implementation of the Malaysia Education Blueprint 2015 – 2025, where she contributed key initiatives such as the introduction of the Integrated Cumulative Grade Point Average (iCGPA), the CEO@Faculty programme and the 2u2i programme, among others. During her stint as Director-General, Datuk Dr Siti also introduced Malaysian Quality Evaluation System for Private Colleges, also known as the MyQuest rating system, to evaluate and subsequently improve the performance of private higher education institutions of college status in Malaysia. Prior to that, she served as the Deputy Director-General for both public and private universities at MOHE from 2009 to 2017.
Datuk Dr Siti completed a Diploma in Civil Engineering in Institute Teknologi Mara (now known as University Teknologi Mara) before obtaining a Bachelor's Degree in Civil Engineering from the New England College in the United States. She then worked briefly as a Civil Engineer in the Public Works Department. Keen to further advance her expertise in engineering, Datuk Dr Siti subsequently completed a Master's Degree in Engineering at the University of Lowell in Massachusetts, USA before joining Bethel & Duncan Associate as an engineer. She also holds a PhD in Civil Engineering from the University of Leeds in 1994.
A civil engineer by training, Datuk Dr Siti has always been passionate about academia, having started her career as a lecturer at University Technology Malaysia (UTM) in 1987. Her interest and dedication to the field led to her appointment as a Dean, and subsequently Deputy-Vice Chancellor in charge of academic matters and internalization at UTM.
At UCSI University, Datuk Dr Siti seeks to leverage her knowledge, expertise and passion to enhance UCSI's ranking locally as well as globally. She aims to add value to the quality of teaching and learning by promoting a wholesome education experience offered by UCSI. Additionally, Datuk Dr Siti also intends to increase collaboration between academia and the private sector by commercializing UCSI's research output.
Under Datuk Dr Siti's leadership, UCSI believes that that University is headed in the right direction towards achieving greater heights and milestones in time to come.
With the addition of Dr Siti Hamisah, UCSI is certainly headed in the right direction towards attaining greater achievements and milestones in time to come.