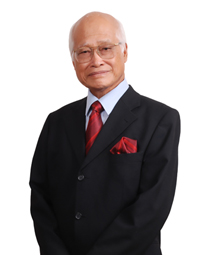 Tan Sri Datuk Seri Panglima Dr. Abdul Rahman Arshad
PSM, SPDK, SPMS, DCSM, DSAP, DMPN, DKSJ, JMN, JSM, BSK, B. A. Hons. (Malaya), Ph.D (East London), Dip. Ed. (Singapore), Dip. Ednl. Admin. (Reading), Hon. LL.D. (Saskatchewan), Hon. D. Litt. (UPM), Hon. D. Litt. (Heriot-Watt), Hon. D. Ed. (East London), Hon. D. Ednl. Mgnt. (UiTM), Hon. D. Ed. (UCSI), Hon. D. Ed. (UM), Hon. D. Ed. (UPSI), AMP (Harvard)
Chancellor
UCSI University

Chairman, National Education Advisory Council (2014-2016)

Yang Berbahagia Tan Sri Datuk Seri Panglima Dr Abdul Rahman Arshad has 30 years of experience working with the Ministry of Education before ending his career as a Director-General of Education where he held that position for 7 years. While in service, he served at both state director and ministry levels. Prior to being a Director-General of Education, he held positions as Director of Examinations, Director of Educational Research and Planning, and Deputy Director-General.
While in service, Tan Sri was also much involved in the international circle. He was Deputy President of ISESCO (Islamic Science, Education and Cultural Organization) with headquarters in Rabat, Morocco. He was also Chairman of the Asia and Oceania group at UNESCO regional office in Bangkok, Chairman of RIHED (Regional Institute of Higher Education Development) based in Bangkok and Chairman of INNOTECH (Center for Innovation and Technology) based in Manila. Both institutions are under SEMEO (South East Asian Ministers of Education Organization). He was also on the committee of Student Mobility at the Commonwealth Secretariat, London. Tan Sri was also made an Eisenhower Fellow.
Receiving his Bachelor's degree from the University of Malaya, Tan Sri then went on to receive his PhD from the University of East Long, England. In addition, he also holds honorary degrees from the University of Saskatchewan, Canada; Heriot-Watt University, Scotland; the University of East London, England; Universiti Putra Malaysia; University Teknologi MARA; the University of Malaya; University Pendidikan Sultan Idris; and UCSI University.
Upon his retirement in 1991, Tan Sri was appointed as Education Consultant to the World Bank, Chairman and later as Pro Chancellor of UiTM, Pro Chancellor of Universiti Pendidikan Sultan Idris (UPSI) and Chairman of Heriot-Watt University. He was also the Chairman of Bank Industri as well as Chairman of five companies listed on the Kuala Lumpur Stock Exchange.
Tan Sri is now Chancellor of UCSI University as well as Chairman of the Advisory Council on National Education.
Q. What was it that inspired Tan Sri Chancellor to become an educationist?
Answer: I didn't start my career as an educationist. After completing my studies in Singapore, I became the Deputy Assistant District Officer in Kuala Pilah,but my mind however was still on education. I had developed a love for education. It all started when I was employed as a temporary teacher in a school in Masjid Tanah, while I was on university vacation. Later, my love was rekindled by Encik Aminuddin Baki, the first Malaysian Director-General of Education, Professor Dato' Taib Osman, who was the former Vice-Chancellor of the University of Malaya and Tun Syed Nasir Ismail, a former Speaker of Parliament. Encik Aminuddin Baki impressed me with a very deep impression of his commitment to education.

Q. Was there any particular person who had a great deal of influence as a mentor or role model of sorts on Tan Sri Chancellor during your career as an educationist?
Answer: As I had mentioned earlier, Encik Aminuddin Baki's encouragement has made me dedicate myself to the development of education in the country. I am where I am today because of the education I received. The former Head of State of Penang, Tun Hamdan Sheikh Tahir was also a father-figure to me. I used to look up to him for guidance. The former Prime Minister of Malaysia, Tun Dr. Mahathir played a great part in my career. I could sense that he was a man of great posterity. He knew what needed to be done to raise the standard of education in Malaysia. Tan Sri Musa Hitam was also a great source of encouragement. He was open to new ideas and very approachable. I could talk to him as a friend, probably because I knew him from university days in Singapore. Tan Sri Khir Johari gave me every encouragement and guidance.

Q. Perhaps Tan Sri Chancellor could share with us some of your experiences working with such international organizations as Islamic Educational, Scientific and Cultural Organisation (ISESCO), South East Asian Ministers of Education Regional Centre for Educational Innovation and Technology (SEAMEO INNOTECH), United Nations Educational, Scientific and Cultural Organisation (UNESCO), and the Commonwealth Secretariat in London.
Answer: When I was the Director-General of the Ministry of Education, I also served as the Deputy Chairman of ISESCO at Rabat, Morocco. ISESCO, which is the Islamic version of UNESCO, is mainly involved with issues on education, science and culture. There was a time when there was conflict between Iraq and Kuwait. The situation then was very tense, and a lot of the discussions delved more on politics rather than education. That was an experience that I will not forget.

When I subsequently served in UNESCO, I also found it sometimes developing into a political platform. But I was also Chairman of the Asia and Oceania group.

I found my experience with the Commonwealth most gratifying as most of the people working with the Secretariat came from similar backgrounds. We were once under the colonial rule, and along with it, came the common values that helped us appreciate each other better.

INNOTECH is the unit established by SEAMEO, which stands for South East Asian Ministers of Education Organisation) to look into innovation and technology in education. As Chairman of INNOTECH, it meant that I had to attend board meetings to discuss issues relating to education. It was also another good experience for me.

Q. Having such an illustrious career as an educationist, how did Tan Sri Chancellor come to accept multiple chairmanship of financial institutions like Bank Industri, Exim Bank, and Malaysian Export Credit Insurance Berhad, to name a few? How did you adapt to such a change of industries and cope with so many significant portfolios?
Answer: The truth is since 2003, I have given up my chairmanship in most of the public listed companies, except for John Master Industries. I helped John Master to go on second board, and subsequently into the Main Board. I have always enjoyed the numerous challenges in life that positions like these are a welcome challenge.

Q. You were also appointed Pro-Chancellor of UiTM in 2002. Share with us your experience being the Pro-Chancellor of UiTM.
Answer: From as early as 1972, I was sitting as a board member of UiTM. In 1992, I was appointed as Chairman of the board. Since 2002, I became the Pro-Chancellor of UiTM. This is the greatest achievement in my career as an educationist. As Chairman, I realised the need to expand the university (then known as MARA Institute of Technology) as there was increasing need for higher education. Today, UiTM is more than 10,000 strong.

Q. Does Tan Sri Chancellor have any words of wisdom for students considering a career as an educationist? What about for UCSI University's academic staff?
Answer: Students these days have more options to choose from. There are public universities, private universities and private colleges totalling about 500 altogether. Lots of courses are available. Students, therefore, have to start making their choices as early as Form Five, even before the SPM examinations. Parents likewise are more educated and they can give guidance to their children on the courses to take. There is also career guidance provided in most secondary schools. With education provided locally, parents can save on the living costs as cost of living in Malaysia is low compared to those found overseas.

However, my advice is that students complete their undergraduate programmes here in Malaysia, and this should only be the starting point. We have to know our "roots", background and values first before we learn about others. Be a Malaysian and we must know about our country first before we learn of others.

We are living in a globalised world and therefore, at the same time, we must be sufficiently equipped to play an effective role in the globalised world. Our training must be multi-faceted so that we become better and able to face global challenges.

Q. What is Tan Sri Chancellor's vision for UCSI University?
Answer: We have to keep up with the quality of education if we want to be known as a university I would like the university to start benchmarking with some of the world's top universities. A university should also be heavily involved in research. There is no such thing as a university doing teaching only. Academics and Research must go together. At the same time, a university must not be only an ivory tower. It should be in touch and keep abreast with the real world so that what we teach is what we practise and graduates that we produce are able to meet market demands always -- economically and socially.