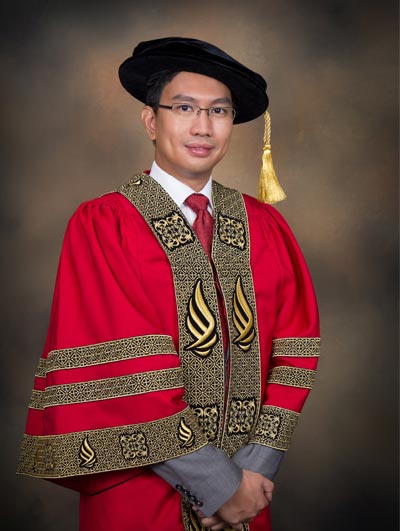 YAM Tunku Zain Al-'Abidin ibni Tuanku Muhriz
Pro-Chancellor
UCSI University
Yang Amat Mulia Tunku Zain Al-'Abidin ibni Tuanku Muhriz is the first Pro-Chancellor of UCSI University
Tunku Abidin became the Pro-Chancellor of UCSI University in December 2020. Popularly known as Tunku Abidin Muhriz, he is the second son of the reigning Yang di-Pertuan Besar of Negri Sembilan with a heart to drive the Malaysian education system to greater heights.
Tunku Abidin was educated at the Kuala Lumpur Alice Smith School Marlborough College and London School of Economics and Political Science where he obtained his BSc in Government and Sociology, and MSc in Comparative Politics and Imperial History.
After having worked in a number of think tanks, the Houses of Parliament, including a stint at the World Bank as a Public Sector Consultant, Tunku Abidin returned to Kuala Lumpur and initiated several pertinent and impactful initiatives, some of which were done together with the United Nations.
He is the founding president of the Institute of Democracy and Economic Affairs (IDEAS) and a trustee of Yayasan Chow Kit along with Yayasan Munarah, among others. He has orchestrated many programmes related to education and the development of the young minds other than speaking at various forums to address pressing issues in the academic sphere.
Tunku Abidin aspires to inspire young minds to continuously outperform themselves and to truly understand public governance and policies to drive growth and ultimately place the country in the same pedestal as other developed nations.
He has contributed his insights on public policies and ideals of a better nation as a columnist in several newspapers. Some of the pertinent topics that he usually writes about include the principles needed to holistically build a nation, of which, highlights the importance of education, partnership among nations, renewal of ideas to collectively shape a broader strategy for the greater good, understanding and embracing the Rukun Negara.
Other than that, Tunku Abidin is greatly interested in music and is an accomplished pianist. He gives his utmost support to the arts scene and is the patron for the Euroasia Association of Performing Arts. Aside from that, Tunku Abidin has also performed at the Konsert Diraja UKM and he is the first patron of Hands Percussion – a Malaysian percussion ensemble.
With the addition of Tunku Abidin, UCSI University is certainly on the right pathway towards attaining greater achievements and milestones in time to come. UCSI's Institute of Music (IMus) is one of the world's top 100 schools for performing arts, and with Tunku Abidin's guidance, the school could see further improvement in the arts scene.
As the Pro-Chancellor, Tunku Abidin hopes to highlight the efforts needed in the areas of civil society activism, public policy advocacy, business innovation, educational initiatives, sporting prowess and musical camaraderie amongst the UCSI community.
Tunku Abidin believes that Malaysia can only truly progress cohesively if people from diverse fields worked collectively with one common vision that lead to a shared destiny. He strongly believes that working towards this common vision is further reinforced at higher learning institutions and that UCSI, a leading private university, has already adopted some approaches that are synonymous with such ideals.
Proud of the initiatives that UCSI had embarked on in recent years, including but not limited to the National Essay Competition, World Interfaith Harmony Week and myRukunnegara Competition, Tunku Abidin hopes for the similar approach to be carried on and hopes to see an increased participation amongst students and academics in such programmes. These are some of his commitments to groom tomorrow's leaders at UCSI – a common value that is shared among the University's community.