| | |
| --- | --- |
| Approval Code | R/840/6/0016; 06/2023 |
| Accreditation Code | MQA/FA2951 |
| Classification | BA (Hons) |
| Subject Area | Supply Chain Operations Management |
| Course Mode | Full-time |
| Course Duration | 3 Years (6 long semesters, 3 short semesters) / (14 weeks per long semester, 7 weeks per short semester) |
| Course Location | Kuala Lumpur |
| Intakes | January, May and September |
The Faculty of Business & Information Science develops both academic understanding and practical skills required for career development in various industrial and energy sectors.
Nowadays, the Oil and Gas Industry is growing at a rapid pace globally; graduates from this faculty are expected to join the industry as administrators or managers in the field of science, mineral resources and related areas. Opportunities also exist in support areas, including the general economy, international marketing and international business. Graduates in this field can work with either, local or international Oil and Gas corporations as negotiators, brokers and advisors.
Qualification
Academic Requirements
UCSI Foundation year
Pass, with a minimum CGPA of 2.0
STPM
Minimum 2 principals (C) (CGPA 2.0) in 2 subjects and pass in Mathematics and English at SPM Level
A-levels
Minimum 2 principals (E)
UEC
Minimum 5 credits (B6) and pass (C8) in Mathematics and English
National Matriculation
Minimum CGPA of 2.0
International Baccalaureate (IB)
Minimum score of 26 points in 6 subjects
Canadian Pre-U
Minimum average of 60% in 6 subjects
SAM / Australian Year 12
Minimum average of 60% in 5 subjects
Other qualifications deemed equivalent to STPM/A-Level by Malaysian Qualifications Agency
Minimum overall average of 60%
Diploma (business-related)
Minimum CGPA of 2.0
Other equivalent qualifications
To be reviewed by the faculty on a case-to-case basis

Note (Source: Surat Pekeliling MQA Bil 2/2016) :
The terms of passing in Mathematics and English at SPM level for the candidate with STPM or STAM qualification can be exempted if the candidate obtained Mathematics and English and its achievement is equivalent or higher than the required pass of the aforesaid courses at the SPM level.

ENTRY REQUIREMENTS FOR FOUNDATION YEAR
Qualification
Academic Requirements
SPM
Pass SPM with minimum 5 credits
O-Level
Minimum 5 credits (C)
UEC
Pass UEC with minimum 3 credits (B6)
Other qualifications deemed equivalent to STPM/A-Level by Malaysian Qualifications Agency
Minimum overall average of 50%
Other qualifications deemed equivalent to SPM/O-Level by Malaysian Qualifications Agency
Minimum overall average of 60%
Note / Legend:
Discretion is given to the Head of Department to deal with applicants who have results borderline to the Academic Requirements.
SPM Credit – 'A+' to 'C'
O-Level – 'A' to 'C'
UEC Credit – 'A1' to 'B6'
STPM principal – 'A' to 'C'
'A' Levels principal – 'A' to 'E'
English Language Requirements
IELTS minimum Band 5.5
TOEFL (Internet-based) minimum 46
Cambridge English Qualification and Test minimum score of 160
Pearson Test of English minimum score 51
MUET minimum Band 3
Applicants who have studied at least one year in a programme at an Institution of Higher Learning with minimum overall CGPA of 2.00 / average percentage of 50% where English is the medium of instruction. Applicants must produce a verification letter from the Institute of Higher Learning confirming the medium used in the delivery of the programme was in English can be exempted from the English language requirements stated above.
Potential Career Options
The effective management of supply chain can boost customer service, reduce operating costs, and improve a company's financial position. Graduates may pursue careers in the supply chain management sector including:
supply chain design and planning
procurement and supply management
freight transportation
warehouse design and management
distribution network design and planning
inventory management and control
project management
Year 1
Introduction to Logistics Management
Fundamentals of Management
Organisational Behaviour
Business Information System
Microeconomics
Business Accounting
Statistics and Its Application
Macroeconomics
Business Law
University Life (MPU-U2)
Business Law – Malaysian Perspective (MPU-U3)
Extracurricular Learning Experience 1 (MPU-U4)
Co-Operative Placement 1
Year 2
Freight Transport Management
Customer Relationship Management
Procurement Management
Operations Management
Business Mathematics
Occupational Safety and Health
Retail Operations Management
Business Supply Chain Management
Quantitative Method for Logistician
Financial Management
Business Research Methods
Strategic Logistics Management
Extracurricular Learning Experience 2 (MPU-U4)
Co-Operative Placement 2
Elective 1: Choose One
Introduction to Industrial Management
Land Transportation Management
Warehousing Management
Year 3
Final Year Project A
Quality Management
Materials Management
Operations Research
Final Year Project B
Logistics Project Management
Material Requirement Planning
Lean Manufacturing
Strategic Distribution Management
Extracurricular Learning Experience 3 (MPU-U4)
Co-Operative Placement 3
Elective 2: Choose One
Industrial Relation
Maritime Transport
IT Application in Logistics Operations
MPW / English Courses
(if applicable)
Basic English
English Foundation
Bahasa Kebangsaan A
General Courses (MPU) are compulsory for all students.
U1
– For Malaysian students:
Ethnic Relations
Islamic Civilisation and Asian Civilisation
– For foreign students:
Malaysian Studies
Communication in Bahasa Melayu 3
---
All information is correct at the time of upload and UCSI University reserves the right to make amendments without prior notice.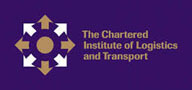 The Chartered Institute of Logistics and Transport
Full exemption for the professional qualifying examination
Local Students
Approximate Total Fees:
RM 69,770
International Students
Approximate Total Fees:
RM 80,200