| | |
| --- | --- |
| Approval Code | R2/462/6/0016; 03/2025 |
| Accreditation Code | A11179 |
| Classification | BSc (Hons) |
| Subject Area | Actuarial Science |
| Course Mode | Full-time |
| Course Duration | 3 Years |
| Course Location | Kuala Lumpur |
| Intakes | January, May and September |
Actuaries are professional deal with the financial impact of risk and uncertainty. They use skills in mathematics, economic, computer science, finance, probability and statistics, and business to assess the likelihood of occurrence of certain risky events formulate policies that minimize the cost of these risks. As such, actuaries are essential to the insurance and reinsurance industry. In addition, they can be consultants to other businesses, including sponsors of pension plans; and to government agencies such as bank Negara Malaysia. The 3-year BSc (Hons) Actuarial Science programme provides a solid grounding in mathematics, accounting, finance and statistic to integrate theories with actual experience and build a foundation for students to pursuit professional career in the financial risk management industry.

Students will be furnished with the essential leadership qualities, communication skills, problem-solving abilities, critical thinking, as well as entrepreneurial and managerial skills that will enable them to face the challenging yet exciting world, where risks can be turned into opportunities.


Assessments

The assessment includes a combination of examinations, projects and assignments, and finally a requirement to complete a dissertation in Independent Project in the final year. Students will acquire up-to-date vocational skills that are relevant and competitive. This reflects the complex and challenging nature of the accounting, finance and business realms.
Qualification
Academic Requirements
UCSI Foundation year
Minimum CGPA 2.0 including Mathematics
STPM
Minimum 2 principals (C) (CGPA 2.0) including Mathematics
A-levels
Minimum 2 principals (E) including Mathematics
UEC
Minimum 5 credits (B6) including Mathematics
National Matriculation
Minimum CGPA of 2.0 including Mathematics
International Baccalaureate (IB)
Minimum score of 26 points in 6 subjects including Mathematics
Canadian Pre-U
Minimum average of 60% including Mathematics
SAM
Minimum average of 60% including Mathematics
Other qualifications deemed equivalent to STPM/A-Level by Malaysian Qualifications Agency
Minimum overall average of 60% including Mathematics
Diploma (Business-related)
Minimum CGPA of 2.0 Including Mathematics
Other equivalent qualifications
To be reviewed by the faculty on a case-to-case basis
ENTRY REQUIREMENTS FOR FOUNDATION YEAR
Qualification
Academic Requirements
SPM
Pass SPM with minimum 5 credits
O-Level
Minimum 5 credits (C)
UEC
Pass UEC with minimum 3 credits (B6)
Other qualifications deemed equivalent to STPM/A-Level by Malaysian Qualifications Agency
Minimum overall average of 50%
Other qualifications deemed equivalent to SPM/O-Level by Malaysian Qualifications Agency
Minimum overall average of 60%
Note / Legend:
Discretion is given to the Head of Department to deal with applicants who have results borderline to the Academic Requirements.
SPM Credit – 'A+' to 'C'
O-Level – 'A' to 'C'
UEC Credit – 'A1' to 'B6'
STPM principal – 'A' to 'C'
'A' Levels principal – 'A' to 'E'
English Language Requirements
IELTS minimum Band 5.5
TOEFL (Internet-based) minimum 46
Cambridge English Qualification and Test minimum score of 161
Pearson Test of English minimum score 51
MUET minimum Band 3
Applicants who have studied at least one year in a programme at an Institution of Higher Learning with minimum overall CGPA of 2.00 / average percentage of 50% where English is the medium of instruction. Applicants must produce a verification letter from the Institute of Higher Learning confirming the medium used in the delivery of the programme was in English.
Many corporations today have acknowledged the need for financial specialists with the skills to manage risk. Upon completion of this programme, graduates will be furnished with the proper understanding of management know-how and are prepared for the relevant professional examinations. Graduates can seek employment in key industry streams such as:
Actuarial Executive
Enterprise Risk Analyst
Bank Executive
Financial Analyst
Financial Planning Advisor
Entrepreneur
Year 1
Calculus and Analytical Geometry
Statistics and its Application
Business Accounting
Risk Management and Insurance
Mathematics 1
Probability Theory
Financial Management 1
Microeconomics
Managerial Accounting
Macroeconomics
Elective 1
Co-Operative Placement 1
Year 2
Mathematics 2
Mathematical Statistics
Introduction to Stochastic Process
Applied Statistical Models
Mathematics of Interest Rate
Life Contingencies 1
Mathematics of Financial Derivatives
Visual Basic. Net
Loss Models
Business Communications
Elective 2
Co-Operative Placement 2
Year 3
Life Contingencies 2
Independent Project 1
Stochastic Calculus for Insurance and Finance
Elective 3
Independent Project 2
Statistical Methods for Insurance
Credibility Theory
Statistical Stimulation for Financial Modelling
Co-Operative Placement 3
Electives
Electives 1 & 2

Fundamental of Marketing
Fundamentals of Management
Introduction to Internet Technologies
Accounting Information System
Business Modelling with Spreadsheet
Business Information System
Business Law
Corporate Finance
Numerical & Computing Method

Elective 3

Actuarial Practice
Investment Portfolio Management
General Courses (MPU) are compulsory for all students.
U1
– For Malaysian students:
Ethnic Relations
Islamic Civilisation and Asian Civilisation
– For foreign students:
Malaysian Studies
Communication in Bahasa Melayu 3
---
All information is correct at the time of upload and UCSI University reserves the right to make amendments without prior notice.
Society of Actuaries (SOA), USA
Obtain all three VEE (Validation by Educational Experience) credits before graduation – the equivalent of core subjects needed to attain a membership.
VEE credits may go towards other actuarial qualifications such as from the Casualty Actuarial Society and Canadian Institute of Actuaries.
UCSI is one of a few Malaysian private universities recognised as one of SoA's UCAP (Universities and COLLEGES WITH Actuarial Programmes) schools.
UCSI provides the most comprehensive SoA exam coverage in Malaysia.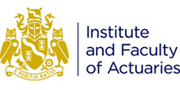 Institute and Faculty of Actuaries (IFoA), UKd
The Institute and Faculty of Actuaries (IFoA), UK has granted an Accreditation by Subject Agreement covering their CM1, CB1 and CB2 modules to UCSI University's BSc. (Hons) Actuarial Science and BSc. (Hons) Actuarial Science and Finance programmes.
Students who have passed the necessary courses with the required marks/grade that are set by IFoA , are eligible to receive these exemptions. These exemptions are effective from the Jan-Apr 2019 semester onwards.
UCSI University is the first private institution in Malaysia recognised by IFoA, UK.
Remark: The CT1 exemption obtained previously no longer exists due to the revamping of the examination system of IFoA that took effect from July 2018.
International Degree Pathway (IDP) via BSc (Hons) Actuarial Science
| IDP Programme | Pathway | University | Country | Fee |
| --- | --- | --- | --- | --- |
| BSc Actuarial Science | 1 + 2 | University of Essex | United Kingdom | £ 13750 |
For enquiry, please contact us at
[email protected]
or call us at +603 9101 8880 ext 2066.