| | |
| --- | --- |
| Approval Code | R2/010/3/0301; 01/2025 (KL) | R2/010/3/0196; 04/2024 (Kuching) | R2/010/3/0195; 04/2024 (Terengganu) |
| Accreditation Code | MQA/A11125 (KL) | MQA/A9780 (Kuching) | MQA/A9751 (Terengganu) |
| Classification | Foundation |
| Subject Area | Arts (Management and Actuarial Science) |
| Course Mode | Full-time |
| Course Duration | 1 Year / 3 semesters (14 weeks per semester, no short semester) |
| Course Location | Kuala Lumpur , Kuching , Terengganu |
| Intakes | January, May and September |
As the Fourth Industrial Revolution brings forth unprecedented technological disruptions that are reinventing the rules and changing the way businesses are conducted, enterprises, be it start-ups or multinationals, need to keep pace and change or risk being wiped out.
If you are keen to venture into business, management, information technology (IT) or actuarial science, our Foundation in Arts programme, will give you a strong foundation to start with; a strong grounding in mathematics, basic computing and statistics with additional subjects specialising in the respective three disciplines.
In addition to acquiring relevant subject knowledge, you will also be supported and mentored by our distinguished professors throughout your studies so that you can develop the right critical and creative thinking and study skills to ensure a smooth academic and cultural transition when you move to your degree level study in management, actuarial science or information technology.
Our strong ties with key industrial partners offer numerous opportunities for you to engage with the industry in various capacities to start off your professional development and get a glimpse into industry perspectives.
Planning on joining the movers and shakers of the business and IT world? Start here, today.

Assessments

Integrating both coursework and written examinations, this programme incorporates a practice-oriented approach and furnishes students with relevant interesting, stimulating and hands-on experience via a variety of teaching methods and practical exercises. Different dynamic learning processes are employed in the delivery of this programme including lectures, tutorials, computer lab work, team-based projects, real-life system developments, presentations and independent projects, to name a few, supervised by both university lecturers and industry experts alike.
Qualification
Academic Requirements
SPM / O-levels
5 credits (inclusive of Math for IT pathway)
UEC
3 credits (inclusive of Math for IT pathway)
Other qualifications deemed equivalent to SPM/O-Level by Malaysian Qualifications Agency
Overall average score of 60%
Other qualifications deemed equivalent to STPM/A-Level by Malaysian Qualifications Agency
Overall average score of 50%
Foundation in Arts (For entry into BA (Hons) Accounting / BA (Hons) Accounting & Finance)
Qualification
Academic Requirements
SPM
Pass SPM with minimum 5 credits and a credit in Mathematics
O-levels
Minimum 5 credits(C) and a credit in Mathematics
UEC
Pass UEC with minimum 3 credits (B6) including Mathematics
Other qualifications deemed equivalent to STPM/A-Level by Malaysian Qualifications Agency
Minimum overall average of 50%
Other qualifications deemed equivalent to SPM/O-Level by Malaysian Qualifications Agency
Minimum overall average of 60%
Foundation in Arts (For entry into Bachelor of Computer Science (Hons) Mobile Computing and Networking)
Qualification
Academic Requirements
SPM
Pass SPM with minimum 5 credits(C), including Additional Mathematics
O-levels
Minimum 5 credits(C), including Additional Mathematics/equivalent
UEC
Pass UEC with minimum 3 credits (B6), including Additional Mathematics/equivalent
Other qualifications deemed equivalent to STPM/A-Level by Malaysian Qualifications Agency
Minimum overall average of 50%, including minimum 50% score in Additional Mathematics/equivalent
Other qualifications deemed equivalent to SPM/O-Level by Malaysian Qualifications Agency
Minimum overall average of 60%, including minimum 60% score in Additional Mathematics/equivalent
Foundation in Arts (For entry into BSc (Hons) Computing / BSc (Hons) Business Information Systems)
Qualification
Academic Requirements
SPM
Pass SPM with minimum 5 credits(C), including Mathematics
O-levels
Minimum 5 credits(C), including Mathematics
UEC
Pass UEC with minimum 3 credits (B6), including Mathematics
Other qualifications deemed equivalent to STPM/A-Level by Malaysian Qualifications Agency
Minimum overall average of 50%, including minimum 50% score in Mathematics
Other qualifications deemed equivalent to SPM/O-Level by Malaysian Qualifications Agency
Minimum overall average of 60%, including minimum 60% score in Mathematics
Kuala Lumpur Campus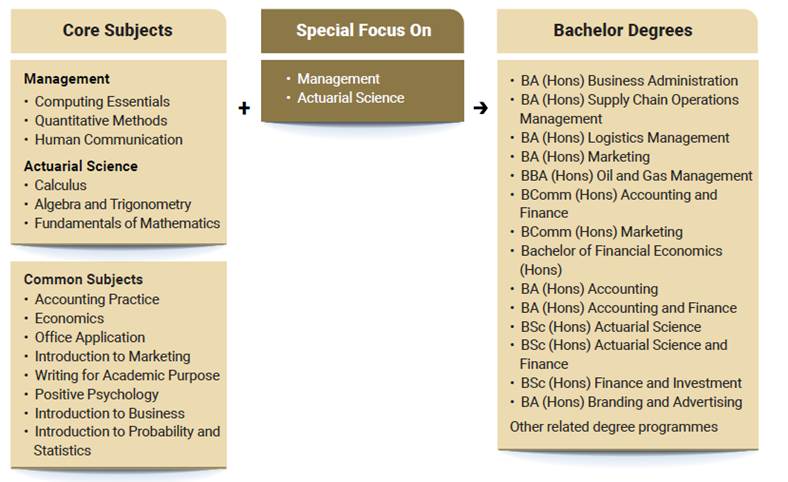 ---

Kuching Campus

Actuarial Science Pathway
Core Subjects
Calculus
Algebra & Trigonometry
Fundamentals of Mathematics
Common Courses
Accounting Practice
Principles of Economics
Introduction to Business
Fundamentals of Marketing
Writing for Academic Purposes
Office Applications
Fundamentals of Database
Introduction to Probability and Statistics
Elective Courses
Students are required to take 3 elective courses below during their Foundation Studies:
Critical Thinking Skills
Smart Learning Technology
Fundamentals of Oral Communication
Introduction to Logistics & Supply Chain Management
Management and Information Technology Pathway
Core Subjects
Web Development
Computing Studies
Quantitative Methods
Common Courses
Accounting Practice
Principles of Economics
Introduction to Business
Fundamentals of Marketing
Writing for Academic Purposes
Office Applications
Fundamentals of Database
Introduction to Probability and Statistics
Elective Courses
Students are required to take 3 elective courses below during their Foundation Studies:
Critical Thinking Skills
Smart Learning Technology
Fundamentals of Oral Communication
Introduction to Logistics & Supply Chain Management