| | |
| --- | --- |
| Approval Code | R2/010/3/0193;01/2023 (KL) | R2/010/3/0196; 04/2024 (Sarawak) |
| Accreditation Code | A 9776 (KL) | A 9780 (Sarawak) |
| Classification | Foundation |
| Subject Area | Science (Pharmacy) |
| Course Mode | Full-time |
| Course Duration | 1 Year / 3 Semesters (14 weeks per semester, no short semester) |
| Course Location | Kuala Lumpur , Sarawak |
| Intakes | January, May and September |
Welcome to the rapid proliferation of technological advancements under the Fourth Industrial Revolution, where pharmacists have to be medicine experts, digitally-capable and good in communication skills so that they can counsel patients of the public to ensure optimal outcome from the medicines or supplements consumed to relieve illness or maintain good health.
Our Foundation in Science (Pharmacy) programme is designed to provide an integrated, seamless progression into the Bachelor of Pharmacy (Hons) course. You will acquire a strong understanding of the relevant science, technology, engineering and mathematics (STEM) subjects and be exposed early to pharmacy-specific content.
Our professors take pride in imparting their priceless knowledge and skills to help you inculcate independent and critical thinking skills, which are vital for a research-intensive discipline like pharmacy. Enjoy learning in a stimulation environment that encourages exploring and discovery, supported by an interactive faculty using different learning delivery modes and quality facilities.
Make a smart choice for your pharmacy career today.


Assessments

Vary from course to course including:
Written exams

Project-based coursework
Coursework percentage: 50%, written examination percentage: 50% (percentage may vary from course to course).
Foundation in Science (For entry into Pharmacy)
Qualification
Academic Requirements
Minimum 5B in Biology and Chemistry and Physic and Math (or Additional Math) and other one course at School Certificate level or equivalent.
Minimum B's in Chemistry, Biology, Physics and Mathematics
Minimum overall average of 65%, inclusive of Chemistry (14B), Mathematics (13B) and Biology/ Physics (13B)
Minimum overall average of 65%, inclusive of Chemistry (65%), Mathematics (60%) and Biology/ Physics (60%)
Other Year 11 Equivalent /
HSC and other Year 12 Equivalent
Minimum 65% in Chemistry, Biology, Physics and Mathematics
Important Note
Equivalent secondary school certificates to SPM / O-levels is required for international students. A minimum of 65% or grade Bs are needed for all Chemistry, Biology, Physics and Maths. English requirements apply.

Malaysian student must pass Bahasa Melayu and English with Grade C in SPM or equivalent, irregardless of the pre-university programmes.
English Language Requirements
A distinction (A+,A or A-) in English Language course at SPM/UEC level; or MUET Band 5; or TOEFL score of 196 (computer-based) / 525 (written-based) / 69-70 (internet-based); or IELTS Band 5.0. Additional English course(s) must be taken at UCSI University concurrently with undergraduate programme if English Language requirements are not fulfilled.
Note / Legend:
Discretion is given to the Head of School to deal with applicants who have results borderline to the Academic Requirements.
SPM Credits – 'A+' to 'C'
O-levels Credits – 'A' to 'C'
UEC Credits – 'A1' to 'B6'
Kuala Lumpur Campus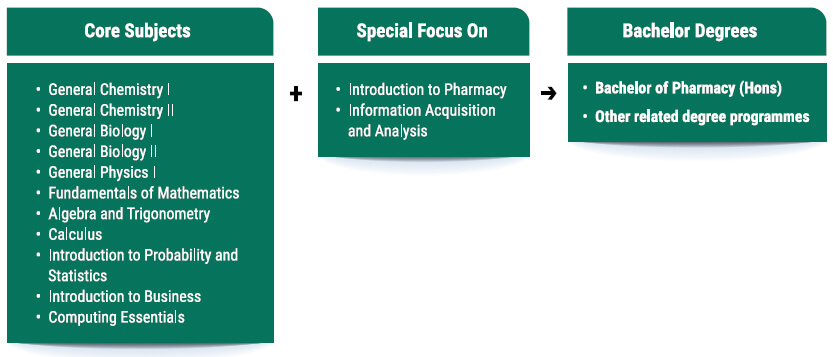 ---

Sarawak Campus
Lab Subjects
General Chemistry I
General Chemistry II
General Biology I
General Biology II
General Physics I
Non-lab Subjects
Fundamentals of Mathematics
Algebra & Trigonometry
Calculus
Introduction to Probability & Statistics
Introduction to Business
Computing Studies
Elective Courses
Students are required to take 3 elective courses below during their Foundation Studies:
Critical Thinking Skills
Smart Learning Technology
Fundamentals of Oral Communication
Introduction to Logistics & Supply Chain Management