Please take note of the following important information before you travel to Malaysia:
International students may enter Malaysia regardless of their vaccination status. However, vaccination requirements are still subjected to the airline company's requirements.
It is mandatory for all International students to enter Malaysia before the expiry of their Visa Approval Letter (VAL). VAL is issued with only six (6) months validity, which is sufficient to enter the country.
International students are required to have a passport validity for more than 18 months ( all countries except Indonesia) / 24 months ( Indonesia only ) upon arrival in Malaysia.
The Pre-Departure and On-Arrival COVID-19 detection test are no longer required.
It is not required to complete the "Traveller's Card" information in the MySejahtera Application.
Please refer to https://mysejahtera.moh.gov.my/ms/ for more information.
---
Install the EMGS Mobile App to track your application on your smartphone. Once you receive the VISA Approval Letter (VAL) from the Immigration Department, you are able to travel to Malaysia.
---
Kindly make a full payment stated in the Letter of Admission (LoA)
* For all international transactions, please ensure that the exact US Dollar (USD) amount mentioned in the LoA is sent to the University.
**Remit the full amount as stated in the LoA that you have received. Send an e-mail to [email protected] with a scanned copy of your Telegraphic Transfer (TT) statement as an attachment, clearly stating your Name, Passport Number and Student ID No. For payment details, please go to: https://www.ucsiuniversity.edu.my/Tuition-Fees (please refer to respective campus).
---
If you require a Single-Entry Visa (SEV) to enter Malaysia, kindly apply at the Malaysian Embassy or Consulate in your home country or the nearest office to you, before entering Malaysia. You may visit EMGS website to view the list of countries that requires a Single-Entry Visa (SEV) before entering Malaysia. Take note that this list is subject to change without prior notice based on the requirement by the Malaysian Immigration Department. You are advised to check this page regularly for the latest updates. Please ensure that you receive a correct SEV as per the sample below. If you receive a different SEV, please inform the embassy officer immediately for correction before you leave the Malaysian Embassy or Consulate: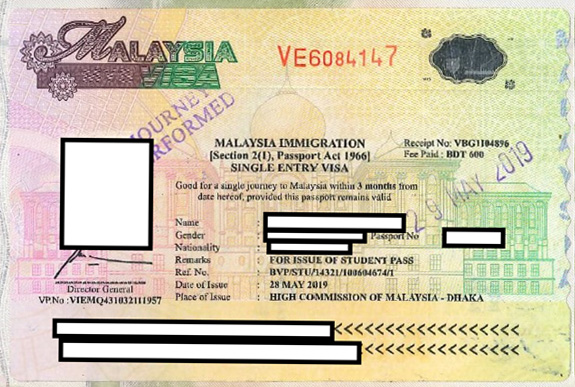 OR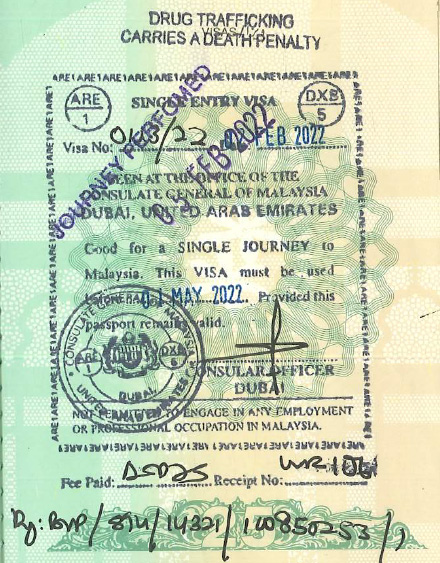 Alternatively, you may apply for an eVISA, which is an online application platform that enables foreign nationals to apply for an electronic visa to enter Malaysia at the comfort of their convenience. The eVISA facility has been made available to International Students from all countries effective from 15 November 2021. This applies to all international students that requires a Single-Entry Visa (SEV). International students can refer to the Malaysian Immigration Department's website for further clarification regarding the procedures to apply for the eVISA at https://malaysiavisa.imi.gov.my/evisa/evisa.jsp
Please refer to the eVISA Live Chat Support button at https://malaysiavisa.imi.gov.my/evisa/evisa.jsp if you encounter any issue with the eVISA which operates 24 hours a day and 7 days a week.
---
Making arrangements for your accommodation in Malaysia. You may choose to book and confirm your accommodation through an education consultant or a representative from your home country. Request for accommodation upon arrival will not be entertained due to the unavailability of the room.
---
You will have to provide us with your arrival information. Please complete the online Pick-Up Form on the IIS student portal. An email has been sent to you on how to log in the IIS System. Please ensure that you submit the completed Pick-Up Form by clicking here at least SEVEN (7) working days before your departure date to facilitate the complimentary pickup service. A penalty of RM 200 will be imposed on late arrival notifications. We will notify you via email once we have received the Pick-Up and provide you with all the pick-up arrangement. Students are required to download the MySejahtera app from the iOS App Store, Google Play Store or Huawei AppGallery to complete all the required information three (3) days before the arrival date.
International Students will only be allowed to enter Malaysia via KLIA and KLIA 2 entry points. International Students that attempt to enter Malaysia from other entry points will be denied entry and may risk being deported to their country of origin.
---
For the Pick-Up arrangements, students will be emailed the drivers name, contact number and vehicle details. Download the WhatsApp application on your smartphone so you will be able to communicate with the driver when you land at the Malaysian Airport. Turn on your Wi-Fi on your Smartphone and inform the driver that you have just landed. The driver will then inform you where he will be waiting. If there is a flight delay / postpone, kindly inform the driver by WhatsApp and email [email protected]
---
Please ensure that you receive the correct entry stamp from the Malaysia Immigration Department upon your arrival at KLIA / KLIA 2 entry point. The stamp must be a Special Pass (SP) entry stamp and valid for 30 days as per the sample below. If you receive a different / wrong entry stamp / date or wrong expiry date, please inform the immigration officer immediately for correction before you leave the immigration office or counter.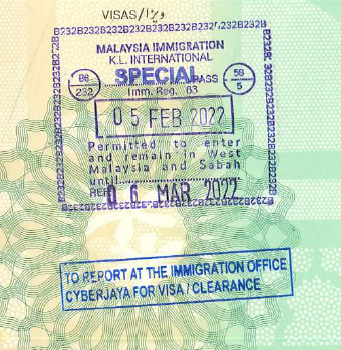 ---
Report to UCSI University, Kuala Lumpur campus, VISA Processing Unit (VPU) Office at Block A, Level 2 the next working day. Bring along your passport, original transcript, certificate, and passport size photograph.
---
If you have any other questions, to prepare yourself before arriving in Malaysia, please contact the International Support Team (IST) at [email protected]
---