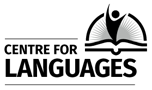 The Centre for Languages is created to support the language teaching needs of UCSI University. Currently, the Centre offers primarily English Language Courses, which are designed to equip university bound students with the language skills needed for academic programmes. It also offers intensive English language programmes to international students and learners who choose to improve their language skills while travelling in Malaysia. Increasingly, the Centre is called upon to help prepare in-service teachers and company workers in their pursuit of speaking and writing better English.
...
Our learners come from all over the world. It is envisioned that more language courses such as Mandarin, Malay, Japanese and Korean will be created to meet students' learning needs in the near future.

All our classes for UCSI University students are conducted at UCSI University's campuses in Malaysia, and other language classes are conducted as and where the sponsoring agents prefer.

Our Vision
To be a preferred language centre for language learners from all over the world.
Our Mission
To impact language learners with lessons that are fun, empowering and which are applicable to their academic and life's pursuits.