| | |
| --- | --- |
| Approval Code | R2/010/3/0301; 01/2025 (KL) | R2/010/3/0196; 04/2024 (Kuching) | R2/010/3/0195; 04/2024 (Terengganu) |
| Accreditation Code | MQA/A11125 (KL) | MQA/A9780 (Kuching) | MQA/A9751 (Terengganu) |
| Classification | Foundation |
| Subject Area | Arts (Built Environment) |
| Course Mode | Full-time |
| Course Duration | 1 Year / 3 semesters (14 weeks per semester, no short semester) |
| Course Location | Kuala Lumpur , Kuching , Terengganu |
| Intakes | January, May and September |
The Fourth Industrial Revolution underway is dramatically changing our buildings and urban space in scale, complexity and scope. As will increasingly complex environmental challenges. Professionals in the built environment field must be prepared for these emergent challenges and opportunities.
Our one-year Foundation in Arts (Built Environment) programme aims to give a good start. Using an integrated and synergised approach, the programme provides a cross-disciplinary introduction and built environment-specific subjects, to help you progress smoothly into your chosen specialisation (architecture, interior architecture or quantity surveying) at the degree level.
Adopting varied and innovative teaching approaches, both in and out of the classroom, our distinguished academics, visiting professors and industry experts will help you develop the subject knowledge as well as creative and critical thinking and study skills.
Drawing on close ties with the industry, you will also have an early exposure to real-world experiences working on community or industrial projects, together with your seniors and leading industry players in a supportive and creative environment.
Design your education pathway and build your career in built environment today.

Assessments

Integrating both coursework and written examinations, this programme incorporates a practice-oriented approach and furnishes students with relevant interesting, stimulating and hands-on experience via a variety of teaching methods and practical exercises. Different dynamic learning processes are employed in the delivery of this programme including lectures, tutorials, computer lab work, team-based projects, real-life system developments, presentations and independent projects, to name a few, supervised by both university lecturers and industry experts alike.
Qualification
Academic Requirements
SPM / O-levels
5 credits (inclusive of Math for Architecture pathway)
UEC
3 credits (inclusive of Math for Architecture pathway)
Other qualifications deemed equivalent to SPM/O-Level by Malaysian Qualifications Agency
Overall average score of 60%
Other qualifications deemed equivalent to STPM/A-Level by Malaysian Qualifications Agency
Overall average score of 50%
Note / Legend:
SPM Credits – 'A+' to 'C'
O-levels Credits – 'A' to 'C'
UEC Credits – 'A1' to 'B6'
Kuala Lumpur Campus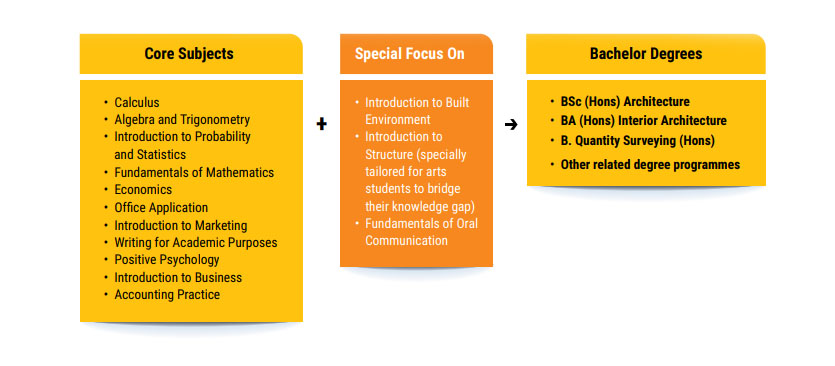 ---

Sarawak Campus
Core Subjects
Calculus
Algebra & Trigonometry
Fundamentals of Mathematics
Common Courses
Accounting Practice
Principles of Economics
Introduction to Business
Fundamentals of Marketing
Writing for Academic Purposes
Office Applications
Fundamentals of Database
Introduction to Probability and Statistics
Elective Courses
Students are required to take 3 elective courses below during their Foundation Studies:
Critical Thinking Skills
Smart Learning Technology
Fundamentals of Oral Communication
Introduction to Logistics & Supply Chain Management