| | |
| --- | --- |
| Approval Code | R2/010/3/0193; 01/2024(KL) | R/010/3/0196; 04/2024 (Kuching) |
| Accreditation Code | A9776(KL) | MQA/A9780(Kuching) |
| Classification | Foundation |
| Subject Area | Science (Applied Sciences) |
| Course Mode | Full-time |
| Course Duration | 1 Year / 3 Semesters (14 weeks per semester, no short semester) |
| Course Location | Kuala Lumpur , Kuching |
| Intakes | January, May and September |
Science applications are evolving and increasing at an unprecedented rate, thanks to the Fourth Industrial Revolution – it's an expanding field with bright prospects. If you are planning to enter this field, our Foundation in Science (Applied Sciences), interdisciplinary and comprehensive in nature, provides a strong science and mathematical (STEM) background to start with.
The special focus on core disciplines will advance your understanding and help you transition smoothly into your chosen degree study, be it in Biotechnology, Food Science and Nutrition or Aquatic Science.
Drawing from the best of both worlds – academia and industry – learning takes place in varied from labs to fields and industrial visits aided by our top-notch facilities and resources and delivered by our distinguished teaching faculty made up of professors who are also prominent industry experts.
Build your confidence and get a head start in the field of applied sciences as you work your way to your dream career.

Assessments

Vary from course to course including:
Written exams
Project-based coursework
Coursework percentage: 50%, written examination percentage: 50% (percentage may vary from course to course).
Foundation in Science leading to B. Sc. (Hons.) Food Science with Nutrition / B. Sc. (Hons.) Biotechnology / B. Sc. (Hons.) Aquatic Science
Qualification
Academic Requirements
SPM / O-levels or its equivalent
Minimum 5 credits (inclusive of Mathematics and 1 science subject)
UEC
Minimum Grade B in 3 subjects (inclusive of Mathematics and 1 science subject)
CPU
Average below 60% in 6 subjects (inclusive of Chemistry, Biology and Mathematics/Physics)
Other qualifications deemed equivalent to STPM/A-Level by Malaysian Qualifications Agency
Minimum average of 50% (inclusive of Chemistry, Biology and Mathematics/Physics)
Other qualifications deemed equivalent to SPM/O-Level by Malaysian Qualifications Agency
Minimum average of 60% (inclusive of Chemistry, Biology and Mathematics/Physics)
SAM
Average below 60% (inclusive of Chemistry, Biology and Mathematics/Physics)
Foundation in Science leading to B.Sc. (Hons.) Nutrition with Wellness
Qualification
Academic Requirements
SPM/O-levels or its equivalent
Minimum 5 credits (inclusive of Mathematics and 1 science subject)
UEC
Minimum Grade B in 3 subjects (inclusive of Mathematics and 1 science subject)
CPU
Average below 60% in 6 subjects (inclusive of Chemistry and Biology/Physics)
Other qualifications deemed equivalent to STPM/A-Level by Malaysian Qualifications Agency
Minimum average of 50% (inclusive of Chemistry and Biology/Physics)
Other qualifications deemed equivalent to SPM/O-Level by Malaysian Qualifications Agency
Minimum average of 60% (inclusive of Chemistry and Biology/Physics)
SAM
Average below 60% (inclusive of Chemistry and Biology/Physics)
Kuala Lumpur Campus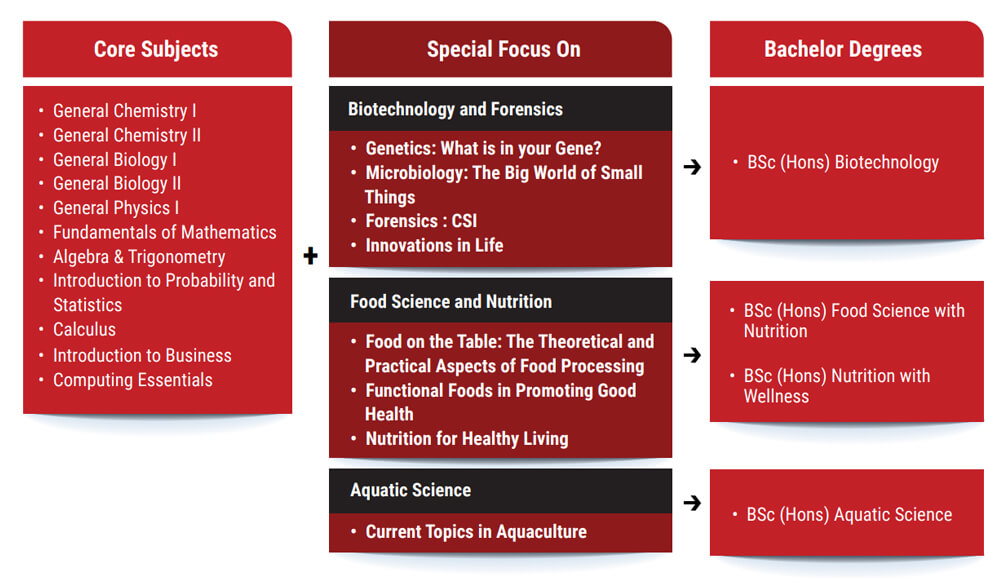 ---
Kuching Campus
Lab Subjects
General Chemistry I
General Chemistry II
General Biology I
General Biology II
General Physics I
Non-lab Subjects
Fundamentals of Mathematics
Algebra & Trigonometry
Calculus
Introduction to Probability & Statistics
Introduction to Business
Computing Studies
Elective Courses
Students are required to take 3 elective courses below during their Foundation Studies:
Critical Thinking Skills
Smart Learning Technology
Fundamentals of Oral Communication
Introduction to Logistics & Supply Chain Management