| | |
| --- | --- |
| Approval Code | R2/010/3/0193; 01/2023 (KL) | R2/010/3/0196; 04/2024 (Sarawak) |
| Accreditation Code | A 9776 (KL) | A 9780 (Sarawak) |
| Classification | Foundation |
| Subject Area | Science (Medical Sciences) |
| Course Mode | Full-time |
| Course Duration | 1 Year / 3 Semesters (14 weeks per semester, no short semester) |
| Course Location | Kuala Lumpur , Sarawak |
| Intakes | January, May and September |
The healthcare sector is best placed to benefit from the merging of physical, digital and biological systems brought on by the Fourth Industrial Revolution, but it is also the least well-prepared. The new generation of healthcare providers need to navigate an altogether new landscape – get that head start at Foundation in Science (Medical Sciences).
In addition to acquiring a strong foundation in STEM subjects, you will also receive an early exposure to medical sciences, specially tailored to ease you into the intensive medical science degree (medicine, nursing or optometry) of your choosing.
Our notable and experienced teaching faculty of both professors and healthcare practitioners will impart knowledge and skills required for understanding and responding effectively to each patient as an individual and not merely based on symptoms – a vital trait for healthcare providers.
You will also be exposed to medical terminology, as well as therapeutic and diagnostic interventions, professionalism, legal/ethical issues, communication skills, and leadership roles to prepare you in functioning safely and efficiently within the medical community.
You want to be a part of the noble profession of healing and caring for others – Let us show you the way.

Assessments

Vary from course to course including:
Written exams

Project-based coursework
Coursework percentage: 50%, written examination percentage: 50% (percentage may vary from course to course).
Foundation in Science (For entry into Medicine)
Qualification
Academic Requirements
5 credits with Bs for Mathematics/Additional Mathematics, Chemistry, Physics, Biology and one more subject (Pharmacy programme – SPM: Bahasa Malaysia & English – Minimum C is required)
Other qualifications deemed equivalent to SPM/O-Level by Malaysian Qualifications Agency
Overall average of 65% (including individual scores of 65% in Chemistry, Biology, Physics and Mathematics)
*Subject to acceptance by professional bodies (Malaysian Medical Council and Malaysian Pharmacy Board)
Important Note
ALL Malaysian students must have credits in Bahasa Melayu at SPM level for admission into Nursing Programmes and Pass MUET with minimum of Band 4.

ALL International students must have English requirements: IELTS Band 5.5; OR TOEFL 550 (Written-based), 215 (Computer-based), 80 (internet-based).
English Language Requirements
A distinction (A+,A or A-) in English Language course at SPM/UEC level; or MUET Band 5; or TOEFL score of 196 (computer-based) / 525 (written-based) / 69-70 (internet-based); or IELTS Band 5.5. Additional English course(s) must be taken at UCSI University concurrently with undergraduate programme if English Language requirements are not fulfilled.
Note / Legend:
Discretion is given to the Head of School to deal with applicants who have results borderline to the Academic Requirements.
SPM Credits – 'A+' to 'C'
O-levels Credits – 'A' to 'C'
UEC Credits – 'A1' to 'B6'
Kuala Lumpur Campus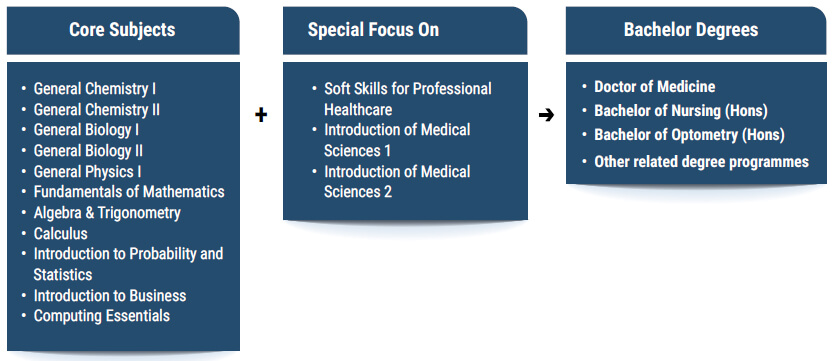 ---

Sarawak Campus
Lab Subjects
General Chemistry I
General Chemistry II
General Biology I
General Biology II
General Physics I
Non-lab Subjects
Fundamentals of Mathematics
Algebra & Trigonometry
Calculus
Introduction to Probability & Statistics
Introduction to Business
Computing Studies
Elective Courses
Students are required to take 3 elective courses below during their Foundation Studies:
Critical Thinking Skills
Smart Learning Technology
Fundamentals of Oral Communication
Introduction to Logistics & Supply Chain Management