| | |
| --- | --- |
| Approval Code | R/581/7/0054; 08/2020 |
| Accreditation Code | MQA/FA4224 |
| Classification | Master of Architecture |
| Subject Area | Architecture |
| Course Mode | Full-time |
| Course Duration | 2 Years / 4 Semesters |
| Course Location | Kuala Lumpur |
| Intakes | January and July |
The Master of Architecture programme is a 2-year full-time professional degree. It is designed for individuals who have already successfully completed a 3-year undergraduate professional architectural programme. This Master of Architecture will enable students to engage with current public expectations of architectural practice and trends, particularly towards sustainable designs. With this programme, UCSI University's School of Architecture and Built Environment is doing its part to boost the number of professional architects in Malaysia, which is in line with the country's aim to achieve developed nation status by 2020.

The Pathway for Professional Architects in Malaysia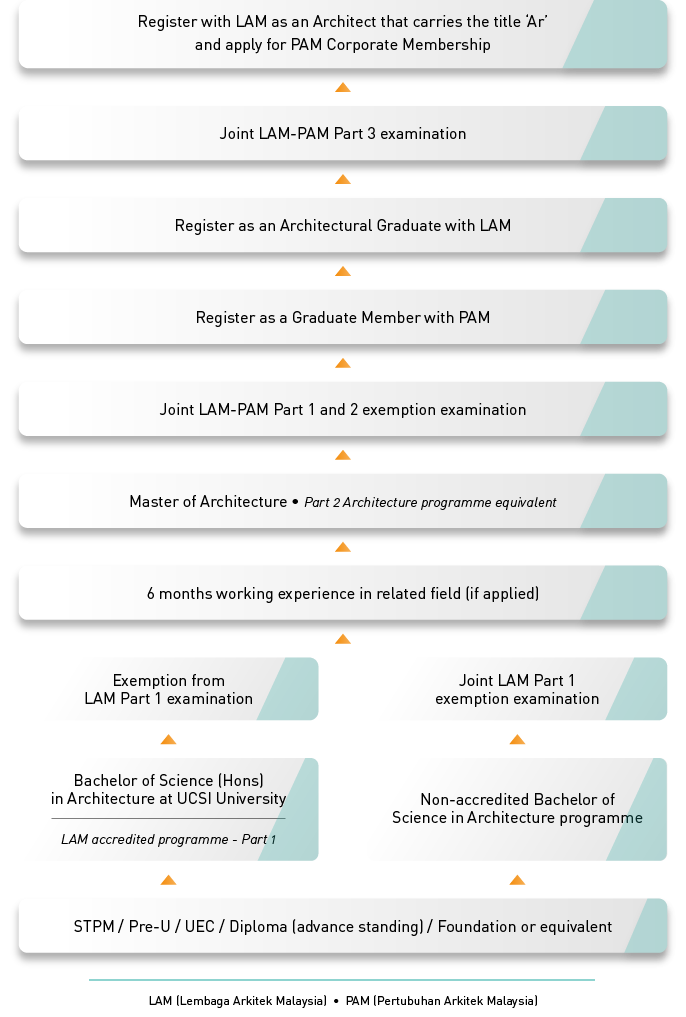 Qualification
Academic Requirements
Graduate from LAM Part 1 Architecture programme
Complete and pass with a minimum CGPA of 2.50; Must possess minimum 6 months practical experience*
AND
Design Grade - minimum C+ obtained during the final semester.
OR
Complete and pass with CGPA 2.0 to 2.49; Must possess minimum 5 years practical experience*
*Practical experience refers to working experience at a registered architect office, an approved architectural-related organisation or practice within the building industry.
English Language Requirements
IELTS score Band 5.0; MUET Band 3; TOEFL score of 34 (IBT) or 410 (paper-based) or 160in CAE or 180 in CPE or 36 in PTE or a first degree from a University where the medium of instruction is English.
* As per Malaysia MOE approval.

General Requirement
An admission interview is required for all candidates applying to the programme.
This postgraduate degree programme is an excellent preparation for the career as a graduate architect.
Semester 1
Integrated Architecture Design 1
Advance Structure & Construction
Building Information Modelling
Architecture Theory
Semester 2
Integrated Architecture Design 2
Integrated Building System
Computer Aided Modelling & Simulation
Research Methodology
Semester 3
Design Thesis 1
Architectural Economics
Sustainable Environment
Architectural Practice & Management 1
Semester 4
Design Thesis 2
Architectural Practice & Management 2
---
All information is correct at the time of upload and UCSI University reserves the right to make amendments without prior notice.