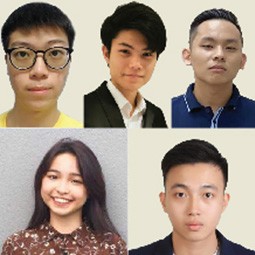 Congratulations To ASK J&C Consultants
ASK J&C Consultants
|
Congratulations to ASK J&C Consultants for winning the title 1st Runner Up at ASymposium Envisioning Actuarial Spectrum 2021 - Case Study Challenge. The team comprises five students from Bachelor of Science (Hons) Actuarial Science and Bachelor of Science (Hons) Actuarial Science and Finance.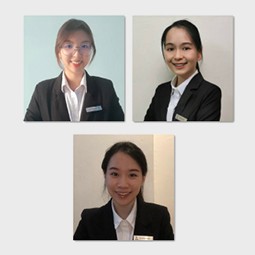 The Only Malaysian Team in The Top Three
Chai Weng Yan, Lee Pei Shan, Teh Xin Ee
|
Bachelor of Hospitality Administration
The team won third place at the Hotel and Tourism Management Institute (HTMi) Global student Forum 2021 Innovation Challenge. They are the only Malaysian team to be named among the top three winners in this global contest.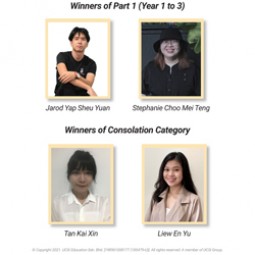 WINNERS IN THE BLUESCOPE YOUNG ARCHITECT AWARDS 2020
JAROD YAP, STEPHANIE CHOO, TAN KAI XIN and LIEW EN YU
|
School of Architecture and Built Environment
Congratulations to Jarod Yap, Stephanie Choo, Tan Kai Xin and Liew En Yu for emerging as winners in the BlueScope Young Architect Awards 2020. Jarod and Stephanie were the winners of Part 1 (Year 1-3). Kai Xin and En Yu were winners of the Consolation Category. These awards serve as a platform for young architects to showcase their talent in the field of architecture.
Recipient of the QRAM Research Grant
Ms Syasyila Kalaivanan and Ms Lee Gin Lim
|
Bachelor of Arts (Hons) Psychology
Received the QRAM research grant of RM 2,500 for their two-year study. The title of their research is "The Influence of Optimism and Psychological Resilience to Meaning in Life in Malaysian COVID-19 Front Liners".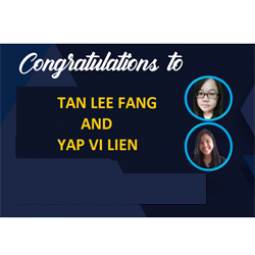 Double Victory at the Malaysia Technology Expo 2021
Ms Tan Lee Yang and Ms Yap Vi Lien
|
Bachelor of Pharmacy (Hons)
Won the Association of British Inventors & Innovators Award and the Asian Youth Innovation Gold Award at the Malaysian Technology Expo 2021. Their winning invention is an eye cream created with cucumber called CuberClear.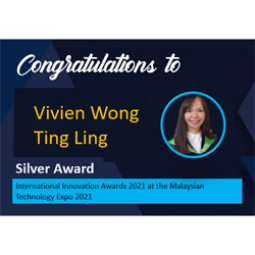 International Innovation Silver Award at the Malaysian Technology Expo 2021
Miss Vivien Ling Wang Ting
|
Bachelor of Pharmacy (Hons)
Gained the silver award at the International Innovation Awards under the Malaysian Technology Expo 2021. The competition that warranted this award is her fabrication and evaluation of transdermal Microneedles for a Recombinant Human Keratinocyte Growth Factor.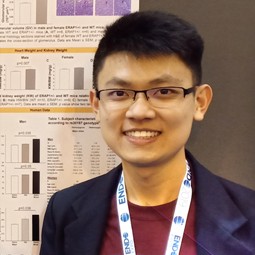 Congratulations Wong Jian Yao!
Wong Jian Yao
|
Doctor of Medicine
Worked with the Malaysian Bioethics Community (MBC) on a guidance document called Bioethics and COVID-19: Guidance for Clinicians in May 2020, where he contributed t the content for Chapter 4, in which he reviewed two important articles on resource allocation during a pandemic.