DEPUTY MINISTER OF HIGHER EDUCATION WITNESSED MOU SIGNING AT UCSI UNIVERSITY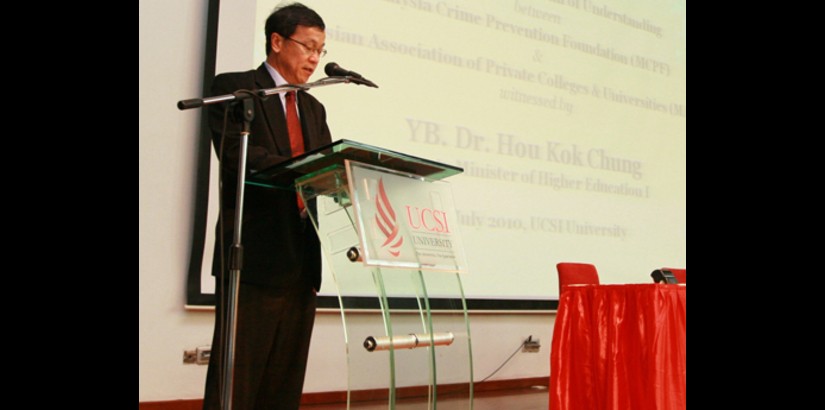 YB Dr. Hou Kok Chung sharing his thoughts about crime prevention during his speech at UCSI University
Kuala Lumpur, 8 July 2010 - The Malaysian Association for Private Colleges and Universities (MAPCU) is taking steps to make campuses safer. The MAPCU signed a Memorandum of Understanding (MoU) with the Malaysian Crime Prevention Foundation (MCPF) to show its support in reducing crime on campus. The signing ceremony occurred at UCSI University and was witnessed by Malaysia's Deputy Minister of Higher Education, Y.B. Dr. Hou Kok Chung, and host Dato' Peter Ng, chairman of UCSI Group. Also present were representatives of both MAPCU and MCPF along with staff members and students of UCSI University.

Y. Bhg. Tan Sri Dato' Lee Lam Thye, Vice Chairman 1 of MCPF, and MAPCU President Y. Bhg. Datuk Dr. Paramjit Singh signed the agreement, which aims to implement activities to prevent and control crime within institutions associated with MAPCU.

As a member of MAPCU and host of the event, UCSI University showed its commitment to ensuring safe campuses for all private institutions of higher learning in Malaysia. UCSI had also demonstrated its dedication to safety by participating in Rakan Cop activities in collaboration with the Malaysian Royal Police. In addition to providing quality education, maintaining a secure learning environment will help UCSI reach its goal of becoming a regional education hub.