UCSI supports making roof tiles with recycled drink cartons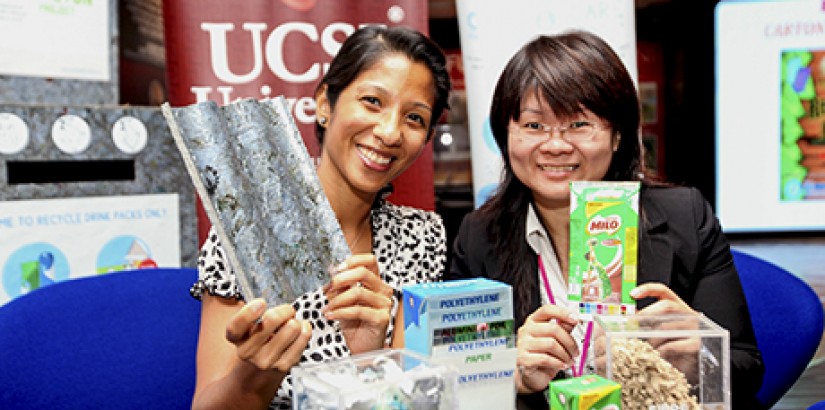 Manjula Murugesan (left) holds a sample of the sturdy roof tile made from drink cartons similar to the one held by Asst Prof Dr Crystale Lim.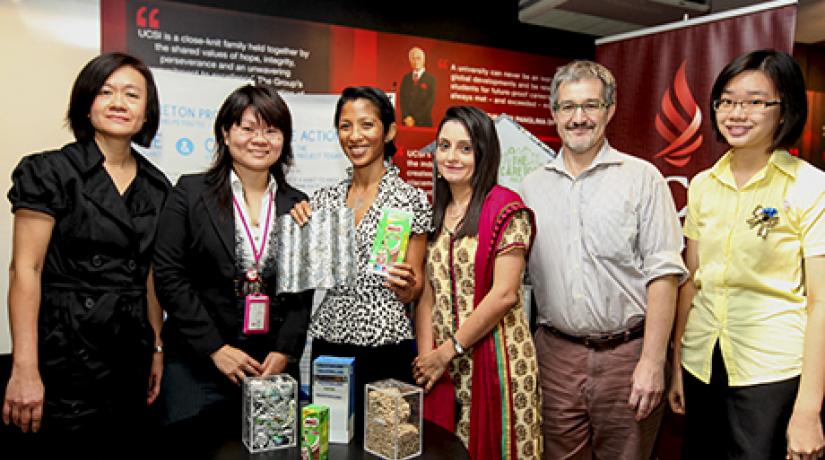 GROUP PHOTO: (from left) UCSI Faculty of Applied Sciences Dean, Assoc Prof Dr Chan joined by Asst Prof Dr Crystale Lim and Manjula Murugesan as well as the CAREton Project @ UCSI University winners for a group photo.
CALL FOR ACTION: Manjula Murugesan speaking highly of the innovative approaches that UCSI students undertook to collect more than 200kg of recycled drink cartons.
KUALA LUMPUR: UCSI University (UCSI) recently hosted a prize giving ceremony for the 'Recycle this Raya: Carton Collection Competition' — an attempt to cultivate the practice of recycling in the University and surrounding community.

The competition is the flagship event under the CAREton Project @ UCSI University, which supports Tetra Pak's collaboration with Nestlé to recycle used beverage cartons into roofing tiles. The tiles will then be used by non-governmental organisation — EPIC Homes — to construct homes for aboriginal (Orang Asli) families in need. The project is championed by the Faculty of Applied Sciences (FOAS).

With a collection of 16.8 kg, the first prize winner for the competition was Ong Siax Ping, a student from the Faculty.

The first runner-up with a collection of 16.6 kg is Asst Prof Satvinder Kaur A/P Nachatar Singh from FOAS followed by Andrew Morgan Tennant, Head of Department for Biotechnology with a collection of 8 kg of used beverage cartons.

FOAS dean, Assoc Prof Dr Chan Hor Kuan joined by Environment Manager at Tetra Pak Malaysia, Singapore & Philippines, Manjula Murugesan presented the prizes to the winners.

Manjula praised UCSI for their initiative in encouraging recycling awareness among the younger generation. She also hopes that the other educational establishments in the country would follow suit and participate in Tetra Pak's recycling movement for the betterment of the society.

"We would not have been able to proceed this far without partners like UCSI. It is really impressive to see how innovative university partners can get to reach the target," she added.

From January to September 2015, a total of 200kg of used beverage and food packages have been collected through the CAREton Project @ UCSI University. This reflects a steady increase since the annual competition was first supported by UCSI in September 2013.

UCSI is the first university in Malaysia to be a CAREton Project family member and the collaboration was initiated by Asst Prof Dr Crystale Lim Siew Ying, a lecturer of FOAS and the advisor of the CAREton Project @ UCSI University.

According to Dr Lim, recycling is easy when lifestyle changes are made to inculcate recycling habits, so that recycling becomes second nature.

"University students will be the next generation of leaders and decision-makers the moment they join society upon graduation. It is important for education institutions to grasp this opportunity to properly educate our future leaders," she said.

Fully supported by the Faculty and the University, the CAREton Project @ UCSI University is also now a Student Enrichment Programme (SEP). As a SEP, UCSI University Trust Scholarship students can choose to volunteer for it as part of their community engagement work. This ensures the Project has a steady stream of volunteers to ensure its continuity.