UCSI UNIVERSITY HOLDS MONOPOLY BAZAAR AS PARTNER FOR GLOBAL ENTREPRENUERSHIP WEEK 2009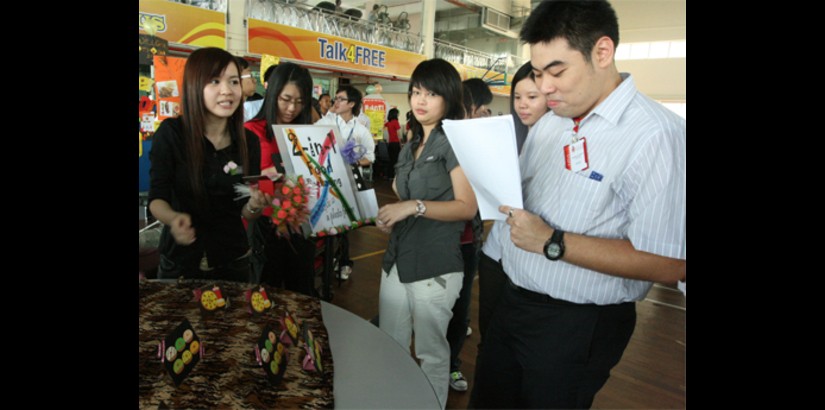 Mr. Tomi Ariffin (far right) evaluating one of the students' stall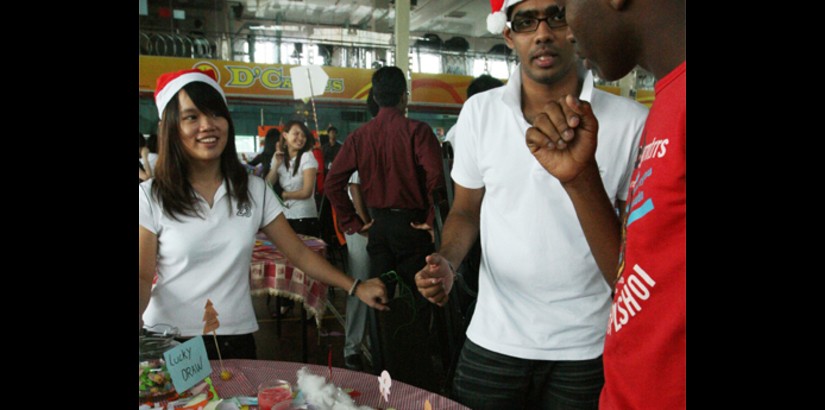 A student convincing a prospective buyer about his product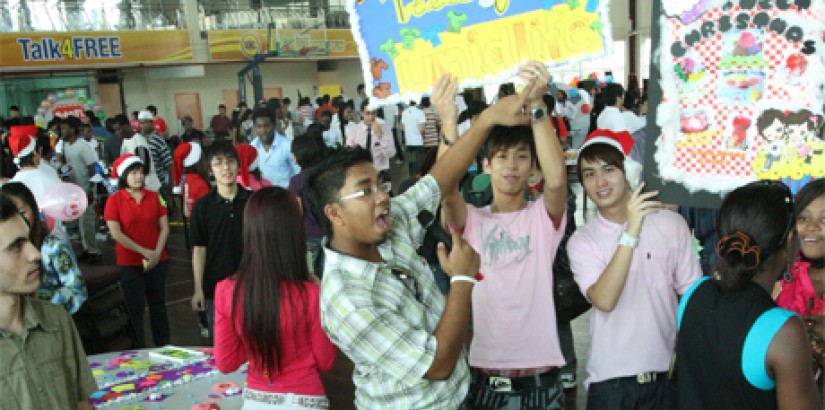 Creative license: Students were encouraged to come up with creative ways to promote their merchandise
Kuala Lumpur, 26 November 2009 - UCSI University's Foundation in Arts and Science students today held a Monopoly Bazaar in conjunction with this year's Global Entrepreneurship Week (GEW) organised by the School of Management in collaboration with the Management Students Association. Students and members of the public exchanged "Monopoly" or fake money to purchase miniature items made by the students themselves. The event challenged the students to think of ways to advertise, promote their stalls, and sell as many items they can within the three hours allocated.

The inspiration for the bazaar came from the world renowned board game, "Monopoly" in which players buy property with make-believe money. The same theory is also applied in the Monopoly Bazaar held at UCSI University. Apart from the low cost incurred to execute the event, students are challenged to think out-of-the-box and find different ways to promote their merchandise.

The bazaar saw a host of interesting stalls selling attention-grabbing items, such as paper dolls modeled after favourite super heroes, miniature novelty t-shirts, origami, sushi, sports drinks, pizza, watches and candy. One team even opened their own money exchange stall, while another offered fortune-telling services.

All students are from the University's Introduction to Business class, and their lecturer, Mr. Tomi Ariffin said that the bazaar taught the students the basics on how to set up a business. "The students began preparation for their stalls a few weeks ago, and they were also taught how to draw up a business plan and come up with creative ways to promote their stalls to hone their entrepreneurship skills.

Mr. Tomi also says that the students will not be judged just by the sales they achieved, but will also receive marks for their creativity, teamwork and ability to attract customers with their promotions.

UCSI University has been an active participant of the GEW, since it was actively promoted here in Malaysia. Last year, the University was also a partner for the GEW, and organised a series of talks and seminars to get students to think more about entrepreneurship.

Global Entrepreneurship Week is a global campaign to promote entrepreneurship, creativity and innovation. For one week, millions of young people around the world join a growing movement of entrepreneurial people to generate new ideas, and seek better ways of doing things. With more than 77 participating countries, Malaysia is among the top 5 most active, with more than 100 partners and 450 activities.