UCSI UNIVERSITY STUDENTS TAKES TOP SPOTS IN MSID ANNUAL STUDENTS' EVENT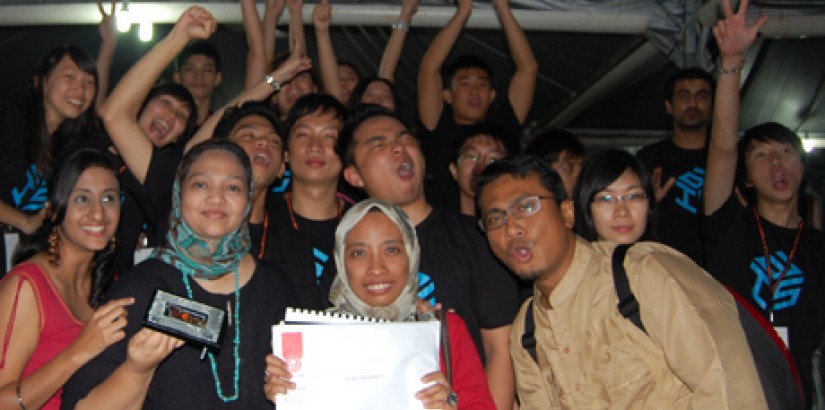 Triumphant students with their lecturers during the announcement of the winners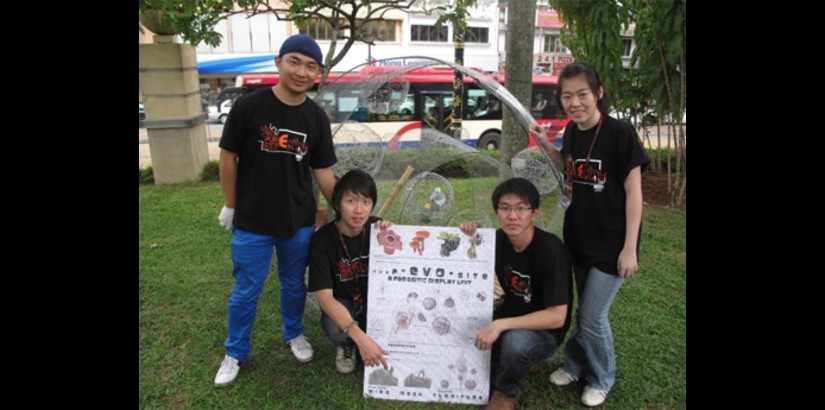 UCSI University's Architecture students with their winning design
Kuala Lumpur, 21 November 2009 - UCSI University participated in the Malaysian Society of Interior Designers (MSID) Annual Student Event this Saturday to come out top in 2 categories and runner-up in another. The event, organised by MSID aimed at boosting the development and integration of Interior Design students from the various universities and colleges. With "Evolution" as its theme, the event was officiated by Tuan Haji Mohammad Roslan bin Sakiman, the Mayor of Petaling Jaya.

UCSI University students cheered for joy as they took first place for the Wire Mesh Furniture Design, winning a cash prize of RM300. The Wire Mesh Furniture Design competition saw students Joe Tan Chien Hong, Chris Woo Kok Jun, Fanson Kwong Der An and Janet Lee Xhi Xin working closely with their lecturer, Ariff Budiman, to produce a wire mesh display unit.

The students also took home the first prize of RM500 for the Short Movie competition. In this category, Daniel Ng Shi Jun, Ungku Shaen Melewa, Ng Shing Yie and Lee Valene produced a professionally-composed short movie featuring a hand-made radio that evolved into the ultimate radio. The same students also clinched the third place for an advertisement which toyed with the notion of evolution as a drink which when drunk,would completely change your life for the better.

UCSI University students also competed in the residential, commercial, institutional and hospitality design competitions that were displayed in the exhibition area of the Dewan Sivik Majlis Bandaraya, Petaling Jaya (MBPJ). Students who participated in the design competition were Low Sue Teng, Mugunthan a/l Numbu Gopal, Ng Ann Kee, Lim Woan Ying, Tan Chien Hong and Chris Woo Kok Jun.

Zuliyana Huri's hand-painted bunting for the Exhibition also captivated the audience. Her interpretation of "evolution" had took her a whole week to complete. Together with fellow course- mate, Teh Ee Zhu, she also competed in the Evo-sketch Competition that required them to sketch a future interpretation of a local building.

Another entry by the University was by Jasmyn Hong Siew Kheng, Tess Soh Bee Hian and Wong Kah Sing with their ant hill inspired sculpture. The design, sculptured entirely from Styrofoam and coloured to show depth with a three-dimensional feel, had been transformed into a unique light sculpture.

The afternoon events saw students working on the Nippon "Wall Art Painting" to paint a given design on the walls surrounding the MBPJ building. Lim Woan Ying, Mugunthan a/l Numbu Gopal, Seiedpayam Mirshsreza, Ng Ann Kee, Lee Wei Ren, Low Sue Teng and Zuliyana Huri spent several hours creating a captivating mural by painting the wall art using the paints provided.

Later, the students participated in a three-hour race to complete five checkpoints alongside other universities and colleges. Among the checkpoints was the roti canai speed eating stand, the popcorn packaging design challenge and the MBPJ tower race. The night saw the students showcasing their other hidden talents like singing, dancing and acting.