UCSI University Weaves the Tapestry of International Education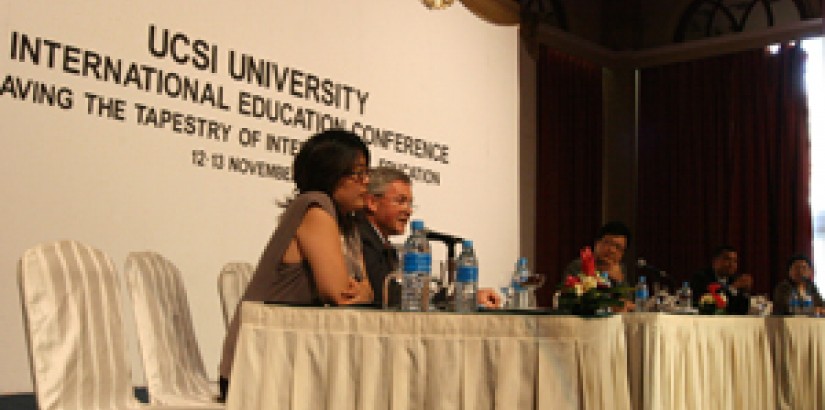 UCSI University's President, Peter T. S. Ng leads the forum for Leadership in Internationalising Higher Education. From left: Assoc. Prof. Li Tao, Assoc. Prof. Dr. Gavin Sanderson, President Peter Ng, Mr. Sheikh Fahmy Director of UCSI English Academy and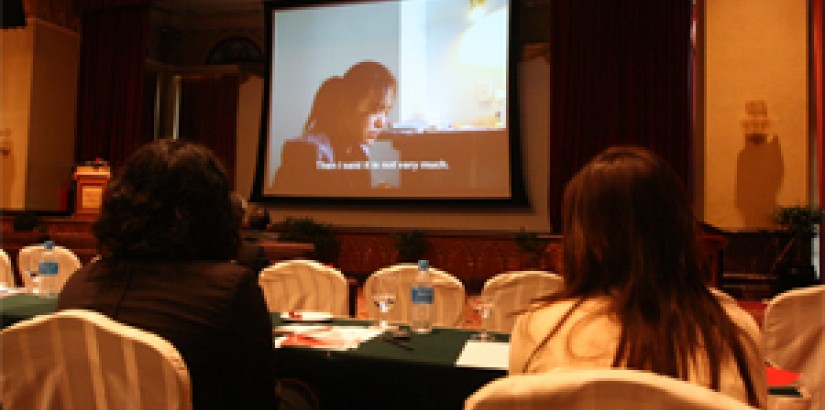 Participants watching the documentary Waves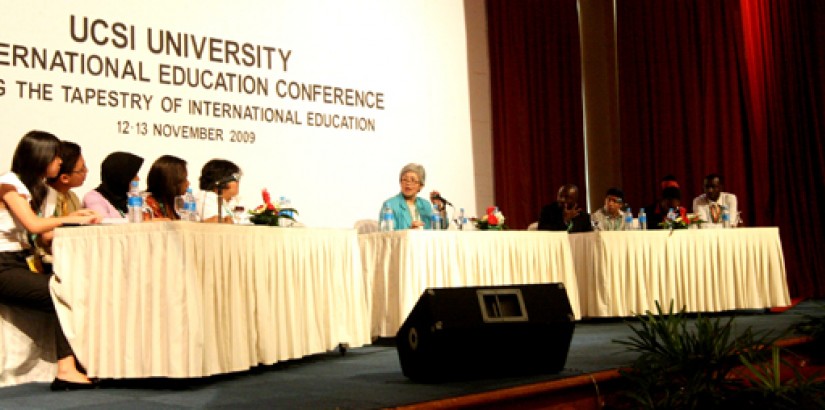 Dr. Irene Tan (in light blue coat) chairs the International Student Forum which comprised of students from Africa, Indonesia, and the Middle-East.
Kuala Lumpur, 12 November 2009 - UCSI University successfully launched its first International Education Conference at Putrajaya-Mariott Hotel, Putrajaya. The two-day conference, themed Weaving the Tapestry of International Education was attended by academic members as well as students from local and international higher education institutions. The three main keynote speakers were Associate Professor Dr. Gavin Sanderson, the Deputy Director from the Learning and Teaching Unit, of University of South Australia, Associate Professor Dr. Miki Sugimura from Sophia University, Japan and Associate Professor Li Tao from Fudan University, China.One of the highlights of the conference was the forum entitled Leadership in Internationalising Higher Education which was led by UCSI University's very own President, Peter T. S. Ng. The forum discussed many issues pertaining to the internationalisation of higher education, from the perspective of leaders in the education industry. According to Dr. Gavin, internationalisation is both a response to, and a reflection of, globalisation process. "There needs to be a differentiation between internationalisation and globalisation," he says. Dr. Gavin also revealed that 1 out of 4 of the students in Australia is from outside of Australia, while Dr. Sugimura said that there are currently 130,000 international students in Japan, with 62.7% of them from China.

Participants of the conference also received the chance to watch Waves, a documentary produced by Assoc. Prof. Li Tao when she was teaching in New Zealand. The documentary, which is a story about four Chinese students in a high school in New Zealand, shows what international students go through while pursuing their education abroad. The documentary has since received world-wide recognition for enabling a better understanding of how to integrate international students.The second day of the conference saw parallel sessions between academic staff from various higher education institutions, which provided each participants with a clearer insight into the internationalisation of education from an Asian perspective.

The Education Conference was organised by UCSI University's Centre for Learning and Teaching Excellence. The Centre's Director, Dr. Irene Tan Ai Lian, stressed the importance of educators acquiring understanding and knowledge of issues regarding internationalisation. "Having a working knowledge about internationlising higher education is important, especially for educators, as these issues are being discussed globally." She also said that it was also important to see internationalisation from a Malaysian perspective. "This conference also serves to spark conversations, and to get educators to think about internationalization, and its impact on today's education sector."

The conference was attended by representatives from a number of local as well as international higher education institutions, including Universiti Putra Malaysia, Kuala Lumpur Infrastructure University College, Universiti Tunku Abdul Rahman, Universiti Kebangsaan Malaysia, Helmut Schmidt University,Hamburg, Germany and Universiti Malaysia Pahang, Malaysia.