16 teachers graduate from Intensive English Teaching programme
PRECIOUS MOMENT (From left): UCSI University Vice-Chancellor and President Professor Dato Khalid Yusoff presenting a graduation certificate to an English teacher from Vietnam during the graduation ceremony.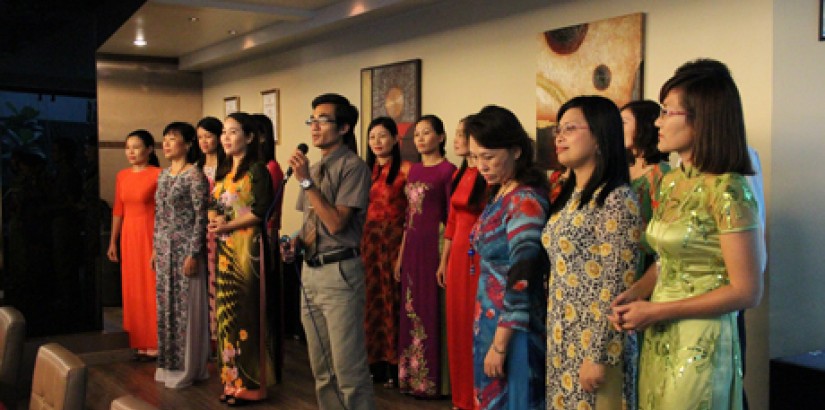 A Presentation of Peace: The English teachers from Vietnam presenting their song of peace during the graduation ceremony
KUALA LUMPUR: A group of English teachers from the Quang Binh province in Vietnam recently graduated from UCSI University (UCSI) in a graduation ceremony that saw them dressed in brightly coloured traditional costumes.
Specially crafted for in-service teachers, the programme aims to enhance not only the teachers' teaching methodologies, but also their proficiency in the English language.
Notably, the three-month programme comprised intensive classes taught by various UCSI lecturers who focused on teaching methods as well as English writing and speaking skills. The programme also saw the teachers visit several schools and tourist hotspots in Kuala Lumpur.
Pleased with their experience and overjoyed with the opportunity to be part of the programme, the teachers were quick to highlight that they would return to UCSI for more learning experiences if given the chance.
"There's just so much to learn," says Binh. "It's been such an honour and privilege for me to be here at UCSI and to learn from the best."
One of the teachers' unique learning experiences includes writing their very own collection of short stories to form a 16-page manuscript.
Conveying peace and encouragement to their homeland, the book – titled, 'A Bunch of Yellow Roses for My Friend' – contains personal reminiscences from the teachers who experienced the war between their nation and the United States. The two typhoons that hit Vietnam recently reminded them of the war.
Phuong, a teacher currently reading the programme, says, "It is important for us to remember what happened in the past, but we should not hold a grudge or have bitterness in our hearts."
"Our experience is a reminder that we should count our blessings, and how important peace really is in a country."
Many of the teachers were survivors of the Vietnam war while others heard about the war from family members who experienced it.
As such, what was supposed to be a conventional learning programme transformed into one that was most memorable – not just for the teachers but for the UCSI lecturers as well.
According to Dung, an English teacher from Vietnam, he lost his entire family – except for his sister – to a bomb explosion at the age of 6.
Pointing out that he feels lucky to still be alive and to be a part of this programme at UCSI, he says: "I truly appreciate the opportunity to learn from lecturers who, to me, are the best lecturers in Malaysia."
"(And with this), I would like to credit Ms Margaret Soo for being such a caring and dedicated Programme Director."
Having completed the programme at last, the teachers performed a cultural song that represented peace in Vietnam at their graduation ceremony.
The ceremony was attended by UCSI Vice-Chancellor and President Professor Dato' Dr Khalid Yusoff; UCSI Deputy Vice-Chancellor (Quality Assurance and Enhancement) Assoc Prof Dr Toh Kian Kok; Curriculum Supervisor of SMK Sri Sentosa Senior Assistant Puan Doreen Desouza; CELT Head of Learning Excellence Ms Sharon Lee Lai Yee and Programme Director Ms Margaret Soo and lecturers who taught the programme.