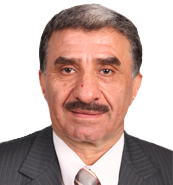 Assistant Professor Dr. Ammar Abdulaziz Majeed Al-Talib
CEng
Assistant Professor | Department of Mechanical Engineering
&nbsp[email protected]
Academic Qualifications
PhD Mechanical Engineering
MSc Mechanical Engineering
BSc Mechanical Engineering
Areas of Interest
Solar Water Heating and Thermo-fluid Solar systems
Renewable and Sustainable Energy From Foot Steps
Composite Materials and Recycling Waste Plastics
Research
Research Grants
Name of grant: CERVIE Research Grant Scheme
Funder: CERVIE
Project Title: Foot steps as a source of sustainable energy
Code: Proj-In_FEABE-003
Durations: 1 year (Sept. 2011 - July 2012)
Role: Principal Researcher
Amount: RM 5000
Status: Closed
Name of grant: Pioneeer Researchers Internal Fund (PSIF)
Funder: CERVIE
Project Title: Recycling of plastic wastage in compliance with the SDG's.
Code: Proj-In-FETBE-050
Durations: 2 years (1st. Sept. 2018 - 31st.Aug.2020)
Role: -
Amount: -
Status: -
Current Research Project
Master of Philosophy Research Supervision ( Experimental and Numerical Study to reduce Coolind Load of the Wooden Room in Tropical Climate).
Industrial Ph.D research Supervision ( Development of Industry 4.0 Architecture for a Smart Restaurant by Empirical Approach)
Final Year Projects on coconut fibers to produce composite materials from recycling plastic wastage.
Award and Recognitions
Award the "GOLDEN MEDAL" in the Research, Innovation & Commericialization Exhibition, 16-17 March 2006, FOYER PHASE 2B, UPM, Malaysia.
Contributions to Society
Judge for the ITEX Compettion for the last 7 years 2012-2018
Member of the National Kidney Organisation / Malaysia ( Paying monthly donation)