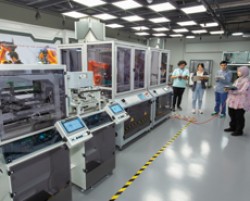 Advanced Industrial Robotic and Cyber Physical Laboratory
The Advanced Industrial Robotic and Cyber Physical Laboratory is one of the signature engineering laboratories tailoured as an excellent platform to provide students the access of cutting-edge technologies relevant with the emerging trend of Industry Revolution 4.0. Equipped with various sophisticated equipment and technology such as handling robot, mobile robot, smart conveyor and smart sensor technologies, students are exposed to the futuristic concept of a smart factory, envisioned as a highly digitalised and connected environment where all machinery and equipment are integrated via the Internet of Things (IoT) or other types of advanced integrated circuits technologies to enable the sensing, measurement, control and communication that is happening throughout the manufacturing process. Students are also able to learn the enhancement of manufacturing or production processes through various advance strategies such as the industrial automation and data-driven optimisation.
---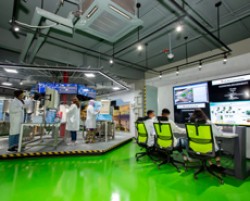 Advanced Chemical Technology Laboratory
The Advanced Chemical Technology Lab includes state-of-the-art equipment related to Chemical Engineering, which provides an excellent conducive learning environment for students to be empowered with various hands-on experiences to develop their knowledge in Chemical Engineering. The lab has been seamlessly integrated with facilities of IR4.0, gearing the students for facing the next wave of technological paradigm. The equipment of the lab is also readily available for various scientific investigations, research activities, and collaborative projects, which would spark the technological innovation in both academic and industrial applications. Our Advanced Chemical Technology Laboratory contains distillation column, gas absorption column, gas adsorption column, batch reactor, continuous stirred tank reactor (CSTR) in series and tubular flow reactor, enabling it to be the leading lab in the country.
---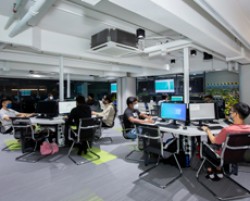 Engineering Software Solution and AI Research Laboratory
The Engineering Software Solution and AI Research Laboratory is equipped with multiple units of high-performance computer workstations that facilitate the installation of sophisticated engineering software, enabling the students to perform high-level analyses, R&D activities and computer simulations. This laboratory is fully equipped with the latest versions of software, engineering tools and training kits that can be beneficial to all students from different engineering disciplines. Apart from that, the implementation and installation of various smart building features such as face-recognition system, smart lighting and air-conditioning control system, and advanced conference room equipped with state-of-the-art video conferencing technology can help boost the collaborations and productivity between instructors and learners during the face-to-face or remote sessions of various classes and training workshops.
---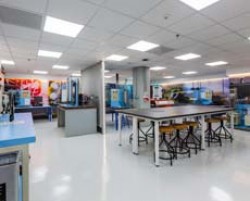 Thermofluid and Process Engineering Laboratory
Focusing on the highly specialised area of physics that deals with the relationship of heat and energy, the Thermofluid and Process Engineering Laboratory houses a wide range of equipment such as heat exchangers, refrigeration unit, air-conditioning unit, cooling tower, marcet boiler, etc. This equipment enables the students to investigate heat energy, thermal expansion, behaviour of gases, properties of steam, hydrostatics, etc. thereby enhancing their fundamental knowledge in Thermofluids that involve the combined study of Combustion, Fluid Mechanics, Heat Transfer and Thermodynamics. The applications of Thermofluids range from the design of efficient engine, solar water heaters, and HVAC (heating, ventilation and air-conditioning). Students that are highly skilled and interested in Thermofluids can be well-prepared for a variety of industries related to ships, aircraft, processes, pipelines, heating and air-conditioning.
---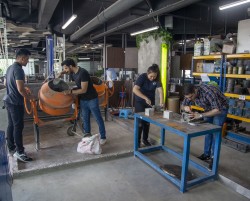 Concrete, Highway and Soil Laboratory
The Concrete, Highway and Soil Laboratory provides substantial amounts of modern testing and consulting facilities for all undergraduate and postgraduate students, enabling them to explore new solutions that can solve modern engineering problems and address industrial needs. Some of the key facilities offered in this laboratory include advanced automatic marshal stability compression tester, automatic compression machine, hydraulic flexural machine, automatic bitumen penetration tester, advance digital triaxial system, etc. With the proper training provided, students are expected to be equipped with practical skills in subject matters related to structural dynamics, highway transportation, geotechnical, concrete, geomatic field survey, etc.
---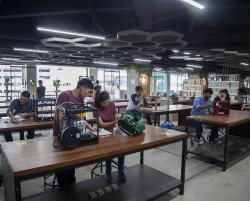 This modern Mechanical Workshop is designed to provide spacious and accessible storage areas that can keep the tools secure and within reach, workbenches with durable surfaces that can stand up to any performances and are easy to clean, as well as the designated zones of machinery to suit the fabrication needs of students in showcasing their innovative project prototypes. The additional open-air components (skylights and adequate ventilation) of the Mechanical Workshop also offer the students a safe and fluid work environment. Equipped with various types of machinery such as lathe machine, milling machine, vertical and horizontal band saws, vertical drilling machines, etc. the Mechanical Workshop provides a personally crafted space for students in forging their new projects. Students are also exposed to an emerging IR 4.0 concept of additive manufacturing process through the adoption of 3D printing technology in constructing their prototypes.
---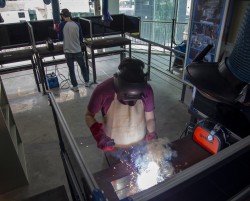 The layout of the industrial grade Welding Station is designed based on ergonomic principles to strike a harmonious balance between spaciousness and space-efficiency. Equipped with different types of welders, students are able to embrace the art of welding through the exposure to different types of welding processes such as Metal Inert Gas (MIG) welding, arc welding, etc. With the proper training and practice, students are expected to showcase their welding skills and transform any piece into various shapes and designs that they desire, all with sparks flying around in the process.
---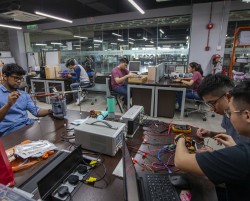 The Research Laboratory is a facility to provide advanced R&D capabilities and conducive R&D environment to postgraduate and undergraduate students in completing their research projects. This laboratory is fully equipped with various high-end equipment commonly utilised by all engineering disciplines such as photovoltaic cell, machine vision test station, power electronics training kits, etc. enabling students to conduct high impact research that can be beneficial to the environment and society. Apart from that, some of the notable student projects such as bio-inspired drone, firefighting drone and energy efficient grass cutter robot can also be found in this laboratory.
---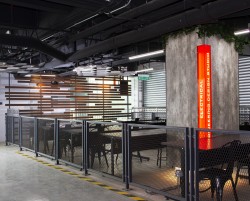 The Electronic Design Studio serves as an excellent platform for all engineering students to brainstorm and share innovative ideas that suit their interests, needs, and 'sky-is-the-limit' aspirations. The conducive learning environment offered by this personally crafted space is expected to 'amp' up the comfort and productivity levels of students. Equipped with tools and equipment such as soldering iron kit, digital handheld multimeter, oscilloscope, etc., students are also able to perform simple experiments for troubleshooting and validation purposes.
---
Power, Machine and Control Laboratory
The Power, Machine and Control Laboratory is equipped with various state-of-the-art electrical machines, industrial based trainers' kits, motors and other equipment that play essential roles in different engineering disciplines such as electrical, electronic, mechanical and mechatronics. Students are able to acquire the necessary hands-on skills and practical experiences in conducting extensive amounts of experimental works related to the electrical machine, electrical power and control systems. Students are also expected to embrace the applications of knowledge learned in emerging fields such as electric vehicles, smart grid, etc.
---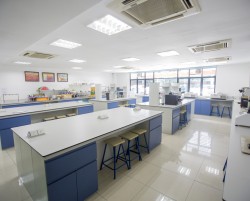 Drilling and Material Science Laboratory
The laboratory is professionally designed to provide students with ample exposure to both macroscopic and microscopic analysis. It has been well equipped with filter press, mixer, viscometer, grinder, polisher, hardness tester, and emulsion stability meter. Students who are taking Drilling Engineering and Material Engineering courses will be involved in experimental work in this lab. This is one of the most popular laboratories among our top researchers in producing high impact articles.
---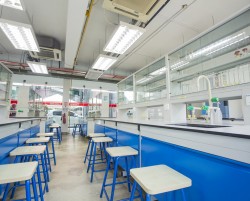 Industrial Chemistry Laboratory
This lab has been equipped with an abundance of scientific instruments for both teaching and research, particularly in Chemical Engineering. Some of the equipment include a water bath, oven, furnace, and magnetic hotplate stirrers. The equipment will gear the students to master the state-of-the-art industrial chemical processes including synthesis, analysis, evaluation, and optimisation of complicated chemical operations. Moreover, the lab provides a solid ground for various potential collaborations between academic and industry, especially in the research and development of emerging physical-chemical substances.
---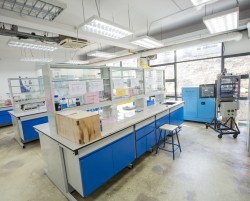 This lab has all the excellent equipment for analysis and characterisation of solid, liquid, and gaseous substances, which are widely utilised by our researchers to conduct various testing and high impact experiments in the areas of air and water pollution. The equipment available spans across viscometer bath, flashpoint tester, seta oil test centrifuge, rotary evaporator, colorimeter, jar test, and turbidity meter.
---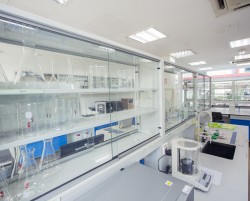 Instrumentation Laboratory
This laboratory has state-of-the-art analytical instrumentation equipment not only for teaching and learning process, but also research and development in expanding the boundary of scientific knowledge. Examples of modern equipment installed in the laboratory comprise atomic absorption spectroscopy (AAS), Fourier Transform Infrared Spectroscopy (FTIR), UV-VIS spectroscopy, nano zetasizer, 3D printer, titrator and tensiometer.
---
Light Structure and Hydraulics Laboratory
The Light Structure and Hydraulics Laboratory is equipped with high-end facilities that can enhance the students' understanding on theoretical aspects learned in subject matters related to Theory of Structures, Hydraulics and Hydrology. Some of the featured equipment in this laboratory that are essential in equipping the practical and hands on skills of students include the open channel, portal frame and parabolic arc, moment distribution apparatus, cantilever beam, etc.
---