Assistant Professor Dr Lim Wei Hong Awarded the Chartered Engineer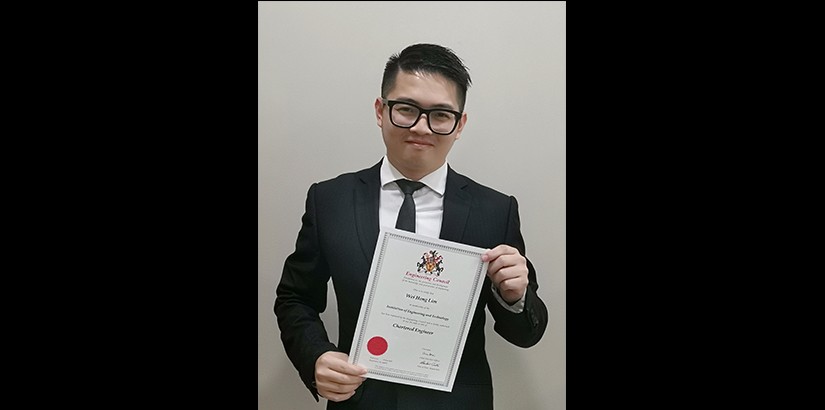 Assistant Professor Dr Lim Wei Hong Awarded the Chartered Engineer qualification through the Institution of Engineering and Technology (IET)
It was an honour for Assistant Professor Dr Lim Wei Hong, lecturer from Department of Mechanical and Mechatronic Engineering, Faculty of Engineering when he was awarded the Chartered Engineer qualification through the Institution of Engineering and Technology (IET) on June 13, 2019.
This achievement also enables him to be registered by the Engineering Council, United Kingdom and authorised to use the title of Chartered Engineer.
"It is indeed a great honour for me to be awarded with the Chartered Engineer qualification after 2 years working in UCSI University. This is definitely another notable achievement after being awarded with my PhD degree in year 2014. It was a challenging journey because the applicants not only need to demonstrate their competency in their field of expertise but they also need to mark their commitment to professional standards and to exercising their responsibility in an ethical manner as stipulated by the framework of UK Standard of Professional Engineering Competence." mentioned Dr Lim.
He also credited his recent achievement and thanked his family, friends, and colleagues who have helped and assisted him throughout his journey as an academician.
"Nowadays, the professional qualification of academic staff has played more crucial role in strengthening the quality of engineering programmes. I hope that this achievement can inspire those that are eligible to pursue their professional qualification for the sake of faculty as well as their personal development." added Dr Lim.
The Chartered Engineer is a professional registration status with UK Engineering Council as the part of a global community of professional engineers and technician. This professional engineering qualification is recognized internationally because it reflects the capability of an individual to develop and apply new technologies, promote advanced designs and design methods, introduce new and more efficient production techniques, marketing and construction concepts, pioneer new engineering services and management methods. A Chartered Engineer also engages in technical and commercial leadership and possesses interpersonal skills.