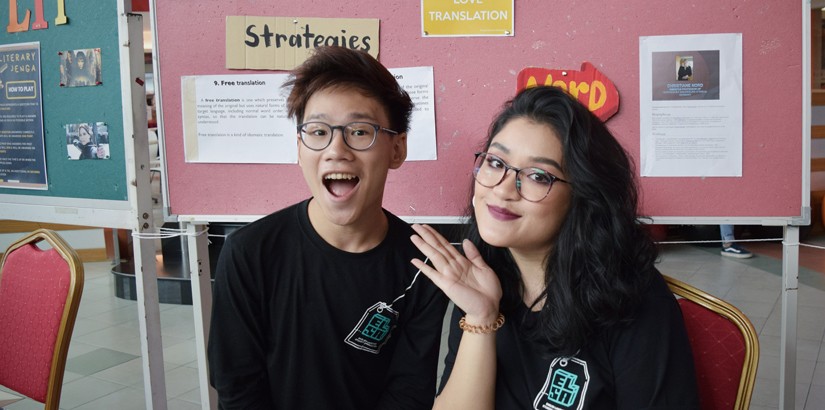 ELSA members promoting the Translation and Interpretation booth.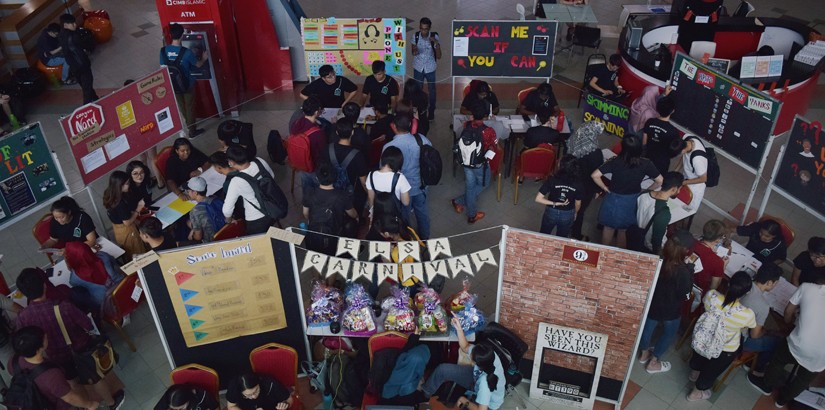 An aerial view of the ELSA Carnival in full swing.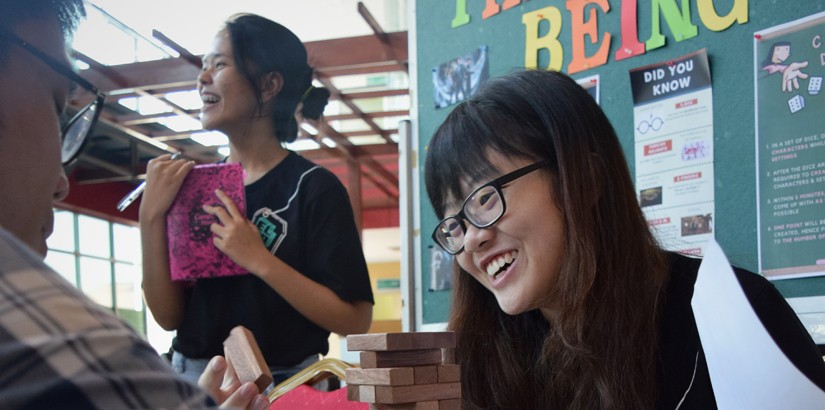 ELSA members and participants at the English Literature booth playing the 'Literary Jenga'.
An English language carnival held by the English Language Student Association (ELSA) was affectionately received by the UCSI student body, with more than 250 participants over three days of the event.
"Can You Even English?!" was held in January 2019 and it amassed more than 250 participants in three days of the event.
The six booths were derived from the core subjects in English Language and Communication (ELC) programme; Understanding Reading and Writing, Phonetics and Phonology, Translation and Interpretation, Introduction to Language and Linguistics, World Englishes and English Literature.
Laughter and music were blaring from UCSI University's Block A lobby as students participated in the fun-filled carnival, which was jointly organized under the tutelage of the Department of English Language and Communication, FoSSLA.
The language themed festival had six booths that featured fun games and activities designed for participants from all courses while introducing the elements of the English Language entertainingly and engagingly.
"This carnival provided an excellent opportunity for non-English language students to explore and understand the various aspects of language, as exemplified in the real world scenario," said Assistant Professor Dr Vighnarajah as the ELSA Advisor and former Head of Department.
"The purpose of the carnival is to introduce and expose the UCSI student body to our programme, giving them an insight of what we study and how to apply it in our daily lives. When someone meets an ELC student, they often ask 'What do you study? To be an English teacher?' and I believe this carnival is an excellent way to showcase what we study and to demonstrate the different opportunities we as ELC students acquire, apart from the standard path of an English teacher", added Hazel Kuek, President of ELSA.
Prize hampers worth up to RM400 were given out to the daily top 5 winners of the carnival.
The carnival featured a giant scoreboard that refreshes daily throughout the carnival duration. Participants were required to complete all of the games in the booths and collect points for a chance to be on the scoreboard.
"My friends and I had a lot of fun, and I never thought learning English would be enjoyable. The carnival allowed me to view the English language in a more approachable and relaxed way because of the way the games were designed.
My favourite was the phonetics game where I had to guess what my partner was saying by watching the enunciation on her lips while I was on a headphone with music as a distraction", shared Sieo Wen Min, a UCSI student.
The carnival was the first for ELSA, and the student association is prepared to introduce more soon for the benefit of the university's student body.