CityONE's Korean Festival 2016 features cooking demonstration by UCSI's culinary arts students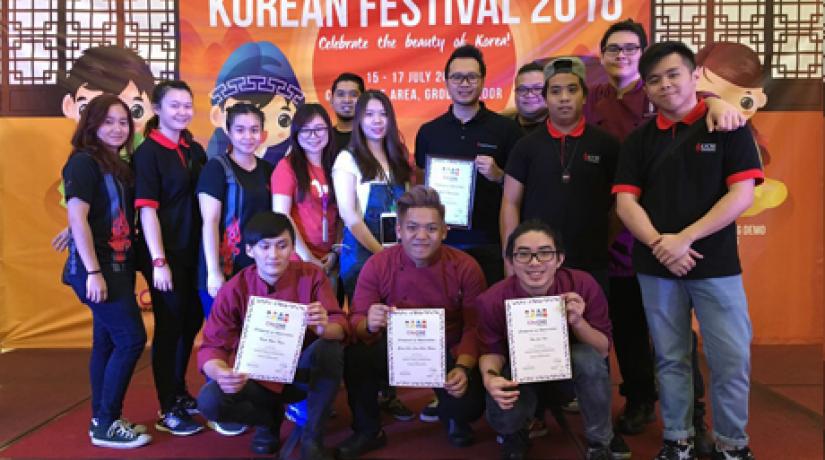 APPRECIATIVE: The staff and culinary arts students of UCSI Sarawak campus walked home with a Certificate of Appreciation given by the management team of CityONE Megamall, Kuching.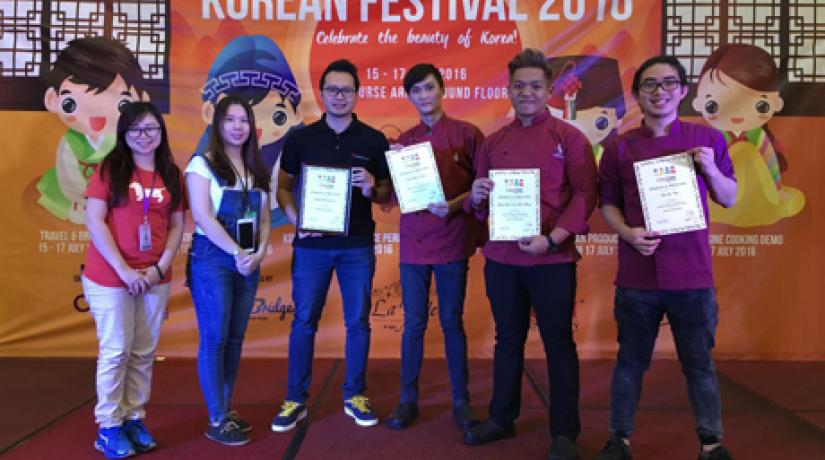 DELIGHTED: The culinary arts team from UCSI Sarawak campus share a light moment with Wendy Tnay, the A&P Executive of CityONE Megamall, Kuching (second from left) at the event.
KUCHING: Korean Festival 2016 recently took off at CityONE Megamall, Kuching.

Among other activities, the event which was held from 15 to 17 July saw a cooking demonstration by UCSI University's (UCSI) culinary arts students from the Faculty of Hospitality and Tourism Management (FHTM) Sarawak campus.

Gary Lim, Kueh Wun Thiin and Foo Jie Xin who currently read the Diploma in Culinary Arts programme had the opportunity to prepare several Korean dishes including Japchae, Gimbap, Bulgogi and Bibimbap, among others.

The event did not only gave the students the opportunity to showcase their culinary skills. According to Lim, it also gave him and his team members the confidence to interact with people when explaining to them about their dishes and cooking methods.

"Conducting a cooking demonstration in front of a big crowd was such a nerve racking experience. However, through this, my confidence and communication skills have been built up. I really appreciate that I have been given this chance to participate in such a significant event," said the budding culinarian.

His team member Foo enthused, "I felt honoured to be given a chance to share our expertise and knowledge pertaining to Korean Cuisine. It is great to be able to illustrate the knowledge we acquired during our classes and share it with the public."

Christopher Wan Sageng, head of the Hospitality and Culinary Arts department was pleased with the success of the event and the collaborative effort experienced between CityONE Megamall and UCSI University Sarawak Campus.

He said that the collaboration is certainly set in the right direction, which benefits both the University and the students.

"On behalf of the University, I'm truly thankful to the management team of CityONE Megamall for entrusting us with the task of taking the lead in the cooking demonstrations. All the fundamental skills and knowledge obtained during the students' classes have contributed towards their lifelong learning experience which has enabled them to conduct such elaborate cooking demonstrations with confidence," he said.

He then added that such events undoubtedly have a beneficial impact on the students in terms of communication as well as the skills and attributes of culinary arts.

One of the most popular programmes in UCSI University Sarawak Campus is the Diploma in Culinary Arts. With its seasoned culinary professionals, state-of-the-art equipment and cutting edge instruction methods, it is expected to continue to impact the community with its top-notch track record of producing fresh and vibrant student chefs. Other diploma programmes offered at UCSI's Faculty of Hospitality and Tourism Management are Diploma in Hotel Management and Diploma in Leisure and Tourism.

In conjunction with UCSI's 30th Anniversary, the University will be awarding RM 30 million worth of scholarships and bursaries to eligible students this year from within the following categories: UCSI University Trust Scholarship, UCSI University Trust Pre-U Scholarship, UCSI University Trust Education Grant and UCSI University Trust Financial Assistance.

The September intake is now open for registration. Students who are interested in registering are reminded to bring along their academic transcripts or result slips for enrolment. For further information about the Foundation, Diploma and Degree courses available, please call 082-455255 or log on to the UCSI Sarawak Campus Facebook page, www.facebook.com/ucsisarawak for more event details.