CMC CENTRE WILL BE A BEEHIVE OF ACTIVITIES IN DECEMBER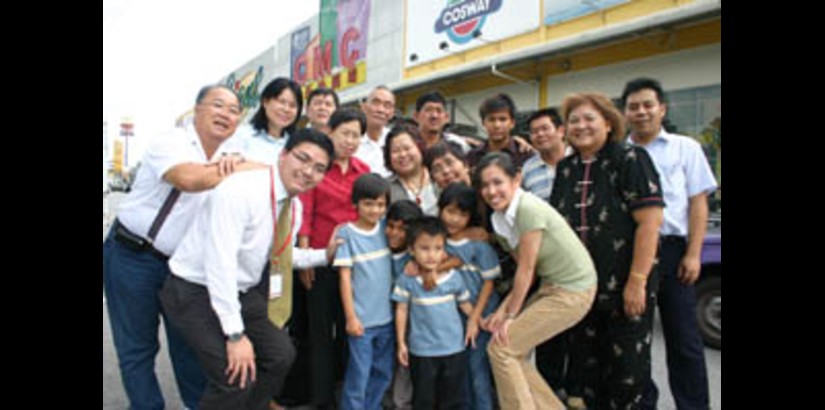 Organizing committee members at the site for this year's Cheras Christmas Celebration of Love Carnival to be held at CMC Centre throughout the month of December.
Kuala Lumpur, 14 November 2006 (Tuesday) – For Cheras folks, shopping at CMC Centre will be a different experience in December this year with a bee hive of activities being planned for the community.

To kick start the month-long series of events centred around the Christmas theme, Deputy Home Affairs Minister, Datuk Tan Chai Ho, who is also the Member of Parliament of Bandar Tun Razak, will officiate the opening ceremony, along with a cheque presentation by generous individual and corporate donors on Sunday Dec 3 at CMC Centre.Its organizing committee chairperson, Pastor Foo Moy Peng of Jubilee Initiative urged corporate citizens and business owners, especially those who operating in Cheras, to come forward to donate to the charity fund. "We are appealing to more companies to donate generously to a good cause," she said, adding that there will be many activities during the whole month of December, leading towards Christmas.
"This is the joint-effort of some 18 churches in Cheras, together with organizations like University College Sedaya International (UCSI), CMC Centre and the Cheras Pastors Fellowship," she said. "There will be activities with a different focus every weekend at the CMC Centre in Taman Connaught, our main sponsor for the event."

Foo said the committee hopes to raise funds to support various beneficiaries, including Persatuan Kebajikan Charis, Great Commissions Social Concerns Centre Berhad, Rumah Victory, Charis Community Services Bhd and Malaysian CARE.
"All these organizations have their own beneficiaries to take care of," she said. "For example, Charis Community Services runs an orphanage and the Charis-NKF Kidney Dialysis Centre, while Rumah Victory deals with drug-related issues. They need financial support to carry on with their work."
A former glass fitter, Ng Yon Wah, who discovered to his horror that he suffered from kidney failure three years ago, urged the public to give kidney patients the flexibility of being employed full-time and attend to their kidney dialysis.

Being a regular patient at Charis-NKF Dialysis Centre in Taman Billion, Cheras, Tan's appeal comes from his personal experience when he also lost his job. Being in the re-inking business now, which he started with the help of a friend, Tan said: "Kidney patients need some sympathy. They have to go for dialysis during odd hours of the day. To be self-sufficient, these patients need a job badly."
76-year-old Tan Hong Ching has been living in the old folks home managed by Persatuan Kebajikan Charis said he hopes to see more Cheras people coming forward to support the events. "Please don't forget to help old people like me," he said. "We have contributed much to society. In our old age, we only need a decent place to live in."

More information about the event may be obtained from www.lovecheras.com. Donors who wish to present their donations during the Opening Ceremony on Dec 3 may contact Vivien Chong (tel: 03-91309567).
Participating Organisation:

Jubilee Initiative Malaysia Bhd
38-4, Cheras Commercial Centre,
Taman Cheras, 56100 KL
Tel : 03-91309567
Fax : 03-91308567

FIRE.4.J Youth Ministry
Hotline : 012-6129567
Email : [email protected]
Blog : http://fire4j.blogspot.com
Date
Programme
Time
Dec 3 (Sun)

Opening Ceremony by MP of Bandar Tun Razak, YB Datuk Tan Chai Ho. There will be Health Check, Blood Donation Campaign, Organ Donation Campaign The event was jointly-organized by the Cheras Pastors Fellowship, Jubilee Initiative Malaysia Bhd, CMC Centre (Giant Hypermarket Taman Connaught), and University College Sedaya International (UCSI).

Foo said beneficiaries include Persatuan Kebajikan Charis, Great Commissions Social Concerns Centre Berhad, Rumah Victory, Charis Community Services Bhd and Malaysian CARE.

More information about the event may be obtained from http://www.lovecheras.com/include/program%20details.pdf.

For more information about this press invitation, please contact Vivien Chong (HP 012-9191986 or Tel: 03-91309567)

3pm - 7pm
Dec 9 (Sat)
Special programme focusing on children, including Colouring Competition, Games, Ballooning, Illusions and Clowing acts.
3pm - 7pm
Dec 10 (Sun)
Special programme focusing on senior citizens in CherasThere will also be a senior citizen song competition, a fun-time "Happy Family" Photo Competition and calligraphy competition for the elderly folks,Health Talk for the Elderly folks
3pm - 7pm
Dec 16 (Sat)
Special programme focusing on Youth and Food Funfair. UCSI Edu-Jays will make a special appearanceCreative Arts Performance, Percussion, Hip Hop Dance presentation, Christmas Concert, A&W Eat & Win Contest, Games Stalls.
3pm - 7pm
Dec 17 (Sun)
Special programme focusing on the whole family. There will also be talks on Violence in Marriage and Legal Advices and a drama by a single parents group based in Cheras.Special programme focusing on the whole family. There will also be talks on Violence in Marriage and Legal Advices and a drama by a single parents group based in Cheras.
3pm -7pm
Dec 23 (Sat)
Christmas Carolling
3pm - 7pm
Dec 24 (Sun)
Christmas Carolling
3pm - 7pm
Dec 25 (Mon)
"Christmas Celebration of Love" concert finale, which will feature among others guest artistes, Rao Yan Ting, Patrick Leong and Franc