A Corporate Social Responsibility Project (CSR) by U-SchoS Lend Your Helping Hand - To Children In Need
MEMORABLE MOMENTS: One of many cherished moments during the project that depicts the love and care shown to the Rumah Charis children by U-SchoS members and other UCSI University students.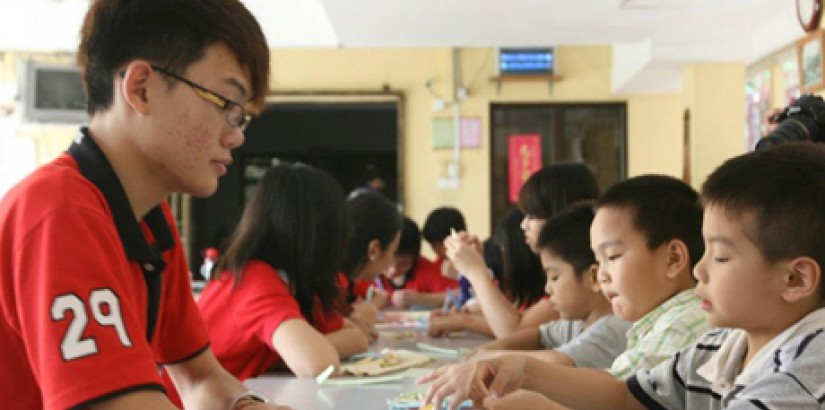 FUN SESSION: Educational yet fun colouring activities that were planned for the children of Rumah Charis.
ALL SMILES: Heartwarming smiles on the faces of Rumah Charis children during the event.
KUALA LUMPUR, 6 October 2012: 180 UCSI University students participated in a recent CSR project and contributed in different ways; from organising a donation drive to collecting donations, to name a few.

Organised by the University's Scholars Club (U-SchoS), the project aimed to encourage scholars and students to give back to society.

On Saturday morning, 32 students gathered at the campus before heading to Rumah Charis – a home for underprivileged and less fortunate children – for a day of fun-filled activities with 40 children, who warmly greeted the visitors with smiles and excited chatter.

It was a truly heartwarming atmosphere as everyone was eager to get to know each other better.

Ice breaker games – such as a colouring session for children under six, a Japanese traditional paper craft (Origami) session and "Pin the Map" – a game that tests the geographical knowledge of its participants, among other educational activites for older children – were most helpful in "breaking the ice" and undoubtedly fostered a closer bond among the participants.

The day finally ended with a sharing session, where both students and children – regardless of age – shared their dreams and future plans with each other.

The project also saw the students encourage and motivate the kids to achieve their goals in life – and clearly portrayed them as part of a supportive, caring community.

As part of the project, a donation drive was conducted on campus grounds and was well-received by its young learners.

Their dedication to the project led U-SchoS to collect various items – ranging from food groceries, household items to children's stationery worth RM1,610.69 – and a cash donation of RM373.60.

The club managed to generate an additional RM220.00 from the sales of recycled items that the members had collected earlier.

It goes without saying that all cash proceeds were used to buy groceries and needy items for Rumah Charis.

Apart from that, the club also collected 138 greeting cards in total from the University's students who wrote little notes of encouragement for the children.

All of these memorable moments have been captured in a short video and photo album. To view the photos, please visit the club's Facebook page at www.facebook.com/U-SchoS or click here to view the video.

With over 600 members who are also scholarship recipients of UCSI University Trust, U-SchoS will continue to organise more community-themed campaigns to foster closer relations and instil good moral values among the scholars.