Distinguished Professor Ooi Acknowledged One of the World's Most Prolific Researchers in Mobile Payment Research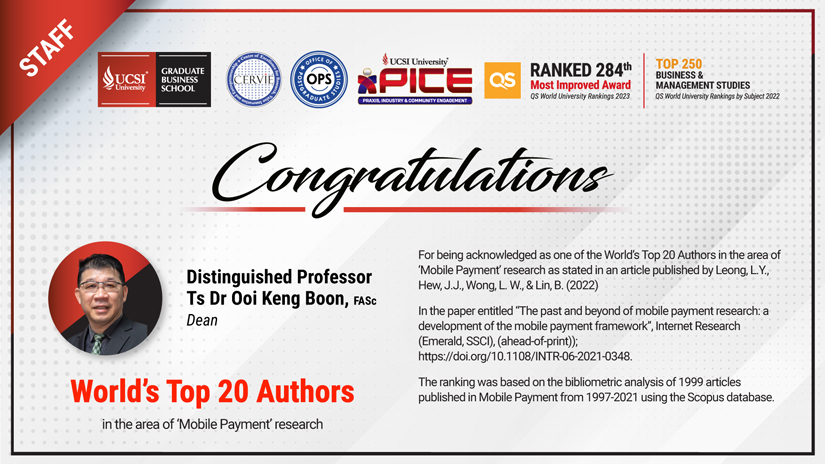 Congratulations to Distinguished Professor Ts Dr Ooi Keng Boon, FASc, Dean of UCSI Graduate Business School, UCSI University, who has been acknowledged as one of the Top 20 Authors in the world for his contribution to the field of Mobile Payment research.
Distinguished Professor Ooi has been ranked an impressive #14 (refer to Table A1) in the recently published bibliometric article titled "The past and beyond of mobile payment research: a development of the mobile payment framework" published in Internet Research, Vol. 32, No. 6, 2022, pp. 1757-1782 (Emerald, SSCI; SCIE, ABDC Ranked 'A' journal; ABS Level 3; JCR-2021, IF = 6.353) by Leong et al., (2022) (link to the article:https://doi.org/10.1108/INTR-06-2021-0348).
The author's ranking was based on the bibliometric analysis of 1999 articles published in the area of Mobile Payment from 1997-2021 using the Scopus database.
Table A1: The rank of the top 20 authors in m-payment research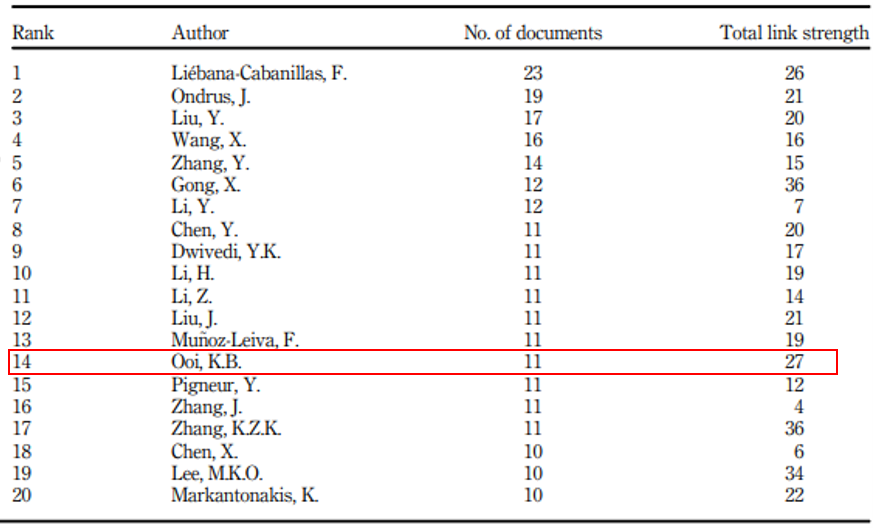 Source: Leong et al. (2022), Vol. 32, No. 6, p. 1780
This prestigious recognition is a testament to Distinguished Professor Ooi's exceptional contributions to mobile payment research and his outstanding impact on the academic community.
He said he was delighted that his research is bringing global impact and contributing to scholarly discourse.
"I am truly overwhelmed to know that my research is helping to facilitate the knowledge advancement of mobile payment technologies, globally, "said Distinguished Professor Ooi.
Throughout his illustrious career, Distinguished Professor Ooi has published over 140 papers in international refereed journals, indexed by Clarivate Analytics-Web of Science (SSCI/SCI/SCIE), with over 90 of these papers published in A/A*-ranked journals, according to the 2022 Australian Business Deans' Council (ABDC) Journal Quality List.
His works have been cited over 20,000 times per Google Scholar and over 10,000 times per Scopus Database (as of April 2023) respectively, with an H-index of 82 (Google Scholar), 67 (Scopus H-index), and 57 (Clarivate Analytics-Web of Science H-index).
He attributes this success to the support he has received from his research team members and the management team of UCSI.