Dr Elango Wins Best Paper Award At International Symposium On Robotics And Manufacturing Automation (IEEE ROMA 2018)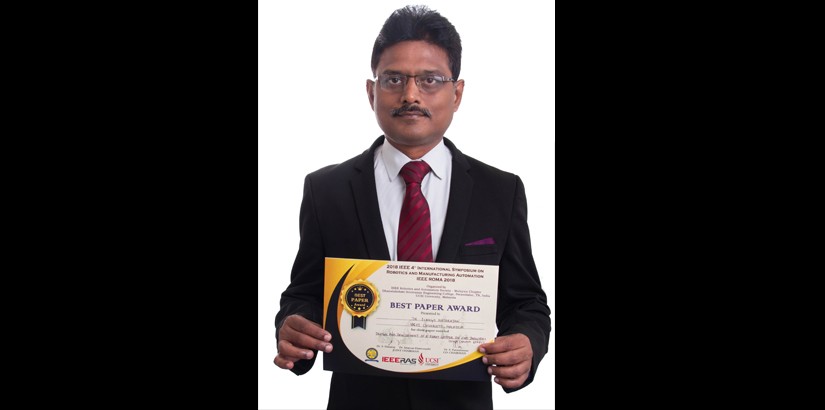 Dr Elango Natarajan wins Best Paper Award at the 2018 IEEE 4th Symposium On Robotics And Manufacturing Automation (IEEE ROMA 2018)
Winning the Best Paper Award at the 2018 IEEE 4th Symposium on Robotics and Manufacturing Automation (IEEE-ROMA 2018), was truly a memorable moment for Assistant Professor Dr Elango Natarajan, Head of Research from the Faculty of Engineering, Technology and Built Environment.
The awards presentation was held at Dhanalakshmi Srinivasan Engineering College, Perambalur, TN, India with around 110 participants.
Dr Elango's paper was entitled "Design and Development of A Robot Gripper For Food Industries Using Coanda Effect". The Coanda principle uses the pressure changes locally present inside the gripper to handle soft objects such as meat, vegetables, paper or fabric. It is a new idea applied in robotics for handling these fragile and soft objects.
"Personally, this award is an honour and a source of motivation for me to do more research in the future. Academically, it allows for the teaching of new technology and principles and encourages students to come up with different ideas," he said.
"The paper is a new attempt in the field and is also relevant in light of IR 4.0 with the increase of the automation of industries," he added.
Dr Elango is thankful to UCSI for providing the resources and facilities for the research and is encouraged to publish more papers and where the output of such research would be useful to current students.
Particularly, he is grateful for the unwarranted support given by the Faculty and CERVIE in seeing this research to completion.