Dr Gailani Selected As Best Presenter At International Symposium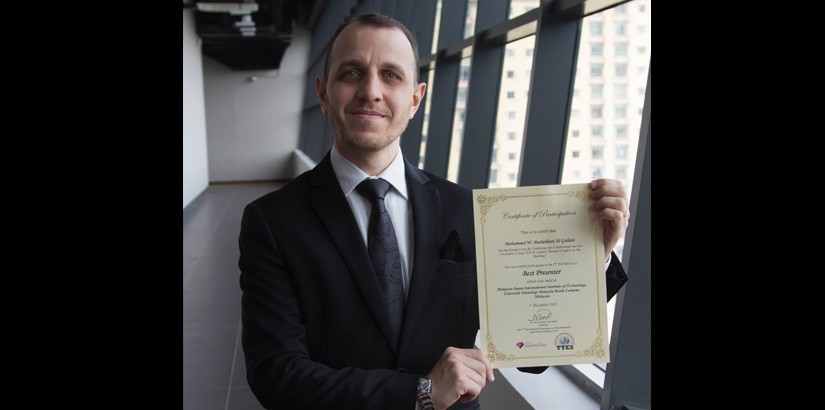 Dr Gailani wins best presenter award in the 2nd International Symposium on Fluid Mechanics and Thermal Sciences 2018.
For Dr Mohammed Al-Gailani, winning the best presenter award in the 2nd International Symposium on Fluid Mechanics and Thermal Sciences 2018 came about with a lot of persistence and perseverance on his part, especially seeing that he gave his first presentation at a conference eight years ago.
Selected out of around 100 participants from countries such as Japan, Singapore, India, Indonesia and others, Dr Gailani attributed his success in the field of Mechanical Engineering to motivation from the dean of the Faculty, Associate Professor Ir Dr Jimmy Mok Vee Hoong, the Head of Department, Dr Lim Wei Hong and CERVIE.
His paper was entitled "Saving Energy Cost By Combining Air-Conditioning and Air-Circulation Using CFD to Achieve Thermal Comfort In The Building"
The objective of the paper was to investigate possible energy saving and cost savings in building with higher air temperature and greater air flow using Computational Fluid Dynamics (CFD) simulation with the combination of air-conditioner and fan without affecting the thermal comfort of building occupants.
"I hope to gain more opportunities for research in the future and to achieve more in the coming years," he said.
"This is truly a great platform for researchers to uncover more techniques to reach their goals. The Faculty has given us the encouragement to do our best and publish more of our work and present publicly in conferences," he added.
The paper itself had practical significance in that it illustrated the method in which to retain our 'comfort zones' in terms of temperature while paying less for electricity.
This research also contributes to the field by the discovery of new technologies to reduce the cost of electricity and encourages more collaborations in terms of developing new ideas for saving energy.
The award was indeed a milestone for Dr Gailani and has paved the way for him to do more research in the field of Mechanical Engineering.