Dr Ramez Conferred Two Gold Medal Awards For His Project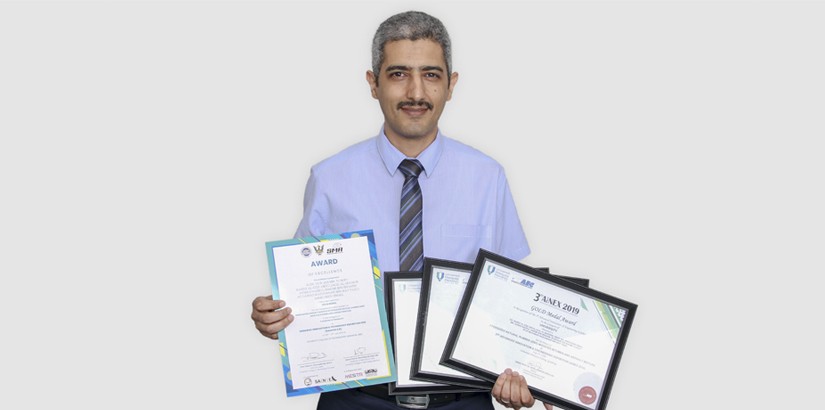 Dr. Ramez holding all certificates of his successful project entitled Epoxidized Natural Rubber (ENR) Modified Bitumen and Asphalt Mixture
Faculty of Engineering, Technology and Built Environment lecturer, Dr Ramez Al-Ezzi Abduljalil Al-Mansob from the Civil Engineering department recently received two Gold Medal Awards for his project entitled "Epoxidized Natural Rubber (ENR) Modified Bitumen and Asphalt Mixture."
The awards were conferred to him at the 3rd Advanced Innovation & Engineering Exhibition (AiNEX 2019) in University Malaysia Pahang and Sarawak Innovation & Technology Exhibition 2019 (SAINTEX 2.0) for the University and Fundamental Research category last July.
Additionally, Dr Ramez also received the Champion Award and Best of the Best Award in the category of University at AiNEX 2019.
He stated that the project is about improving asphalt pavements by modifying the ENR produced in Malaysia. Through this project, the pavement life is expected to increase to 6 times longer at high temperatures.
"I hope with my involvement in these exhibitions can motivate the students to achieve more unique research that can be published in high impact journals," he said.
"Moreover, these exhibitions can be the platform for them to demonstrate their creativity in innovations and designs apart from establishing their talent to develop something new," he added.
"UCSI has helped me a lot in developing the project by providing big budgets allocated for research purposes." he added.
Dr Ramez holds to the principle by Robert A. Heinlein that "Everything is theoretically impossible, until it is done."