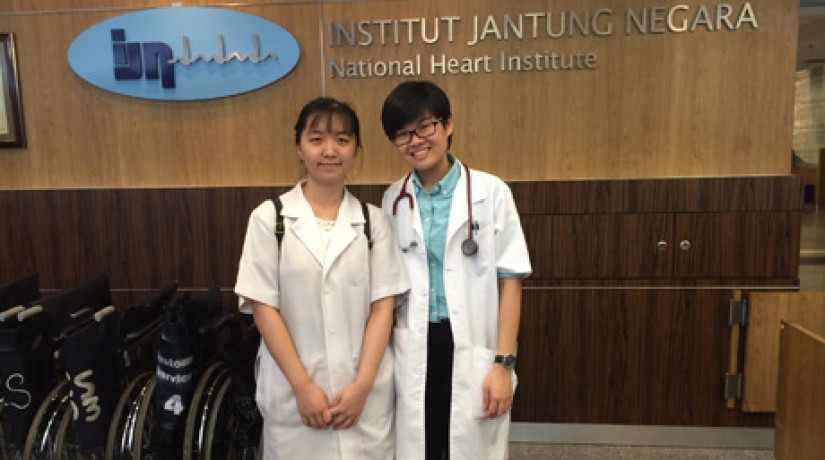 Elective Posting at Institut Jantung Negara By Tan Hui Mei and Tai May San (Doctor of Medicine)
Whenever medical students bump into senior doctors, they will be invariably asked about their field of interest. For me, Hui Mei, nothing could waver my ambition of becoming a cardiothoracic surgeon. For me, May San, cardiology is my calling.

Given the freedom to choose our elective posting placement, Institut Jantung Negara (IJN) quickly crossed our minds as it is undoubtedly the best hospital for cardiovascular and thoracic care.

Established in August 1992, IJN is renowned for premier cardiology facility in the country and Asia Pacific region. Also often known as Cleveland Clinic in Asia, IJN is equipped with modern and sophisticated technology to treat the most complicated of cardiovascular cases, and has delivered advanced standards in cardiovascular and thoracic medicine to more than 2.2 million adult and paediatric heart patients within the country and also from abroad.

IJN has four main departments which are adult cardiology, PCHC, cardiothoracic surgery and anaesthesiology but there are other specialty clinics as well, like quit smoking, diabetes, INR and renal denervation screening. In October 2016, IJN has proudly achieved another milestone by becoming among the first centres in the world to implant a bio-absorbable pulmonary valve (PV) conduit.

During our electing posting, we were attached to two departments: adult cardiology and cardiothoracic surgery.
Tai May San
In the cardiothoracic surgery department, I shadowed Dato' Professor Dr Mohamed Ezani bin Md Taib who is the senior consultant cardiothoracic surgeon and Chong Kee Soon, a clinical fellow.

Under their guidance, I learned various lessons on cardiothoracic surgery, not only in recording patient history and performing physical examinations but on surgeries as well. Many of the patients presented with different associated diseases.

There were rare cases which I did not have the chance to observe at my learning hospital such as lymphangioleiomyomatosis (LAM). In the operation theatre, I observed various surgeries including coronary artery bypass graft, heart valve replacement, annuloplasty and video-assisted thoracoscopic surgery (VATS). The most amazing part of it all was that I got to see live beating hearts!

I was very glad that I was given the chance to scrub into some of the surgeries. My memories are still fresh. On the first day that I scrubbed in, I touched and held a warm, beating heart. I could feel every heartbeat, not by conventional palpation or auscultation, but by holding it in my hand and feeling the warmth of the heart. I also learned the procedures in cardiothoracic surgeries instead of just observing in the operation theatre. I was taught how to perform sternotomy, harvest vein grafts and suture.

Learning all about surgeries had never been so fun! I was as happy as a three-year-old when I was asked to assist with some procedures such as harvesting vein grafts and suturing. I was even happier when I had the chance to observe paediatrics cardiothoracic surgeries like ASD and VSD closure, BT shunt, Glenn Shunt and the Rastelli procedure. I was thrilled to see the heart, smaller than my hand, beating so delicately in front of my eyes.
Tan Hui Mei
I served in two departments. In adult cardiology, I was supervised by Dr Al Fazir Omar, a consultant cardiologist, and also got to meet Datuk Dr Rosli Mohd Ali who is the chief clinical officer. In cardiothoracic surgery, I got to follow Paneer Selvam, a consultant cardiothoracic surgeon.

During my two weeks in adult cardiology, I saw a few rare cases in addition to the common ones, like hypertrophic obstructive cardiomyopathy (HOCM) and constrictive pericarditis. I enjoyed observing angiography and percutaneous coronary intervention.

I was absolutely excited when I entered the cath lab for the first time. Donned in the lead gown and thyroid shield, observing an angiogram procedure was like watching a live music concert! The foreign visiting interventional cardiologists shared their experience with intravascular ultrasound (IVUS), which is used to image the vessel size and aid the choice of stent size as well as to assess the severity of borderline lesions. I had the chance to observe this procedure, which has only briefly described in prescribed textbooks, performed on some of the cases.

I also came across instruments like the monorail and over the wire balloon systems, compliant and non-compliant balloons, and different types of stents used in angioplasty. Everything was so new to me and I was overwhelmed with technicalities. Fortunately, with the combination of the doctors' expertise and the explanations from well-trained radiographers and cardiovascular technicians, the labyrinthine procedures and angiography images became easier to understand for an undergraduate.

Besides watching how doctors dealt with chronic total occlusions of coronary blood vessels, I observed a transcoronary ablation of septal hypertrophy (TASH) procedure for a patient with HOCM. Fentanyl was given before an alcohol injection into the myocardium to alleviate the pain of myocardial necrosis caused by the therapeutic effect of alcohol. An echocardiogram was done before and after alcohol injection to look for basal septum hypokinesia and thus assess the reduction of outflow tract obstruction.

Another special procedure I got to observe was a thoracic endovascular aortic repair (TEVAR) of ascending aorta aneurysm, which is a minimally invasive surgery done in a hybrid operating theatre. It combines the expertise of a cardiothoracic surgeon, interventional cardiologist, anaesthesiologist and radiographer.

In the specialist clinic, I was given the opportunity to see patients under the supervision of the consultant cardiologist. I learned how to talk to the patients and explain treatment options. It seemed simple but a skill that I needed to grasp. I was also impressed with the gentle and compassionate way the doctor broke bad news to family members when a patient's condition was deteriorating in the ICU.

Before the end of my attachment, Dr Al Fazir shared a case of cardiac paraganglioma treated with an innovative method instead of conventional surgical resection.

We couldn't get enough at IJN. We were inspired by the doctors, the eye-opening exposure, and wonderful practical experiences. Our time at IJN has motivated us to be even more enthusiastic in pursuing our passion. Our gratitude goes to USCI University, IJN and our families for the support and love throughout our elective posting period.

Tai May San and Tan Hui Mei are alumni of SMK (P) Raja Zarina Klang, Selangor and SMK Kulim, Kedah.