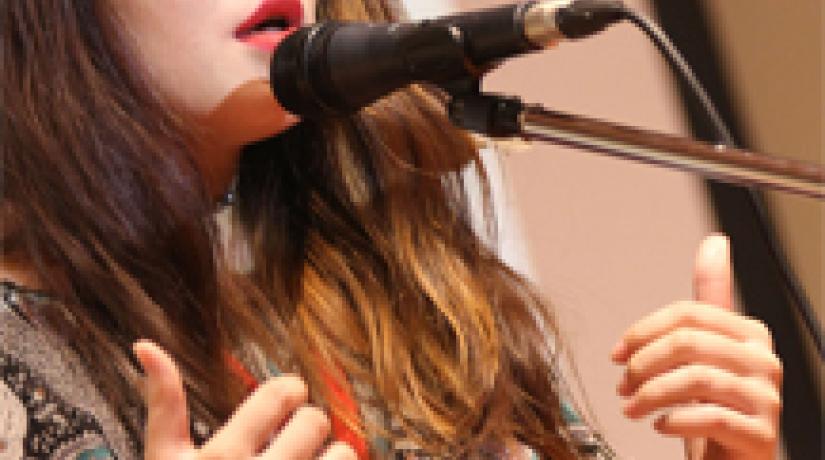 Already so fraught with nerves that her hands were shaking, Gwendoline Esther Hay Ai Yin certainly did not need the added problem of a broken heel that meant she would have to perform barefoot at UCSI University's recent public poetry slam – a competition where poets recite their original work before a panel of judges.

But the budding poet steeled herself and took the stage to deliver an impassioned piece on gender microaggressions. On stage, she quickly found her confidence and that saw her through to the finals where she clinched the first runner-up prize. She was the youngest of the other winners and this poetry slam was also her first.

"I was overwhelmed when my name was announced," she said of her win. "I just wanted to prove to myself that I could do it so to actually win anything at all felt very rewarding."

Organised by UCSI's Faculty of Social Sciences and Liberal Arts, the competition was themed Poetry for Change where participants highlighted pressing issues in society. Among the judges were Kuala Lumpur Performing Arts Centre (KLPac) Executive Producer and Co-Founder Dato' Faridah Merican; Kakiseni President Low Ngai Yuen; and poet Sheena Baharudin.

Hay, who is currently reading the BA (Hons) English Language and Communication degree at UCSI, began writing poetry when she was 13 but it wasn't until a year ago when she began to actively participate in the local poetry scene. She has performed a handful of times at open-mic events but never in a competitive setting until now.

She credits her lecturers Sara Najwa Mohd Norizan and Assistant Professor Dr S. Vighnarajah for encouraging her to participate in the poetry slam. "I found out about the slam during my orientation but I was hesitant to join as I've never done anything like this before," she said.

"However, my lecturers kept pushing me to go for it and I also found myself growing in confidence the more classes I attended as the curriculum really encourages you to use your voice. So I decided to just take a chance and I'm glad I did because I had a lot of fun."

The competition was preceded with a workshop conducted by Elaine Foster, an established poetry and drama educator who has performed in Malaysia, Indonesia, Singapore and at the Edinburgh Fringe Festival.

"One of the reasons why I chose to study at UCSI is because they have an active arts scene," said Hay. "Elaine Foster, for one, works very closely with UCSI to run poetry workshops.I have heard a lot about her but I never had the chance to attend her workshops until UCSI. I was really excited to meet her."

After her win, Hay herself had the opportunity to lead a workshop of her own with Asst Prof Vighnarajah's help. She guided her classmates through writing exercises and on how to convey emotion in their poems.

"I want to specialise in literature in the future but I don't want to limit myself just yet," she said. "Studying the English Language and Communication programme at UCSI lets me explore tracks in journalism, communication and teaching which broadens my horizons."

"This particular programme takes on a multidisciplinary approach," said Asst Prof Vighnarajah, who leads the English language and communication department. "It is designed to integrate the mastery of the English language with critical communication capabilities, and this has opened many more doors for our students.

"All our graduates, whether local or international, have charted successful careers in various emerging fields not just in media and communication but also in staged theatre plays, diplomatic services and higher education training."

All of UCSI's social-science programmes are well known for providing students with a myriad of opportunities to realise their potential. With the curriculum supporting a fine balance of classroom and experiential learning, students are able to put into practice what they have learned.

The University regularly facilitates student efforts to drive projects or activities that benefit the communities around them. The poetry slam itself is part of UCSI's English Language Student Association's (ELSA) ongoing Right to Read campaign that aims to encourage a passion for reading amongst the general public.

"Students learn and achieve best when they are given the flexibility to do so," said Associate Professor Dr Tan Bee Hoon, Dean of UCSI's Faculty of Social Sciences and Liberal Arts. "So we empower students to actively take the lead in their personal development, and they do.

In applying what they have learned to pursue causes close to their hearts, they learn problem solving, leadership and good citizenship. They become better thinkers and stronger leaders."

Such instances include UCSI's Psychology and Education students using their understanding of therapy to help underprivileged children with learning disabilities. And apart from highlighting pertinent matters through traditional new media, Mass Communication and English Language students actively raise funds for charities like WWF Malaysia and the National Cancer Council Malaysia (MAKNA).

Nur Hamizah Hj Ramli, Vice President of UCSI's Psychology Student Association, stands out for leading several mental health and autism awareness campaigns.

"I'm passionate about fighting the social stigma attached to mental illnesses and alleviating the detrimental effect this has on the patients," said Hamizah. "Raising awareness on these issues play an important part in changing public perception and attitude."

In her role as organising chairperson, Hamizah mobilised her peers to launch the Expressive Empowerment campaign to educate the public on the expressive therapies that may be used as effective coping strategies in moments of distress. She also organised the World Autism Awareness Day in collaboration with Early Autism Project Malaysia.

UCSI is also known for running the country's most extensive university-industry network with over 4,000 corporate partners. Students serve a two-month internship every academic year at notable companies like British Malaysian Chamber of Commerce, Edelman Worldwide, Leo Burnett, Media Prima, and Ogilvy.

Currently, the Faculty offers degrees in education and English, English language and communication, mass communication, child psychology, psychology, and tertiary teaching. All promise insightful and challenging learning experiences which will empower students to make their mark – wherever they are and whatever they do.