Filming on Campus Grounds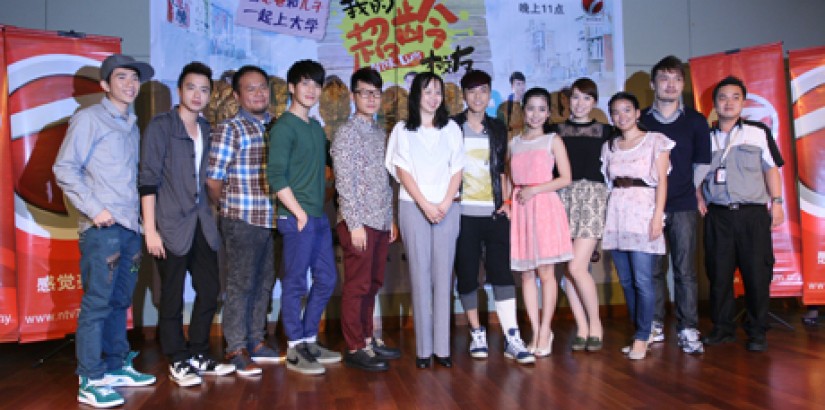 GROUP PORTRAIT (From left): Jack Yap, Ernest Chong, director Howie Loh, Sam Chin Neng, Leslie Chai, Thomas Kok (6th from right), Emily Chan (5th from right), Pauline Tan (4th from right) and UCSI Group manager (Logistics Management Office) Irwin Hidayat
GROUP PORTRAIT (From left): Actors Jack Yap, Ernest Chong, Sam Chin Neng, Leslie Chai and Thomas Kok striking a random pose for the camera with actresses Emily Chan and Pauline Tan at the press conference cum launch of the "After Class" series.
Kuala Lumpur - In August this year, Natseven TV Sdn Bhd – or better known by its acronym ntv7 – used UCSI University's Kuala Lumpur campus as a filming location for its brand new sitcom "After Class."

Ntv7 is Malaysia's third private free-to-air station and it is wholly-owned by Media Prima Berhad (MPB), the largest integrated media house in Malaysia. MPB also owns various local TV channels, New Straits Times Press (Malaysia) Berhad, three radio stations – Fly FM, Hot FM and One FM – and four other outdoor media companies, to name a few.

The first episode of the 13-episode series aired on Thursday, Nov 8, 2012, and tells the story of a 36-year-old father who was forced to give up his studies when his son was born to him 20 years ago. Later, he decides to fulfill his dream by enrolling in an undergraduate course in the same university as his son.

Emceed by One FM radio DJ Nicholas Ong, a press conference was held at the University on Oct 24, 2012, to promote and launch the series.

Attended by its director Howie Loh and cast members – namely Leslie Chai, Thomas Kok, Jack Yap, Ernest Chong, Emily Chan, Sam Chin Neng and Pauline Tan, among other leaders in the local broadcasting industry – the conference also featured an exclusive "After Class" trailer, giving attendees a sneak peek into some of its funny scenes.

Many who were present – including members of the media, and University students and staff – at the three-hour conference were presented with a rare opportunity to take photos with their favourite artistes and walked away with autographed posters and goodie bags.