Funding the Future: UCSI awards RM13.7 million worth of scholarships to 607 students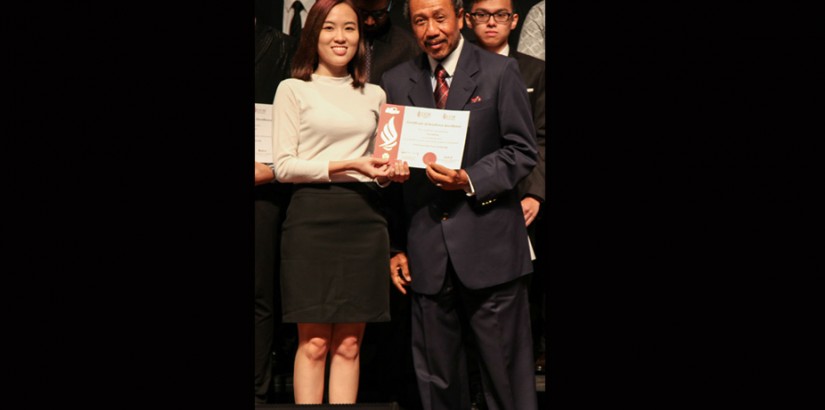 Tan Soh Lin (left) receiving her scholarship from Dato' Dr Hj Mohd Karim bin Hj. Abdullah Omar, Chairman of UCSI University Trust at the UCSI University Trust Award and Scholarship Ceremony 2017.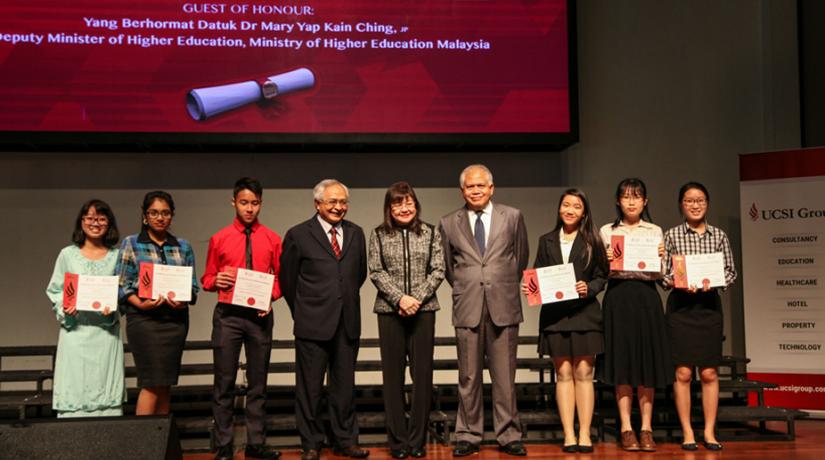 UCSI University awarded 607 students with scholarships and bursaries amounting to RM13.7 million in the year's first award ceremony. Having pledged RM30 million in funds to be disbursed in 2017, UCSI will continue to provide financial aid to deserving stu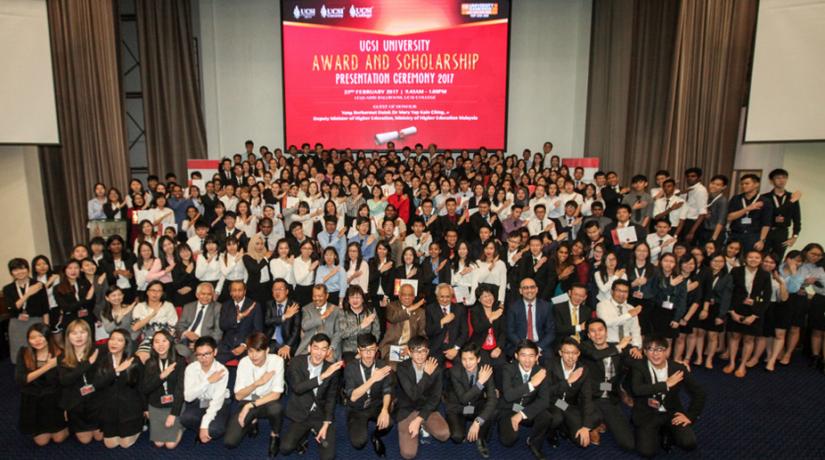 Yang Berhormat Datuk Dr Mary Yap Kain Ching (centre), Deputy Minister of Higher Education, presented awards to the Jabatan Perkhidmatan Awam (JPA) Scholarship recipients with YBhg Senior Professor Dato' Dr Khalid Yusoff (fourth from left), UCSI University
KUALA LUMPUR: Tan Soh Lin's dream had always been to pursue her studies in the medical field but a recent family tragedy served to give her a personal purpose. Her mother's passing last year, having lost her battle with ovarian cancer, inspired Tan's decision to read the Bachelor of Pharmacy (Hons) at UCSI University.

"I want to be a pharmacist so that I can learn how to dispense the right drugs to each patient," said the Batu Pahat native. "I also want to conduct research on new drugs so that untreatable diseases can be a thing of the past."

Tan was one of the 607 recipients at the UCSI University Trust Award and Scholarship Ceremony 2017 where over RM13.7 million worth of scholarships and bursaries were disbursed at the University's first award ceremony of the year.

UCSI has pledged RM30 million for the second consecutive year to the UCSI University Trust, matching the original contribution made in honour of the University's 30th anniversary celebration last year. The remaining funds will be disbursed over the next three quarters of the year.

The joyous ceremony was graced by Guest of Honour Yang Berhormat Datuk Dr Mary Yap Kain Ching, Deputy Minister of Higher Education, Ministry of Higher Education Malaysia.

Commending UCSI for improving access to education, Datuk Yap said that not everyone has the same opportunities in life and financial support is crucial to help level the playing field for disadvantaged groups and to ensure that education is availed to every student regardless of their family's income level or background.

"It is heartening to find that UCSI has invested RM30 million this year to award to all these students from various disciplines," she said. "This is really something that I hope other private universities will emulate."

Datuk Yap also spoke of the importance of educating well-rounded graduates who, apart from excelling academically, must also master outstanding values, mannerisms, ethics and entrepreneurism.

"UCSI is definitely actualising a lot of what is in the Blueprint in terms of producing balanced graduates," she said. "This is a positive indication that the quality of education is getting better and better. Today's scholarship recipients must be grateful and take full advantage of this opportunity to develop themselves."

This year, the Ministry of Higher Education will ramp up its efforts to redesign the higher education landscape by pushing more initiatives to improve graduate employability such as work-based learning. "We cannot go this journey alone, we must involve the industry so that students can equip themselves with the competencies required by today's industries," said Datuk Yap.

UCSI was the first university in Asia to facilitate industry placements for students each year. It runs what is virtually Malaysia's largest university-industry network with over 4,000 industry partners including world's best companies like Accenture, Deloitte, DHL, KPMG, Leo Burnett, Nestlé, Petronas, PWC and Sony Malaysia, among others.

Dato' Dr Hj Mohd Karim bin Hj. Abdullah Omar, Chairman of UCSI University Trust, revised a quote from Nelson Mandela in his speech. "Educated youth is the most powerful weapon that can change the world," he said, "and this is what drives the Trust – the belief that we have a role to play in equipping youths with the knowledge they need to fulfil their potential and make a difference in the world."

The ceremony saw the presentation of the UCSI University Trust's Prestige Scholarship Award which recognises the crème de la crème of the scholarship recipients, and the UCSI University Trust Scholarship - Principal's Award which is purposed to be an avenue for schools to acknowledge the invaluable contributions of its students as they move on to tertiary education.

Students were also awarded scholarships for each level – pre-university (including A-Level), diploma, degree and postgraduate study – and a sports bursary for state and national athletes.

These scholarships bursaries were awarded to deserving students irrespective of race, nationality, religion and creed to pursue their higher education at UCSI University. The recipients were selected based on outstanding academic achievements, athletic talent, strong leadership or financial need.

To date, UCSI has awarded more than RM120 million in financial aid and scholarships to over 4,000 students.

Also in attendance at the ceremony were YBhg Dato' Peter Ng, UCSI Group Founder and CEO; YB Senator Dato' Sri Khairudin Samad, Advisor to UCSI Group; YBhg Tan Sri Dato' Seri Dr Musa Mohamad, Chairman of UCSI Group; YBhg Senior Professor Dato' Dr Khalid Yusoff, Vice-Chancellor and President of UCSI University; members of the UCSI University Senate and Management Board; faculty deans; as well as parents and family members of the recipients.