A GATHERING FOR FORMER APPLIED SCIENCES STUDENTS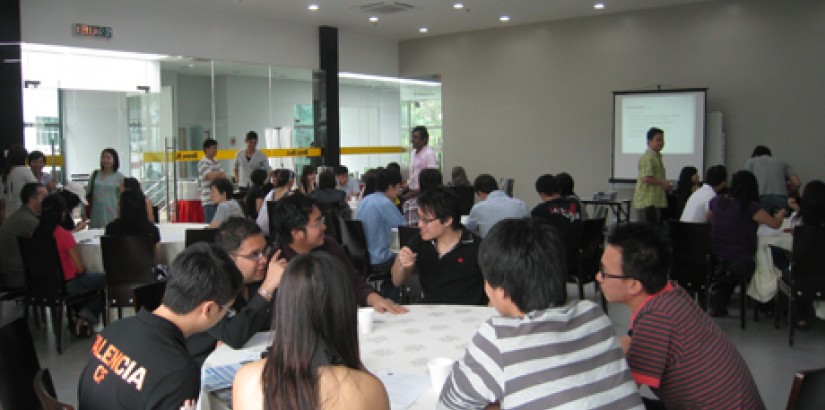 Former UCSI University Faculty of Applied Sciences students mingling and catching up with former classmates.
Kuala Lumpur, 04 December 2010 - Former students from UCSI University's Faculty of Applied Sciences came together recently at an alumni gathering to meet their former lecturers and classmates. Co-organised by the University's Alumni office and the Faculty members, it saw close to 50 alumni members attending the event.

The event started with a welcome note from Vayne Kam, President of the Alumni Pro Tem committee, followed by a welcome address from Associate Professor Dr. Hon Wei Min, Dean for the Faculty of Applied Sciences. Dr. Hon stated her appreciation for the alumni members who had turned up that day. "Your untiring support for the Faculty is greatly valued, especially those who had done so since our inception."

In her address, Dr. Hon also urged all alumni members and former UCSI University students to join in the Alumni Homecoming event set for the 15th of January 2011.

Also present at the event was Joyce Lim, Manager for the Alumni Office who also represented Margaret Soo, Chief Operating Officer for the University's Foundation office. In her short speech, she reinforced the aspirations of the Foundation and Alumni offices, while giving a warm welcome to those attending the gathering.

Former students who attended were pleasantly surprised to meet again familiar faces. Muthu Kumar Veerapen, who graduated last year and is currently a Tutor with the Faculty was happy to meet many of his seniors who had graduated before him. "It was really interesting and satisfying to see former students from different batches in the same room," he says. Ms Ng Ling Hsing who is currently a Quality System Officer with Glaxo Smith Kline and a first batch graduate of the University's Biotechnology degree programme concurs. "It's truly meaningful to be able to mingle with my juniors and former lecturers at this gathering."

Since its inception in 2004, the University's Faculty of Applied Sciences has graduated close to 1400 students, and is a popular choice among new students not only because of its career prospects, but also due to word of mouth praises extolling the excellent academic team and facilities available. Over the years, many students have fostered close ties with their lecturers, with some of them staying on as tutors or lab assistants upon graduating.

UCSI University's Alumni office is organising an Alumni Homecoming event on the 15th of January 2011 to gather all its former students for a gala event. For more information on this event, and other upcoming Alumni activities, please contact Joyce Lim at 03 9101 8880 (ext. 5026) or e-mail her at: [email protected].
---
"Without prejudice to the rights of UCSI the information herein is correct at the time of printing and UCSI reserves the right to make amendments without prior notice."
Last updated: 17 Dec 2010