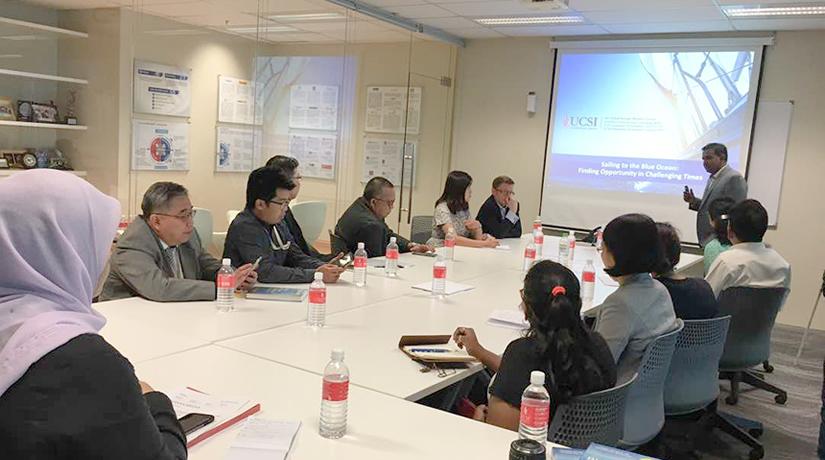 Mr Raj Kumar presented an overview of the MBA (BOS) programme and shared some numerous strategic moves carried out by businesses using BOS framework and principles.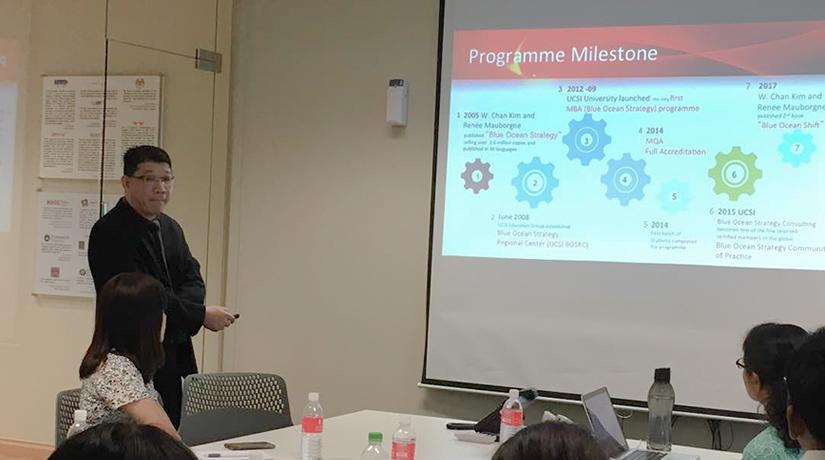 Professor Ooi, highlighted the need for business leaders and professionals to take cognisance of the rapid changes taking place in the business world.
Kuala Lumpur: Having lost his spectacles on his backpacking trip in Thailand, David Gilboa had to make do without them at his graduate school because it was too expensive. But the incident catapulted him into disrupting the eyewear monopoly in the United States when he started selling affordable spectacles minus middlemen and unnecessary mark-ups. In fact, in his business model, a needy person gets one pair free for every pair sold.

Warby Parker, the social enterprise that David and his friends started, essentially created a 'blue ocean' which refers to uncontested market space as outlined by Blue Ocean Strategy (BOS), a timeless business idea that foregrounds the irrelevancy of competition by moving away from a crowded market through both product/service differentiation and cost reduction.

This highly-acclaimed business idea is now accessible to business leaders and professionals who want to take their business or professional growth to the next level via Master of Business Administration (BOS).

In the special preview of the programme today, interested businessman and working professionals were briefed on the programme modules including an overview of the content, its unique value proposition and the approach used for content delivery by two of its instructors, Professor Geoffrey Williams, Director of Academy of Responsible Management S/B and Mr Raj Kumar CEO of UCSI Global Consulting.

BOS authors, W. Chan Kim and Renée Mauborgne were selected as foremost business thinkers by Thinker50 in 2015, an influential ranking that awards global management thinkers. This year, the business gurus released their second book, 'Blue Ocean Shift' as a follow-up to BOS and are in the running again for the Thinker50 2017 Strategy Award.

More than 10 years later, multinational corporations and governments continue to refer to BOS principles and framework to formulate and implement successful strategic moves. One of these ground-breaking moves includes shifting focus to a previously overlooked buyer group and unlocking a new value and market space, as demonstrated by industry giants like Canon and Bloomberg as well as newcomers like Warby Parker.

The MBA (BOS) programme is the gold-standard postgraduate business study in Malaysia today as it is the only MBA programme in the world incorporating BOS as part of its curriculum. A joint offering by two prominent subsidiaries (UCSI University and Blue Ocean Strategy Consulting) under the UCSI Group, the programme content is a perfect blend of both academic rigor and industry perspectives.

The programme incorporates BOS frameworks in its curriculum and pedagogy and in addition to acquiring sound knowledge on core business disciplines and high-impact business consulting, learners acquire an edge in learning how to transcend competition and create new markets.

Learners will also acquire invaluable networking opportunities and enriching experience with course mates made up of well-established individuals comprising high-ranking civil servants and experienced corporate leaders. This business credential also provides an opportunity to be part of the Global BOS Community of Practice by being appointed as a BOS affiliate with UCSI BOS Consulting, subject to fulfilling some requirements.

"As business leaders and professionals, you need to rethink your business strategies and approaches and move away from conventional cut-throat competition and embrace value innovation to capture new markets in order to thrive and not be wiped out. This programme will help you develop a blue-ocean thinking," highlighted Professor Ooi Beng Keng, Dean of Faculty of Business and Information Science (FoBIS), where the programme is based at.

BOSC is one of the few certified members of the global Blue Ocean Strategy Community of Practice in the world and has consulted many Asia's leading corporations in maximising their performance and growth. In addition to the MBA (BOS) programme, FoBIS also offers an array of foundation, degree and postgraduate programmes in the business and IT-related fields.

For those who missed this preview, there will be another one at UCSI University on 14th October 2017. For more details, please call 03-9101 3465 (Joyce or Liew Chong Shing).