Hands-on Aesthetic Training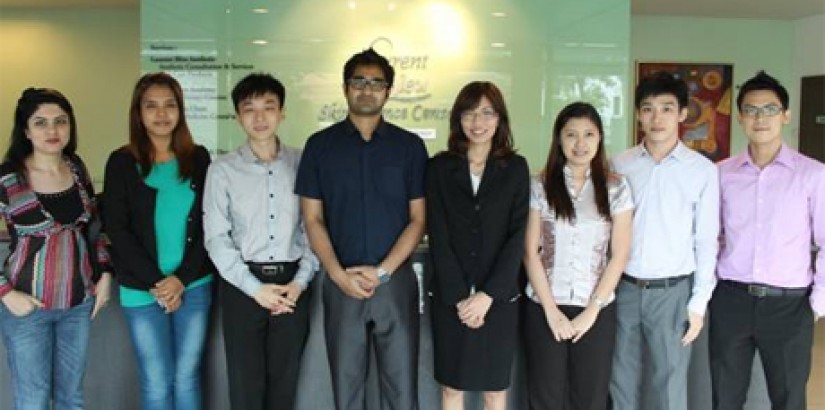 GROUP PORTRAIT: The participants posing for the camera with research coordinator Dr Navedur Rehman (fourth from left) and LB's consultant dermatologist Dr Irene Lee (fifth from left) at the end of the hands-on session.
KUALA LUMPUR: UCSI University's School of Anti-ageing, Aesthetics and Regenerative Medicine recently reached out to its postgraduate learners – medical doctors currently reading the MSc in Anti-ageing, Regenerative Medicine and Medical Aesthetic – by organising a hands-on aesthetic programme as a valuable add-on to the curriculum.

The programme – coordinated by research coordinator Dr Navedur Rehman and supervised by Dr Irene Lee, a consultant dermatologist in LB – provided the practitioners with practical exposure to various aesthetic procedures such as skin analysis, Botox, chemical peel and radio frequency (RF).

As a start, the School's resident nurse Veroni Binti Tiansil conducted a facial skin analysis demonstration through the Janus Facial Analysis System – a system that provides a thorough analysis of the face using facial imaging technology – before encouraging the learners to practise independently on volunteers.

The next session saw the doctors practising Botox applications on mannequins, under the supervision of Dr Irene and other support staff.

The injection of botulinum toxin – or better known by its acronym Botox – has become increasingly popular for its effectiveness in reducing wrinkles and rejuvenating ageing skin.

Although its effects are only temporary, Botox has gained fame around the globe for several reasons; they are performed swiftly; require no recovery time; and are not as complicated as other cosmetic treatments for the face.

Dr Irene performed two much-awaited chemical peel and RF demonstrations, where she also guided the participants to practise on their own.

Typically, chemical peels remove the superficial layers of dead skin and target a specific range of problems; reducing fine lines under the eyes and around the mouth; treating wrinkles caused by sun damage and ageing; improving the appearance of mild scars; and treating acne, age spots, freckles and dark patches, to name a few.

As for radio frequency, the machine heats specific layers of the skin with electromagnetic radiation and promotes the remodelling of collagen, clinically enhancing skin with mild to moderate laxity.

At the end of the programme, the participants – comprising six local and international medical practitioners – were able to learn fundamental principles in aesthetics and proper technique applications that further enhanced their medical knowledge and understanding of aesthetics practices.

"As an international student, it's not easy (for me) to have access to aesthetics practices, which is why this hands-on training is priceless," said Dr Aung Ko Ko, a participant who was also quick to heap effusive praise on the demonstrations despite the programme's tight schedule.

"'Practice makes perfect' and I believe that this training was very effective – not only in terms of exposing us to new updates (in the field), but also in terms of the latest aesthetic practices in clinics that are surely not found in text books."

The programme was conducted in the School's very own in-house clinic, namely, the Laurent Bleu Skin Science & Wellness Centre (LB).