Heavenly Voices : UCSI Chamber Choir Continues on its Soaring Note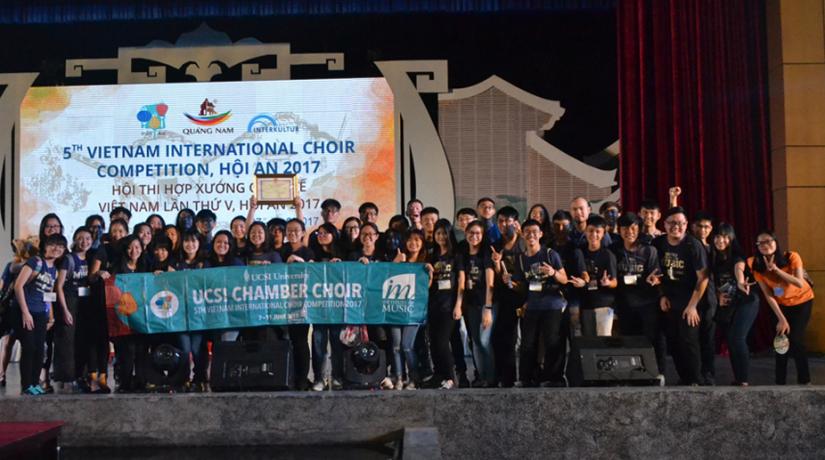 UCSI Chamber Choir wins Level 3 Gold Award and 2nd place in B1 category at 5th Vietnam International Choir Competition
Hoi An: Hoi An can be translated as 'peaceful meeting place' and indeed, it was when ethereal voices from four corners of the world descended on this World Heritage port town and wrapped it in a heavenly vibe with mesmerising renditions of classical and traditional songs.

UCSI's Chamber Choir joined 31 other choirs from 10 countries in the 5th Vietnam International Choir Competition that took place in Hoi An recently; Malaysia was represented by UCSI and one other choir. The choir competed in the B1 (mixed choirs, difficulty Level II) category and edged out 11 other competitors to win 2nd place and Level 3 Gold Award. The ensemble led by Prof Ian Lim Kean Seng performed a traditional Malaysian piece, Pagtulog na, ne ne (arranged by Arwin Tan), Cherly Susanti's Daemon irrepit callidus and a traditional Indonesia piece, Janger (arranged by Budi Susanto Yohanes).

The award adds on to the choir's previous wins including the 13th China International Chorus Festival (2016), 4th Bali International Choir Festival (2015), 7th Thailand International Choir Festival (2014), Pattaya Grand Prix - International Choir Competition (2014) and numerous other renowned competitions. The choir is the pride and joy of UCSI's Institute of Music (IMus), providing a platform for young vocal talents to blossom under the tutelage of high-calibre and passionate teachers. IMus, Malaysia's premier music school continues to be in the forefront of discovering, cultivating and empowering the country's musical talents into pursuing musical excellence and charting their own careers. The institute also believes in providing a rich student learning experience by participating in professional competitions.

Organised by Interkultur, the global address for international choral competitions, the Vietnam music festival included other competition categories included children & youth, chamber and sacred as well as non-competition elements such as evaluation performance, individual coaching and friendship concerts. In addition, participating choirs also had the opportunity to enjoy the beautiful country of Vietnam as an additional activity. The bi-annual competition was first started in 2011 to espouse Interkultur's philosophy of bringing diverse cultures and people together using music. It is one of the hundreds of music festivals and competitions organized by Interkultur on an annual basis.