Korean Cuisine Course with Qualified Trained Lecturers from Korea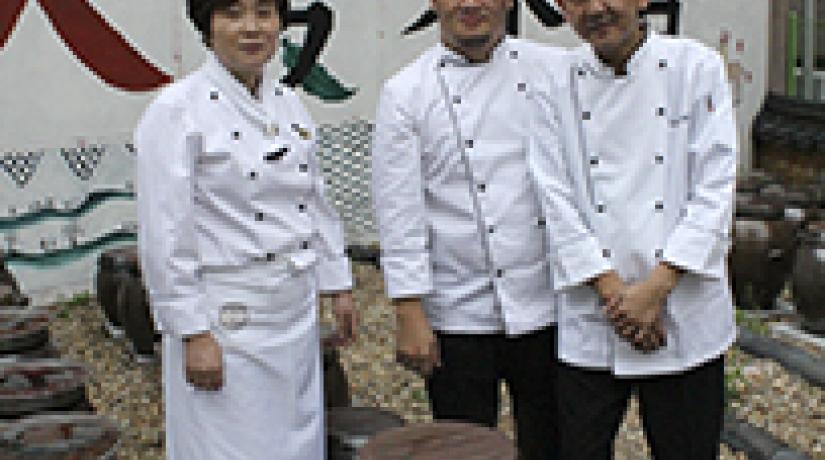 Woosong University – Fermentation of Soy Bean Paste with Prof Y.R. Park, Mr. Joseph and Mr. Loke (from left to right).
Temple visit with staffs and President of Creative Culinary Institute of Korea (second right), Jeonju University.
SOUTH KOREA: Two UCSI lecturing chefs from UCSI University's Faculty of Hospitality and Tourism Management (UCSI FHTM) were handpicked to attend the advanced 'Korean Cuisine Educational Training' held in South Korea recently. The two-week training covered a range of activities integral to Korean cuisine, from the cooking techniques to the various fermentation processes.

The duo, Chef Loke Hoi Weng and Chef Joseph Marin Pudun, were sponsored by the Korea Agro-Trade Centre Ptd Ltd – a government-affiliated organisation set up to nurture the nation's food processing industry and agriculture. The training was a follow up from last year's beginner training.

The culinary aspect of the trip was conducted at Woosoong University and the Creative Culinary Institute of Korea, Jeonju University. The former has signed a Memorandum of Understanding with UCSI University (UCSI) last year to incorporate Korean cuisine into UCSI's Diploma in Culinary Arts programme.

Both chefs were also brought to the renowned Baek Yang Temple where they were taught the cooking methods used by the nuns and monks for centuries.

According to Chef Loke, who has more than 25 years of culinary experience and has been featured in publications such as The Star, New Straits Times and Sin Chew, the experience was enriching on both a professional and personal level.

"It was a fantastic experience because as a professional learning from another professional, we could delve deeper into the intricacies of Korean cuisine," he said.

He added that the emphasis on using natural local ingredients such as Korean ginseng to flavour food was something that can be emulated in Malaysia.

The experienced gained learning from Korean culinary experts is something that Chef Loke believes will benefit the students of the Faculty's Diploma in Culinary Arts and Diploma in Hotel Management. Both programmes have been given a special Korean focus, to enable students to cater to the rising demand for Korean food.