L'Occitane Appreciates UCSI University Students' Efforts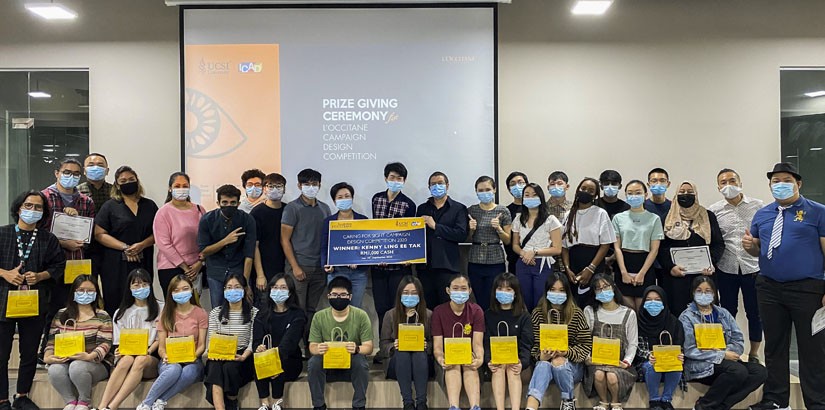 Elida Wong (10th from left) and winner of the Caring For Sight Campaign Design Competition, Kenny Lee (11th from left) with other attendees of the L'Occitane prize giving ceremony at UCSI University, Kuala Lumpur campus.
KUALA LUMPUR, 2 October 2020 - Poor vision is a common problem among people nowadays specifically in the younger generation. Addressing the issue, L'Occitane, a French natural plant skincare brand, worked together with UCSI University's De Institute of Creative Arts and Design (ICAD) to promote the "Caring for Your Sight Awareness" campaign to remind Malaysians of the importance of eye protection.
In conjunction with the awareness campaign, L'Occitane recently hosted the Caring for Sight Campaign Design Competition 2020 together with ICAD that saw nearly 50 entries.
At the ceremony, a third-year student of the BA (Hons) Multimedia Design, Kenny Ling Ee Tak, was announced as the winner walking away with a cash prize of RM1,000. Additionally, his design will be the subject of both the national awareness campaign and the L'Occitane limited edition travel pack.
Elida Wong stated that this event is their way of trying to make the younger generation aware of the effects of heavy usage of gadgets on their eyes. Hence, they decided to collaborate with UCSI to get insight and ideas from young students on how to promote the campaign.
"This is the first time globally that L'Occitane has worked with students to come up with the design for our pouch. This new generation is one that has a higher chance of damaging their eyes with heavy usage of gadgets and other devices," she said.
"Additionally, this is one of L'Occitane's ways to involve everyone in charity work. And that is also one of the reasons why we are working with UCSI; because we want to create something very unique. Because as a brand today, alone, we cannot do this. We need young people with their different perspectives and their trends, to include in the design and let them appeal more to youngsters. We want to create awareness and, thus, we thought of working with UCSI on this," she said.
Wong highlighted that they had great results, encouraging participation as well as good quality ideas and insights.
"It was during the Movement Control Order (MCO) when we received all the designs. So, we had a long and hard time evaluating the designs and choosing the winner. Nevertheless, we also appreciate the effort that the students have put into their design by rewarding them with some gifts from L'Occitane," she added.
Meanwhile, for Kenny, he is proud that his design was chosen for this campaign apart from making him aware of how corporate brands work.
"As a student, cooperation with corporate brands has helped me to understand better the requirements and expectations for product design. This competition has increased my confidence and will help when I enter the working industry later," he added.
He also shared that his design concept was multi-layered and highlighted the theme and purpose of L'Occitane's awareness campaign. He wanted the public to recognise his design as well as make them alert to the importance of taking care of their vision.
"Nowadays, people spend a lot of time using mobile phones and computers without understanding the proper use of electronic products. Unconsciously, this can cause damage to their eyes and eyesight. Therefore, I think this awareness campaign is meaningful to remind people of the importance of taking care of our eyesight,"
The attendees of the prize-giving ceremony held on 18 September 2020 at UCSI University, Kuala Lumpur campus included the Director of ICAD, Assistant Professor Dr Khairul Azril Ismail; Head of Department, Arts and Design, Assistant Professor Shahfida Abdul Manap; Brand General Manager of L'Occitane, Elida Wong; Head of Events, Lucas Lim and lecturer, Ivan Lam Wai Hoe.
L'Occitane will be producing 4,000 units of the pouch and 100% of the proceeds will go to the L'Occitane Foundation to help the visually impaired. Every year, L'Occitane has worked closely with various organisations to help those who are visually impaired by donating glasses or helping them with the cataract surgery.