L'OCCITANE Malaysia Empowers Talent in UCSI Design Students Through A Competition
KUALA LUMPUR, 26 July 2021 – For the second year running, L'OCCITANE Malaysia continued its efforts to fund local eye care projects through the Caring For Sight Design Competition held "virtually" in collaboration with UCSI University's Institute of Creative Arts and Design (ICAD). The goal of the competition was to select the best design for the brand's annual charity pouch to fund eye care projects throughout Malaysia.
"The Caring For Sight charity kit is one of L'OCCITANE Malaysia's many brand philanthropy's efforts toward raising funds for local eye care projects. After the success of last year's competition, we were impressed by the students' creativity in expressing their interpretation of our 'Caring For Sight' commitment. Hence, this year we wanted students to continue gaining industry experience through a design project, while motivating them to channel their talents to help the visually impaired receive eye care", shared L'OCCITANE Malaysia Brand General Manager, Elida Wong.
This year, the winner of the Caring For Sight Design Competition was a 19 year-old student, Prisca Misyel Wewengkang, who bagged the prize of RM1,000. Her winning digital sketch design featured a boy appreciating the beautiful view of a night sky with his eyes to convey the message, that simple things in life can only be enjoyed when we do not take our eye sight for granted. Her design will be printed on a charity pouch that will be available in L'OCCITANE stores nationwide from October 2021.
"We are very proud to see our students put their design skills to the test for a good cause like L'OCCITANE Malaysia's Caring For Sight charity project. We believe that they have gained invaluable industry experience that will inspire them to further apply their creative talent in the corporate world through this design competition," said UCSI's ICAD lecturer, Muhammad Batholullah bin A. Aziz.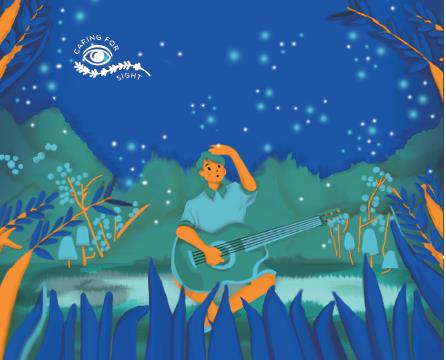 This year, the competition saw 40 ICAD students submitting creative designs representing their version of the topic 'Caring For Sight'.
Caring For Sight is L'OCCITANE Malaysia's long-term commitment to educate more Malaysians about blindness prevention and proper eye care since 2009. To date, L'OCCITANE Malaysia has donated more than RM844,000 which has helped more than 39,000 Malaysians to receive proper eye care including eye screenings, spectacle donations, cataract surgeries and training in collaboration with partner NGOs who support the visually impaired community.