Ledang Sharing Circle: Handling Online Harassment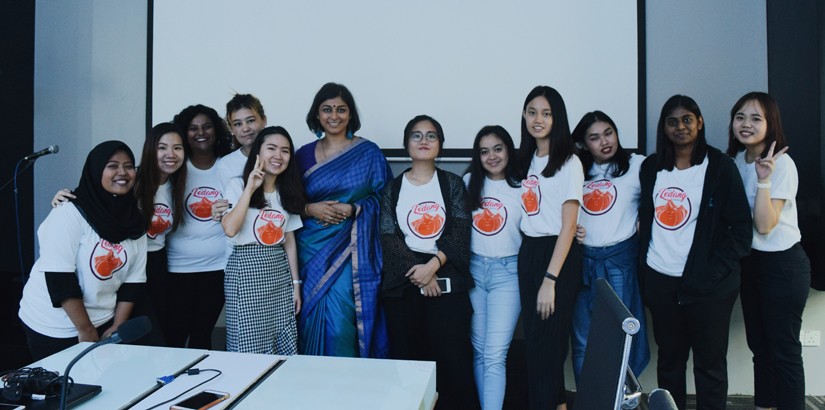 The Ledang Series Team and Sumitra, the speaker
Sumitra is sharing her personal experience with the audience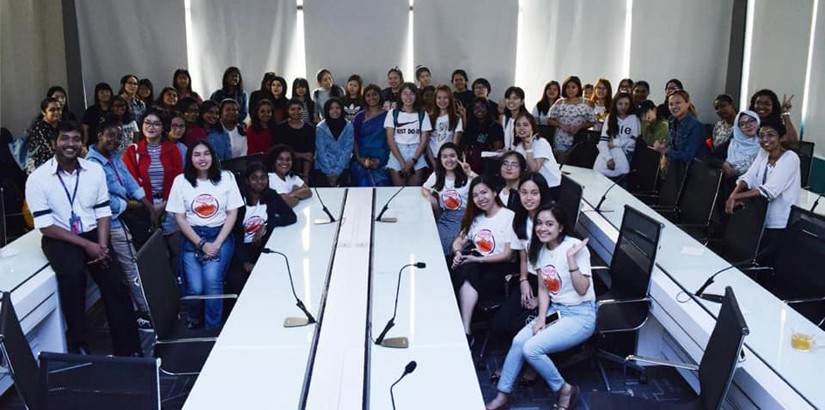 A perfect ending for the event
Online harassment has become all too common in the digital age of the internet. There are millions of victims all across the world who received unsolicited messages that intimate sexual acts, spreading rumours, leave abusive and threatening messages online.
The Ledang Series, under the auspices of the English Language Student Association (ELSA), is a women-powered community that aims to engage and educate others on social issues relevant to women.
Assistant Professor Dr Vighnarajah as the ELSA Advisor and former Head of Department highlighted the vital role of Ledang Sharing Circle in reaching out to empower female students in Higher Education Institutions (HEI), "It's about time we look into empowering female students in HEIs on how best to manage social issues especially with the advent of technology. These students should be aware of their rights to privacy and the various issues that will arise with the use of social media."
The Ledang Sharing Circle's theme was on handling online harassment.
Gathered together, it was an afternoon filled with inspiration for all the female participants. This second sharing circle of The Ledang Series successfully created a safe space for women to discuss issues regarding online harassment and how best to tackle them.
This time around, issues regarding how to handle online harassment was brought to a fruitful discussion by the founder of Sarees and Stories, Sumitra Selvaraj, who is also the Executive Producer and Host for 'Suara', a socio-political talk show and 'Let's Talk', a women's panel talk show.
One of the unique features of this sharing circle was that it only opened to female participants, as the sharing circle aims to create a safe space for women to discuss the said topic.
In the interest of adding to the discussion, a limited number of participants were taken to participate in this sharing circle. The first 65 female students who registered were entitled to a seat in the sharing circle.
Sumitra shared her anecdotes and experiences on how she handles online harassment on social media. Different from the ordinary talk that one might expect, Ledang Sharing Circle emphasised the interaction between speaker and participants. In order to protect the privacy of participants, attendees raised their questions and shared their personal experiences regarding online harassment anonymously through the Sli.do mobile application.
This encouraged the attendees to engage themselves actively and courageously in the discussion without feeling embarrassed.
The English Language and Communication (ELC) programme Year 2 and Year 3 students organised the Ledang Sharing Circle. Joelyn Ng, the Organising Chairperson of this sharing circle, shared:
"This was an impressive learning experience for all of us. As ELC students, we concern about the social issues regarding women empowerment and hope to unite all female voices to be heard." Assistant Professor Dr Latha Ravindran who also attended the talk shared her words on the talk's success, "This talk was an eye-opener to students as it helped students to understand the invisible dimension of online harassment and how it can be detected and addressed.
Sumitra encouraged the participants never to be afraid to speak up for themselves in facing the issues of online harassment. She shared with attendees about her creepy experiences in receiving inappropriate messages whom she tracked down to a company in Bombay and the recent issue of her photos being used on an online dating website without permission from her.
"I will speak up for myself because if I speak up and tell someone that their behaviour is inappropriate, it might just discourage the next bout of harassment for whoever is next in line," added Sumitra. Silencing yourselves does not end the issue.
No one should ignore any act of online harassment, and it is essential to address the issue.
The Ledang Series provides an excellent platform for all female comrades to come together and gather their voices.
Before the end of the event, a get-together session was held to offer the opportunity for participants to get closer with the speaker. The exchange of ideas between both parties was an enlightening moment.