Making an impact in sustainability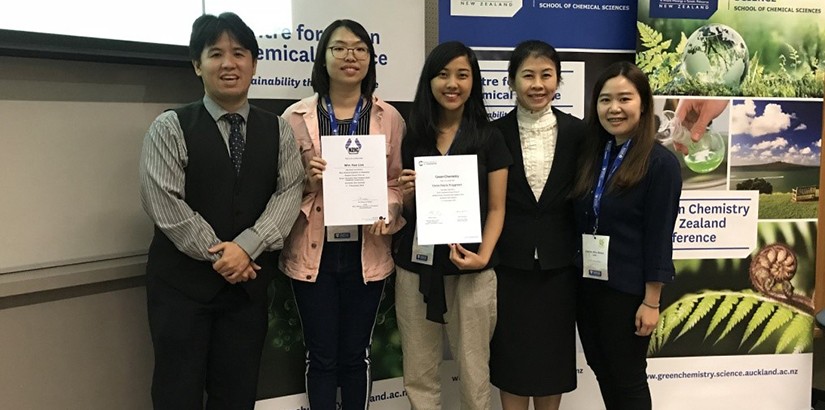 Two of their postgraduate students had recently won awards at Green Chemistry New Zealand 2019, a conference at the University of Auckland.
Sustainability has become a topic that has been much talked about for years. However, the practice of sustainability was never really practiced.
In 2016, the Paris Agreement came to effect to reduce greenhouse gas emission. It was to essentially combat against climate change and to accelerate and intensify the actions for a sustainable low carbon future.
The United Nations drafted 17 sustainable development goals (UN SDGs) to address poverty, protect the planet and improve the lives and prospects of every society in 2015.
These goals serve as an overall action plan to ideally curate a sustainable development or environment sustainability to ensure a perpetual longevity of this place we call Earth.
At UCSI University, Assoc. Prof. Dr. Wong Chen Wai and Assoc. Prof. Dr. Eric Chan Wei Chiang from the Faculty of Applied Science are doing their part to make an impact in the long run by converting waste into eco-friendly products.
Presently, their research team is working on converting cellulose from agricultural waste into useful materials.
These materials include carboxymethyl cellulose for preventing loss of fertilizers, biodegradable plastics and smart packaging materials to combat against food wastage.
"Converting food waste into wealth is an important part for a sustainable development," said Dr Wong.
These materials include carboxymethyl cellulose for preventing loss of fertilizers, biodegradable plastics and smart packaging materials for reducing food wastage.
According to Dr Wong, the impact of his research is none other than to espouse the UN SDGs and subsequently encourage sustainable businesses.
"Gratitude, making the most of what we have is a core value for sustainability. Making an impact does mean to be the best and to empower stakeholders to execute the practice," he said.
"Sharing generates ideas and impact. Our research students benefited greatly from presenting at international conferences in Germany, Korea and New Zealand," Dr Wong added.
They were recognised for their research ideas on using compounds from food as biodegradable antibiotics and biodegradable anti-browning agents from plants for extending the shelf life of food.
"Biodegradable antibiotics is a lesser known topic. But it is important that antibiotics do not accumulate in the environment. This is the same for anti-browning agents", said Dr Eric.
As for Dr Wong and Dr Eric, their research was fuelled by their passion and desire to contribute to a sustainable development that would have an impact for UCSI, its students and societies across the globe.
"Both Dr Eric and I were biotechnologist by training, but we are not limited by our university degrees. We each developed different expertise to complement one another. I am good at carbohydrates and Dr Eric is good at catalysis," said Dr Wong.
"UCSI University has a rich research culture in which our strengths support and complement each other. I would welcome, any like-minded people to work with us and maybe undertake postgraduate research," he added.
UCSI University is the first private university in Malaysia to be recognised as a Regional Centre of Expertise (RCE). In Sarawak, its campus distinguished itself as a regional leader in the promotion of the UN's Sustainable Development Goals (SDGs).
RCE status is conferred on universities that promote education for sustainable development through research and capacity development, generating impact at the local level to promote societal, economic and behavioural change.
For more details on UCSI University postgraduate programme, please visit Office of Postgraduate Studies (OPS) at https://www.ucsiuniveristy.edu.my/postgraduate; or enquire via email [email protected] (Student Enrollment Centre).